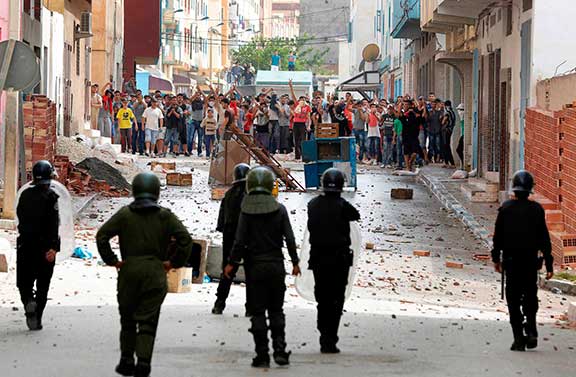 Hace seis meses, a consecuencia de la muerte del vendedor de pescado triturado en un camión de basuras, comenzaron las movilizaciones de masas en la ciudad de Alhucemas (Norte de Marruecos) pidiendo justicia por la muerte de Mohsin Fikri. Estas movilizaciones se han transformado en un auténtico levantamiento popular (el Hirak Chaabi) que reclama acabar con la corrupción, la construcción de un hospital multidisciplinar en la cuidad, una universidad y la creación de carreteras para mejorar las comunicaciones de la región del Rif, que ha sido castigada y marginada desde la independencia en relación al resto de Marruecos. La lucha ha alcanzado tal grado de participación y resistencia, que ha provocado una nueva crisis política en el régimen marroquí.
Durante estos seis meses de movilizaciones el gobierno ignoró las demandas de los manifestantes, esperando que la ira popular se apagase con el paso del tiempo. Pero la presión del movimiento se hizo tan potente que el régimen se vio obligado a enviar una delegación compuesta por seis ministros para "dialogar" con los manifestantes que pedían que el gobierno se disculpa por llamarles separatistas. Si alguien pensaba que con esta maniobra se iba a terminar con la protesta la realidad ha sido muy diferente. Correctamente, desde el movimiento se ha acusado a la delegación de ser parte del problema y no la solución, ya que algunos de sus miembros, como el Ministro del Interior Mohamed el Fatit y el amigo del rey y ministro de Agricultura y Pesca, Aaziz Ajanouch, forman parte de la trama de corrupción llamada "los servidores del estado" que estalló el año pasado.
El fracaso de los ministros en frenar y dividir al movimiento ha revelado al Gobierno que existe un malestar social que ya no se puede calmar con promesas y que se necesitan acciones concretas. La opción de la represión policial ha sido desde el principio la solución preferida por el Gobierno para acabar con las movilizaciones. El Gobierno ha aprovechado la protesta del líder del movimiento Nasser Zafzafi (un parado de 39 años apenas conocido antes de las luchas y que se convertido en símbolo del movimiento popular) contra un predicador que había atacado a los activistas durante el rezo del viernes, para lanzar una operación masiva de detenciones de activistas.
La detención de estos militantes y la represión contra las protestas pacíficas de la población de Rif motivó manifestaciones de solidaridad en numerosas ciudades como Tánger, Rabat, Tetuán, Casablanca, Marrakech… en las que participaron miles de personas y que en algunos casos fueron duramente reprimidas por la policía. Las consignas repetidas en estas protestas han apuntado a la corrupción de la clase política, con lemas como: "¿Por qué somos pobres? Porque los que nos gobiernan son ladrones", "Sois un gobierno o sois una mafia" o "Majzén (en alusión al sistema político) escucha, ya no das miedo".
Maniobras desesperadas del régimen
Las protestas de Rif han demostrado la impopularidad de un gobierno recién nombrado por el rey y de la clase política marroquí en su conjunto. Este gobierno ha recurrido a muchas maniobras para frenar las protestas, una de ellas intentar promover una política de separación de la lucha de la población de Rif respecto de la lucha del resto del pueblo marroquí después de que seis partidos políticos que forman parte del gobierno presidido por el Partido islamista de la Justicia y el Desarrollo, difundieron un escrito en el que acusaba a los manifestantes de separatistas, de recibir fondos del extranjero y de atentar contra la seguridad del Estado. Algunos medios de comunicación del régimen han ido más allá y han acusado a los activistas de pertenecer al Estado Islámico (Daesh) y de pretender crear un Estado integrista en el norte de Marruecos. Todas estas acusaciones no le han servido al régimen para nada, y las demandas de la población del Rif han conectado directamente con las demandas del conjunto del pueblo marroquí: justicia social, acabar con la corrupción, trabajo para la juventud, etc. Las manifestaciones de solidaridad en varias ciudades que han levantado la consigna: "Todos somos el Rif" han sido un duro golpe para el régimen.
Después de la detención de los líderes del movimiento popular, la activista Nawal Benaisa, ama de casa de 36 años con cuatro hijos, ha sumido un papel dirigente. El nuevo rostro del Hirak demostró un fuerte carisma y un sólido discurso cuando tomó la palabra ante miles de manifestantes, llamándolos a mantenerse en las calles hasta que todas sus reivindicaciones sociales sean atendidas y exigiendo la liberación de todos los detenidos en las protesta pacíficas. La movilización no ha terminado y muestra la grave crisis a la que se enfrentan un gobierno y un régimen podridos.
Special financial appeal to all readers of socialistworld.net

Support building alternative socialist media

---

Socialistworld.net provides a unique analysis and perspective of world events. Socialistworld.net also plays a crucial role in building the struggle for socialism across all continents. Capitalism has failed! Assist us to build the fight-back and prepare for the stormy period of class struggles ahead. Please make a donation to help us reach more readers and to widen our socialist campaigning work across the world.

Donate via Paypal

CWI- Please inform us if you are reproducing any material from this site.