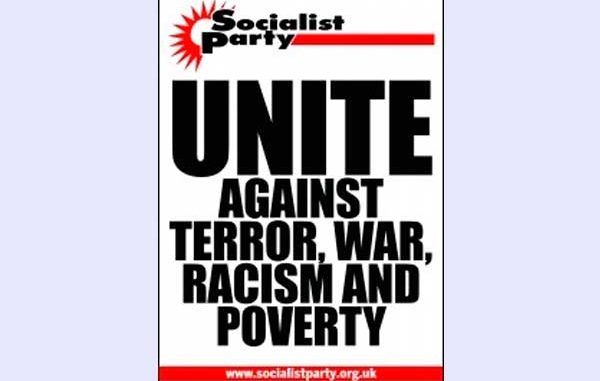 Apenas dos semanas después de la horrible bomba de Manchester ha sucedido otra nueva atrocidad, esta vez en el Puente de Londres y en Borough Market. En ésta ocasión murieron siete personas que disfrutaban de una noche veraniega de sábado, y al menos otras 48 resultaron heridas.
El Socialist Party condena totalmente este terrible ataque. Igual que en Manchester y en otros muchos incidentes similares en Gran Bretaña y en todo el mundo, como el coche bomba del 19 de mayo en Bagdad, el atentado en Londres estuvo diseñado para maximizar los efectos de una matanza absolutamente indiscriminada contra gente normal y corriente. Aunque todavía no se ha confirmado parece que una vez más estuvo inspirado por la ideología reaccionaria y bárbara del ISIS.
Como sucedió en Manchester, la población de Londres respondió ofreciendo todo tipo de ayuda posible a los afectados; igualmente importante fue la actuación de los trabajadores del NHS (Servicio nacional de la Salud) y de los servicios de emergencia. Se ha informado que algunas de las personas presentes intentaron detener de manera heroica a los atacantes armados sólo con las sillas en las que estaban sentados unos minutos antes disfrutando de su bebida. La ola de solidaridad provocada en la población en Gran Bretaña y en todo el mundo, no tiene nada en común con la reacción hipócrita de los ministros del gobierno Tory que han implantado las políticas que crean las condiciones para estas atrocidades y que ahora cínicamente intentan utilizarlas para incrementar sus oportunidades electorales.
La campaña electoral se suspendió oficialmente ese día, pero Theresa May se saltó inmediatamente esta decisión, intentó descaradamente utilizar este horror para reconstruir su imagen de gobernante 'fuerte y estable' tras mostrarse totalmente 'débil y endeble' en el curso de la campaña electoral. Ya ha sugerido la necesidad de una nueva legislación "antiterrorista". No obstante, en las últimas décadas se han introducido numerosas leyes 'antiterroristas' nuevas y ninguna ha detenido los atentados.
May también declaró que en Gran Bretaña "hay demasiada tolerancia con el extremismo". Esto es totalmente incierto. La gran mayoría de la población de Gran Bretaña, incluida la aplastante mayoría de musulmanes, se opone totalmente al terrorismo. A menos que por supuesto ella quisiera decir que el gobierno tory ha continuado apoyando la venta de armas al brutal régimen de Arabia Saudí, independientemente de que financie al ISIS y a otras organizaciones yihadistas. Jeremy Corbyn correctamente ha declarado que el gobierno debe detener estas ventas de armamento.
Venta de armas
La utilización por May del término 'extremismo' y no de la palabra terrorismo en su discurso, no fue ninguna casualidad. Es un intento cínico de calumniar todo lo que ella considera extremismo, es decir, cualquiera que se oponga al sistema capitalista, con su brutal austeridad, pobreza y guerra del que ella es archidefensora.
También hizo una crítica indirecta e injuriosa al "sector público", sugiriendo que era "necesario expulsar" el supuesto "extremismo" que hay dentro de él. Jeremy Corbyn respondió bien a estas mentiras señalando que los servicios públicos, incluida la policía, habían sufrido enormes recortes bajo el gobierno tory.
El continuo aumento del apoyo a Jeremy Corbyn después de la atrocidad de Manchester demuestra que millones de personas no han enloquecido con las calumnias de May. Al contrario, reconocen que los salvajes recortes de los tories a los servicios públicos, incluida la amenaza de cierre de al menos uno de los hospitales del sur de Londres que trataron a las víctimas el pasado sábado por la noche, hacen cada vez más difícil evitar ataques terroristas y tratar sus consecuencias.
Reconocen también que, como ha explicado constantemente el Socialist Party y también hace Corbyn, que al mismo tiempo que debemos oponernos a los reaccionarios derechistas del ISIS y los de su calaña que utilizan métodos fascistas para intentar crear regímenes semi-feudales extremadamente represivos y sin derechos para la clase obrera, también es necesario oponerse a las guerras e intervenciones imperialistas en Oriente Medio y Afganistán, que han creado una pesadilla para los pueblos de Oriente Medio y que inevitablemente acrecentarán las atrocidades terroristas en todo el mundo.
En pocos días tendremos la oportunidad de echar a los tories. La elección de Jeremy Corbyn como primer ministro sería un gran paso adelante para el movimiento obrero en Gran Bretaña.
Por supuesto, sería el principio no el final. Está claro que los blairistas del Partido Laborista, por sí solos responsables de la participación de Gran Bretaña en las guerras imperialistas de Iraq y Afganistán, continuarían con sus intentos de sabotear el liderazgo de Jeremy Corbyn, apoyados por la clase capitalista. No obstante, estas elecciones podrían dar confianza a millones de trabajadores, tanto en Gran Bretaña y hasta cierto punto internacionalmente, en que es posible luchar por una sociedad libre de la austeridad, la pobreza, el terrorismo y el racismo que crea el capitalismo.
Special financial appeal to all readers of socialistworld.net

Support building alternative socialist media

---

Socialistworld.net provides a unique analysis and perspective of world events. Socialistworld.net also plays a crucial role in building the struggle for socialism across all continents. Capitalism has failed! Assist us to build the fight-back and prepare for the stormy period of class struggles ahead. Please make a donation to help us reach more readers and to widen our socialist campaigning work across the world.

Donate via Paypal

CWI- Please inform us if you are reproducing any material from this site.