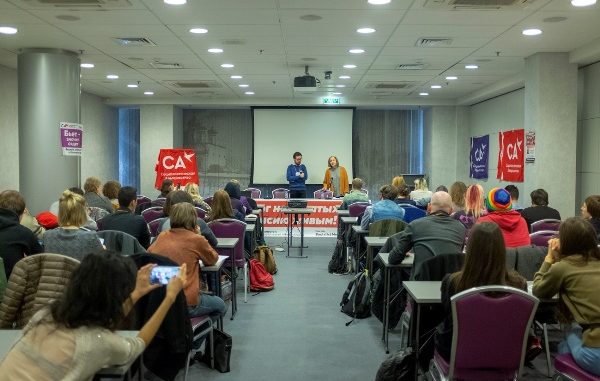 On 27 October a successful conference, "Socialism and Feminism", organised by Socialist Alternative (CWI), was held in Moscow. Over 50 people participated in lively discussions, linking the two main themes throughout the day.
The conference opened with a discussion of the struggle for women's rights today. Our guest speaker, Ruth Coppinger TD (member of the Irish Parliament) from the Irish Socialist Party outlined how the campaign to remove the ban on abortion in Ireland was organised and won. This victory has resonated throughout the world, and Russia is no exception.
Ruth explained not only how the movement leading to the referendum victory had been built, how youth and young women, in particular, played the key role in the campaign and how the Socialist Party had established ROSA to ensure that there was a left socialist drive behind the campaign.
The next session broke into commissions to discuss current problems facing Russian socialists.
Navalnii and youth protests
Participants discussed the nature of the movement around Navalnii and how to intervene in it. Leading this section, Alexandra Alekseeva explained how his calls to youth to protest against corruption have had an echo because of the growing impoverishment during the years of crisis, the lack of perspective for the future and political stagnation in Russian society. Repression, even the imprisonment of activists for reposting blogs, is forcing youth to make a choice – either try and find themselves a place within the system or become active opponents. Those who are indifferent are becoming fewer and fewer and this is opening a period of turbulence for the Russian regime.
But Aleksei Navalnii, the main leader of the opposition, notwithstanding a sharp turn to left populism (he promises free healthcare and education, a minimum wage of 25000 rubles and even now nationalisation of the large corporations) is unable to propose adequate tactics or a clear programme for his "beautiful Russian future".
His populism provides no real answers because he is trying to build "a correct capitalism" – without corruption, with honest elections and a transparent judicial system. Instead, we need to appeal to the majority of the population, those who live from wage packet to wage packet to establish a mass party of the working class, to fight for a democratically organised planned economy under control of the working masses. We need to intervene in these youth protests to attract and recruit those youth involved who are genuinely looking for a real alternative.
The right of nationalities and unity of the working class
Aiten Yakubova, from the Caucasus, explained how important the national question is for socialists, in particular, because the ruling elite attempts to use nationalities to divide and rule the working class.
She pointed out that in the past year the language question in Russia has gained importance. The announcement by Putin that the teaching of national languages (many people in Russia in areas such as Tatarstan and the Caucasian republics speak Russian as a second language) will no longer be compulsory in these regions is the logical conclusion of the centralisation of power under his regime. But it has already led to teachers of these languages having to requalify as Russian language teachers and protests by users of national languages. It is necessary, Aiten said, for socialists to defend the right to self-determination, up to separation, as well as defending the right of national minorities to maintain and develop their languages and cultures.
She also described how the current mass protests in the Caucasian republic of Ingushetia (in protest at the attempt by the strongman leader of the neighbouring Chechen republic – Kadyrev – to annex part of Ingushetian territory) were not so much fuelled by Chechen– Ingush pride as in protest at their own local elites' failure to stand up to Kadyrov's muscle flexing. It is also noticeable how, when Moscow tried to send riot troops to the republic to put down the protest, the local riot police refused to allow them across the border. It is important to strive to maintain workers' unity in these situations, to cut across the attempts by the ruling elite to divide us on ethnic lines.
Students
Students are experiencing increasing exploitation in Russia, explained Mitya Porotikov. This is because student grants are so low – a basic grant is between 20 and 45 euros a month – and are given only to a few students. Increasingly students have to work to earn enough money to support their four years of study. This is why work is beginning to establish a democratically controlled organisation, uniting students from different universities to campaign for increased grants and for improvements in hostel conditions etc. This cannot, he said, be separated from the fight to improve the amount of money available for higher education in the federal budget.
Recently activists from the group "for grants", from Moscow State University, and other universities, launched a petition to increase the grant level to that of the official minimum wage. This is, of course, a good first campaigning step but it is not enough when it just relies on an information campaign on-line. We support the campaign but call on the organisers to organise volunteer groups to actively collect signatures, to mobilise supporters to establish a real basis for establishing an active campaign to improve student grants and living conditions.
International struggle
The final session in the conference was led by Kirk Leonard who outlined how capitalism internationally was increasingly incapable of offering people a way out of the current economic stagnation and social crises. He pointed to the developing trade war between the USA and China, the difficulties faced by the EU around Brexit and the growth of right populist forces.
To demonstrate how it was possible to build a genuine left alternative, Jordan Quinn from the American Socialist Alternative, addressed the conference by skype from his home city Seattle.
He explained how activists there had fought for the $15 an hour minimum wage, and how as a result of their work Kshama Savant had been elected as the first open socialist to be elected as a member of a major city government. These examples demonstrated how it was possible to increase interest in socialist ideas even in countries such as the USA.
This ended the conference on an optimistic note. Those mainly young women and men who attended left with a new enthusiasm to argue for socialist ideas. The new generation of youth, most of whom have grown up in the post-Soviet corrupt capitalism and remember only one President, Putin, whose rule for the past ten years has been characterised by crisis, conflict, economic stagnation and repression – are beginning to move into political activity. Several new people expressed their wish to join Socialist Alternative during the day.