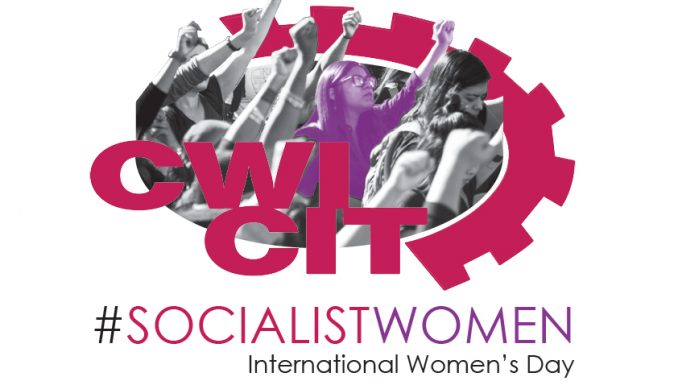 To mark International Women's Day, Socialist Party members highlighted the impact of austerity on vital services for women. They have been speaking at trade union and trades council meetings to raise support for the 'Women's Lives Matter' campaign.
In the morning of 8 March, Socialist Party members and supporters of this campaign organised a protest outside parliament with the slogan 'Defend domestic violence services'. In the evening, there were actions outside Labour councils across the capital who have overseen huge cuts to local women's refuges which cannot cope with demand. These cuts kill!
Throughout England and Wales, protests were organised by Socialist Party members and others. In Cardiff they campaigned against Universal Credit, explaining how it can trap women in abusive relationships and is an assault on many ordinary people's living conditions.
In Hull, writes Janet Gibson, "People eagerly filled in petitions condemning cuts to domestic violence services and other austerity attacks". In Bristol, "For the first time, International Women's Day was marked with a real protest of over 500 people with lots of support from passers-by" (Sheila Caffrey).
The Leeds Women's Strike Assembly organised a lunchtime walkout and an evening meeting. Socialist Party member Amy Cousens spoke at the lunchtime rally on behalf of 'Women's Lives Matter' declaring: "Women cannot wait for a Jeremy Corbyn government but need action against austerity now!".
Sheffield Hallam Socialist Students campaigned against cuts to maternity services in South Yorkshire alongside attempts by the National Union of Students to de-fund its campaigns and staff for both international and trans students.
The Socialist Party in Birmingham celebrated the role of working-class socialist women who have led historic breakthroughs, such as Sylvia Pankhurst and Eleanor Marx, at a special International Women's Day meeting. Amongst many speakers, Danny Kilgallon, a Unison steward for the bin workers on strike, stressed the importance of working-class women and men standing united.
Huddersfield Socialist Party had a local launch for the Women's Lives Matter petition to appeal to Shadow Chancellor, John McDonnell, to guarantee that a future Labour government will give financial backing to Labour councils who refuse to implement cuts. An International Women's Day event in Huddersfield Socialist Party drew up a Women's Lives Matter petition to pressure Shadow Chancellor, John McDonnell, to guarantee that a future Labour government will give financial backing to Labour councils who refuse to implement cuts and at an International Women's Day event in Derby, the Socialist Party raised the demand for a no-cuts budget to defend domestic violence services and women's refuges.
Socialist Party members in Manchester, on the city centre protest they organised, called for the City Council to fund domestic violence services and also genuinely affordable housing. The Labour Council in the city, while it has millions of pounds in reserves, doesn't fund any refuge services, relying on charities to provide this vital lifeline.
Sana Ulfat of Birmingham Socialist Party describes the atmosphere on the first 'Reclaim the Night' demonstration in that city and "The people's outrage that the Blairite council is implementing reckless austerity against the home carers – a mainly female workforce".
As Sana explained in her report of the day's proceedings, the approach of the Socialist Party is for every woman to be able to choose when and whether to have children without suffering economic hardship, and an end to discrimination on grounds of gender, race, disability, sexuality, age and all other prejudices.