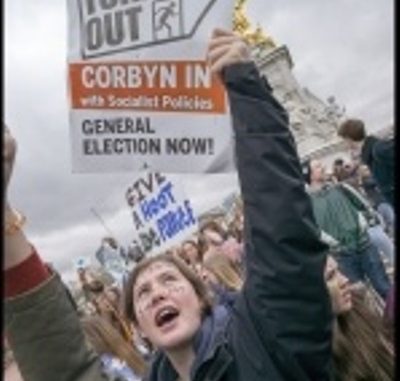 The recent meeting of Labour's national executive committee, called to finalise the party's European Union election manifesto, brought out the division over the EU bosses' club.
In the debate that ensued, affiliated unions were on both sides. But Unite the Union and the Communication Workers Union (CWU) played a key role in defeating advocates of prioritising a 'people's vote' – a second EU referendum with the aim of reversing Brexit.
It's clear that a majority of the Blairites, acting as agents of the capitalist establishment, are using this issue to undermine Jeremy Corbyn and the fight for a general election. With May and the Tories weak, divided and suffering huge losses in the council elections, once again the Blairites are trying to ride to their rescue.
It is therefore vital that Corbyn and John McDonnell stand firm, putting forward a clear class position that can unite workers in a struggle to get rid of the Tories and bring in a Labour government on socialist policies. An important step is to both oppose a rotten deal with the Tories and to fight for a Brexit deal that defends workers' interests.
The scale of the vote for Leave in 2016 was, at base, a working-class revolt against austerity. The Socialist Party criticised Jeremy Corbyn and the majority of unions in supporting Remain in the 2016 EU referendum.
We argued that the labour and trade union movement should have campaigned for a socialist Leave position, opposing the neoliberal rules of the EU, and appealing for workers' solidarity from across Europe.
Nationalisation
Such an approach would have exposed the neoliberal character of the EU, explaining how its rules against public ownership and state intervention are an obstacle to a Corbyn-led government implementing socialist policies.
This includes many of the policies in Corbyn's 2017 general election manifesto that resulted in a swing to Labour, denying May a majority that contributed to the Tory crisis. Corbyn's mistaken approach in the 2016 EU referendum allowed the likes of Nigel Farage and Boris Johnson to lead the Leave campaign in a right-wing nationalistic direction.
Since then, however, Corbyn stated that Labour should accept the outcome of the vote and call for a general election. He has not mobilised the workers' movement around this demand over the heads of the parliamentary Labour Party, but up until now he has at least stood out against the Blairites both inside and now outside of Labour.
Tom Watson walked out of a shadow cabinet meeting when he couldn't win a commitment that no Brexit deal would be agreed without a 'confirmatory' referendum – even if all of the safeguards on workers' rights, state aid rules and so on were achieved.
Shamefully, the Blairites have been joined in this by some union leaders. An amendment from transport union TSSA at the subsequent Labour national executive committee, committing Labour to a 'confirmatory' referendum, was defeated.
Overturn
Corbyn has understood that if Labour is seen as a Remain party looking to overturn a democratic vote, a big section of the working class who voted Leave for anti-establishment reasons will turn against it.
The two unions that have supported Corbyn have been Unite and the CWU. In both unions, which had a Remain position in 2016, Socialist Party members have had an influence.
At last year's Unite policy conference, a motion from Unite LE/1228 branch argued for the union to call for a workers' Brexit, fight for a general election to get the Tories out, and for a Corbyn-led Labour government. This was incorporated into the union leadership's statement, although it did leave open "the possibility of a popular vote" if there was no general election.
As we reported in last week's Socialist (see 'Communication workers oppose second EU vote, and back new socialist Clause IV for Labour' at socialistparty.org.uk), the recent CWU conference agreed the union's national executive council emergency motion to not campaign for a second referendum, but instead to fight for a general election and the election of a "transformative Labour government that will deliver an irreversible shift in wealth and power in the UK."
In the 2016 conference, it was a Socialist Party member, a delegate from Coventry, who was a key speaker from the rostrum to oppose the leadership's then position for Remain.
The CWU's latest resolution argues that any Brexit deal "should be consistent with a democratic socialist transformation of the UK economy in relation to competition, the undercutting of workers and public ownership and investment." This is an outline of how Corbyn should approach any Brexit talks.
His 'red lines' should be the end of austerity, the repeal of all the anti-union laws – some of which were prompted by the EU – and no adherence to EU rules on nationalisation and state aid, including bringing Royal Mail and BT back into public ownership. This would expose May and the EU's pro-boss bias and help Corbyn show workers that he is on their side.