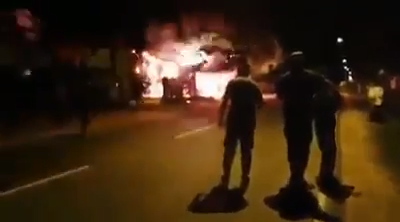 When many are trying to get back to a normal life following the horrific Easter Sunday mass killings, a new wave of communal attacks has started against the Muslim population.
The Sinhala Buddhist chauvinist groups have a long history of propagating hatred against Muslims. They also spread baseless lies about them among the Sinhala population. During the past Mahinda Rajapaksa regime in 2014, a right wing racist group BBS (Bodu Bala Sena – a racist monks' party) headed the attack on the Muslim population. In Dhargatown in Aluthgam they killed three Muslim youth and destroyed properties. Many businesses in that area owned by Muslims, such as the famous clothing chains such as Nolimit and Fashion Bug, were also attacked and destroyed.
Then communal attacks were carried out under the new government. In 2018 Anti-Muslim attacks took place in Ampara district and Digana area in Kandy. Along with BBS, other racist organizations such as Mahason Balakaya, Ravana Balaya were responsible for this attack.
Following the Easter Sunday bombing, these horrific anti-Muslim violence has been revived. The government did know that there was going to be some sort of violent activity planned for Monday 13th of this month. Following the spread of this information, roads were virtually empty and schools were closed. However the government did nothing to prevent the anti-Muslim violence that took place in Bingiriya, Kuliyapitiya and Heetipola in Kurunegala district. Much more anti-Muslim violence took place in Miniwangoda and the Gampaha area in Gampaha distict as well as in the Chilaw area.
These attacks were carried out by organised gangs. Many video reports made available in the media clearly show how the mobs were organsied and at times protected by the Sri Lankan authorities. The government claimed that they put armed forces on the streets to keep "law and order". But they did nothing to prevent armed mobs taking over public roads and launching a brutal assault on the Muslim population. Following this, a curfew was implemented, which has now become a daily routine. But even some of the mobs who were arrested are now immediately released. One of the Members of Parliament from SLFP (Sri Lanka Freedom Party) visited Bingiriya soon after the violence but only to get the police to release all the gangsters who were arrested.
Muslims living among Sinhala communities are now increasingly terrified. In some places they have gathered together family members including children to stay together to protect themselves. While these attacks are allowed to be carried out, the government also initiated its own attack against the minority population. They have quickly passed two laws prohibiting Muslim women from wearing the Burka and the Nikab and generally made the Muslim people feel scared and under siege. They also took measure to silence the loudspeakers at the Mosques while this is still allowed at other religious places. These measures were taken to concede to communal pressure and consolidate their own power base.
This is also an attempt to curtail any possible struggle that may emerge against government policies. There was a successful teachers' strike at the beginning of this year. The plantation workers' struggle demanding a Rs1000 a day wage has also had some success. At the same time there is a non-stop fight back by students taking place against privatization. The government will use the current situation to suppress legitimate opposition from below.
The government at this stage doesn't have any serious parliamentary opposition. Mahinda Rajapaksa, a communalist, is the only one presenting himself as an opposition to the government. Even the TNA (Tamil National Alliance) which is supposed to be the opposition in the parliament is now supporting all government measures. Due to the implementation of emergency laws, there is also a widespread fear of organising any protest against the government.
But we cannot allow the attack on democratic rights to carry on. We call for a the formation of defence committees to be established in Muslim neighbourhoods. Multi ethnic, multi religious committees should be established to counter any further communal atrocities carried out against the Muslim population. Trade unions that have members from all ethnic and religious groups should come forward in assisting and establishing these committees. They should also come forward to wage a united struggle against communalism and all discriminatory measures and the attacks on living conditions that are now being carried out by the government.
We say:
End all attacks on the Muslim community immediately!
Build a mass anti-racist movement appealing to young people, trade unionists, workers and the poor!
Support the building of multi-ethnic democratic defence bodies involving trade unions, local communities and student organisations against the mob attacks provoked and perpetrated by the communalists. We also need defence against state repression to be organised, especially in the areas where Muslim communities live.
The right of any individual to practice any religion or none must be respected, with protection of minority rights in all areas
We demand compensation and justice for all victims of mob attacks.
We demand a public inquiry – to be conducted by democratically elected and accountable representatives that should include the victimised people and trade unions.