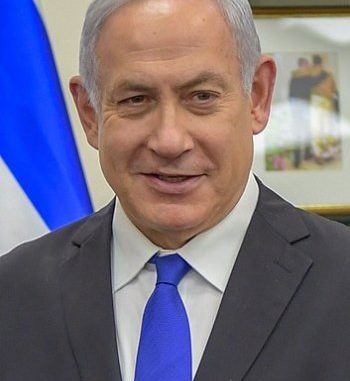 After a decade as Israel's prime minister, Benjamin Netanyahu has failed in both of two general elections this year to gain a parliamentary majority and secure a fifth term of office.
These two inconclusive results show the unprecedented turmoil at the top of Israeli capitalist politics. Never before have there been two general elections within just six months; and with the possibility of a third to come.
Facing indictment on charges of fraud, bribery and breach of trust, Netanyahu's ambition to continue as prime minister became entwined with desperation to secure a new term as a way to avoid possible criminal conviction. But in the 17 September general election his Likud party gained only 32 seats, coming second to the Blue and White party, which was cobbled together just seven months ago, headed by former army general, Benny Gantz.
However, neither of these parties has been able to form a government, so far. They have both failed to put together a coalition of the necessary minimum of 61 seat holders in the 120 seat Knesset (parliament). Netanyahu is in a bloc with several right-wing parties which together only hold 55 seats.
Avigdor Lieberman, who leads the secular right-wing party Yisrael Beitenu ('Israel our Home') has refused to add his party's eight Knesset seats to the bloc. In taking this stance, he has mainly blamed the ultra-orthodox parties in the bloc for their resistance to legislation that would force a greater number of the ultra-orthodox to serve in the army. However the Israeli media is not short of comments on the rivalry and antagonism between Lieberman and Netanyahu, indicating that power play and ambition are part of the picture.
Lieberman has pushed for a 'national unity' government of Likud together with Blue and White but so far Gantz has rejected this – his party, in reality an alliance, was formed essentially as an anti-Netanyahu bloc, so it would be seen as betraying its voters to go into a government headed by Netanyahu. For now, Israel's president Rivlin has given Netanyahu the first chance to try to form a government, which if he fails to do could spell the end of his decade of callous right-wing domination.
The Israeli Labour Party, today's successor of the social democratic party that founded the State of Israel and then held power for three decades, stood in September's election in alliance with the small Gesher party, founded by former Yisrael Beitenu MK Orly Levy at the end of last year. Labour-Gesher only managed to win six seats, just 4.8% of the vote. This was despite putting forward some policies which would be welcome to Israeli workers if delivered, including raising the minimum wage and pensions and putting more money into healthcare, housing and education. However, the limited manifesto was nowhere near enough able to overcome Labour's loss of support due to its moves to the right over a long period, the impact of allying with Gesher, and the ignominy of present leader Amir Peretz's past broken pledges and roles. He has shifted in out of the Labour Party and has twice been a minister in cuts-making capitalist governments, including one under Netanyahu.
Some Israeli trade unionists and workers hoped Labour would move leftwards after the June resignation of the leader who led it to its worst ever general election result in April, former big businessman Avi Gabbay. But, in September, under Peretz, the alliance only barely increased its vote, a reflection of how great distrust now is towards both Labour and Peretz.
Overall, the fragmentation of Israel's bourgeois political parties continues to reach new heights. Splits, mergers and new entities are an almost constant feature, with the ruling class no longer having any stable and reliable political parties to serve its interests; and the working class not yet having a party which can take forward its needs.
Inflammatory Netanyahu decade
Netanyahu has become too much of a liability for much of the ruling class. He has been at the helm during a period of economic growth in which the rich have gained. But his governing coalition encompassing the most right-wing parties in the Knesset has relentlessly turned to racist incitement and other highly polarising policies, which much of big business views as too destabilising.
In the run up to September's general election, he attempted to rally voters using racism and security fears as he did in previous elections. He argued for cameras to be used in polling stations in Arab areas, insinuating that fraud would take place and Arabs would "steal" the election.
He had already, before April's election, outrageously declared he would annex all the West Bank Jewish settlements, including the smallest. This time he upped the ante further in an incendiary announcement that if re-elected he would annex the Jordan Valley and north Dead Sea area. This would be seizing 22% of the West Bank, and together with taking all the settlements would be viewed everywhere as a final death knell for a Palestinian state. The intention he outlined was to deny Palestinians residency rights in the territory to be seized and to encircle their villages where they already exist.
He commented: "We haven't had such an opportunity since the [1967 war] and I doubt we will have such an opportunity in the next 60 years", that being a reference to the presence in the US White House of Trump, who staunchly supported the Israeli political right and settler movement. Since Trump came to power, settlement building has accelerated, as have demolitions of Palestinian homes in east Jerusalem. In Gaza, more death and destruction has been the result of regular episodes of Israeli military brutality. Attacks on Palestinians inside Israel have also continued, including through the notorious nationality law which declared: "The right to exercise national self-determination in the State of Israel is unique to the Jewish people". Included in this was demoting Arabic from being an official language.
It is not just on the national question that Netanyahu has come into collision with many in the capitalist establishment. They are alarmed at him elevating his own interests and those of his bloc at the expense of the leading state institutions. He is regarded as going too far in trying to increase his own powers; one of the plans set in motion by his previous government was to give the Knesset the right to override decisions of the Supreme Court. He verbally attacked the judiciary and the Attorney General, Mandelblit, who is making decisions on the legal cases against him.
Two of the charges against Netanyahu are based on allegations of underhand attempts to get favourable media coverage. The ruling class sees these allegations and Netanyahu's overload of repressive, anti-democratic and self-promoting steps as an increasing problem – as generally weakening the authority of Israeli institutions and 'democracy' and giving fuel to further protest movements which could escalate beyond the sizeable ones that have already taken place.
Some of Netanyahu's right-wing populist methods have similarities with those used by the likes of Donald Trump or Boris Johnson – coming into collision with parts of the capitalist establishment and posing as being on the side of the people against them. But none of the manifestations of right-wing populism worldwide can offer anything of depth or a lasting nature to working class and middle class people. Rather they are symptoms of the convulsive and fundamentally weak character of the world economy and capitalism's inability to end the corrosive and obscene increasing inequality and the corruption at the top.
Blue and white
Both Likud and Gantz's party lost some votes and seats in September compared with April, but the tables were narrowly turned against Likud, with Blue and White becoming the biggest party in the Knesset. As a former army general, Gantz had the advantage of being a fresh face in politics and was able to benefit from the respect shown towards the army by most Israelis. His alliance also included two other former top generals, Gabi Ashkenazi and Moshe Ya'alon. But the vote for Blue and White was primarily due to desperation to get Netanyahu's coalition out, rather than a positive endorsement of Gantz and co.
Their programme was clearly aimed at drawing a line under the Netanyahu years and projecting a less corrupt face of capitalism. It included bringing in term limits for prime ministers, stopping indicted politicians from being Knesset members (MKs), and increasing funding for health care and early years education. It also pledged more recognition to minorities and to be a secular government that would counter the influence on policy-making of the minority ultra-orthodox population.
To try to broaden the alliance's appeal, alongside the generals were figureheads from other backgrounds, including the founder of the Yesh Atid ('There is a Future') party, Yair Lapid, and the chairs of the Histadrut trade union federation and the students' union. Ya'alon and Lapid had served as ministers in Netanyahu-led governments, so that sullied the 'fresh' appeal somewhat.
Regarding the national question, Blue and White called for new negotiations towards a peace deal with the Palestinian Authority, but with no commitment to a Palestinian state. Gantz criticised Netanyahu for not being militarily forceful enough in Gaza, saying: "Deterrence has not been eroded; it has been erased. Our military will defeat Hamas". When Netanyahu pledged to annex the Jordan valley, Blue and White responded that Netanyahu's pronouncement merely echoed its own policy that the valley would 'remain Israeli'.
So on the surface there is not much difference in policy on the national conflict between Gantz and Netanyahu and there is no question about Gantz's preparedness to use military repression – which he has a proven and bloody record on. But for the ruling class, Gantz could provide a route to more flexibility on its options. They know that keeping under indefinite occupation a growing, desperate and angry Palestinian population of millions is not tenable, so some kind of deal will again have to be attempted. The right-wing and far-right Zionist parties are an obstacle to flexibility regarding any possible concessions, so this is one of the reasons for moves from within the ruling layer to sponsor an alternative capitalist political line-up.
The 'left'
The parties on the left of the parliamentary spectrum did little better than Labour-Gesher mentioned above. The 'Democratic Union' won five seats, this being an alliance of social democratic party Meretz with the Green Movement, Ehud Barak's Israel Democratic Party, and Stav Shaffir, who defected from Labour in the summer after failing to win the Labour leadership. Meretz lost some its voters – especially Palestinians – in September compared with April, because of its alliance with Barak which was formed in between the two elections. Barak was the Labour prime minister in October 2000 when 13 Palestinian protesters were shot dead by the police. Meretz on its own once had 12 MKs (in 1992), which shows its trajectory.
The Democratic Front for Peace and Equality (Hadash), led by the Israeli Communist Party, saw five of its members elected to the Knesset as part of a wider alliance, the Joint List. Hadash should not have stood as part of the Joint List, a grave mistake it first made in the 2015 election. The list is based on Arab nationalism and includes right-wing Islamists, so its policies are reduced to those acceptable to those parts of the list. It celebrates being the third largest 'party' in the Knesset, with 13 seats in total, and promotes itself to the Palestinians in Israel as countering their discrimination and low living standards.
Certainly those communities – around 20% of the Israeli population – are crying out for fundamental change. Anger among them surfaced in a one-day shutdown on the day of the reconvening of the Knesset, 3 October, to protest against lack of police action on the escalating crime in their communities.
Hopes that the Joint List can deliver results were shown in the 60% voting turnout of Palestinians in Israel in September, compared to 49% in April when the Joint List was divided into two separate lists.
But without having a socialist programme that can cut across division and appeal to all sections of the working class – through pledging to take the heights of the economy into public ownership and to introduce democratically-run socialist planning – it cannot succeed in transforming the situation for Palestinians in Israel.
Also, unfortunately Hadash has a record of focusing on parliamentary politics rather than building struggles beyond that arena; and in addition it has served in coalitions with pro-capitalist parties or individuals in the trade union movement and in some local authorities.
One of the prospects promoted by Joint List leader and Hadash member Ayman Odeh during the election campaign was that the list could help "overthrow the right-wing government" by placing its voting weight in the Knesset against Netanyahu's bloc. Ten of the 13 Joint List MKs followed through on this after polling day by using their voting weight to allow the possibility of a government led by Gantz to be formed.
Odeh stressed in an opinion piece in the New York Times (24 .9.19) that this was "not as an endorsement of Mr Gantz and his policy proposals for the country" and added "we will not join his government". The ten votes have so far not been enough to tip the balance decisively against the right-wing bloc, but was it wrong to use them in that way? It's not necessarily incorrect for Hadash and co to try to help remove the rabidly racist and corrupt Netanyahu-led bloc, so hated by Joint List voters, while giving no support to a Gantz-led alternative. Subsequent Joint List voting in the Knesset could then be decided on an issue by issue basis. But it is essential that in taking such a path, no illusions are fed in what Gantz represents.
However, rather than criticising Gantz, Odeh's opinion piece merely pointed out that Gantz doesn't support the political demands of the Joint List. And his piece ended by saying his recommendation for Gantz to be prime minister shows that: "cooperation between people, Arab and Jewish is the only principled political strategy that will lead to a better future for us all".
This is a cross-class strategy doomed to failure and must be opposed. Not only does Gantz have Palestinian blood on his hands from his years as the army chief of staff, he is also a representative of Israeli capitalist interests which certainly will not lead the way to a better future for the overwhelming majority of Israelis, Arab and Jewish. The left wing of Hadash needs to break with this position and turn to helping to build a real alternative for working class and middle class people, which would be building a fighting opposition inside and outside parliament to all the pro-capitalist politicians, on a non-sectarian basis – i.e. one which would represent the independent class interests of workers and youth from all backgrounds.
A party offering a socialist programme could grow very fast as there are huge levels of discontent and a desire by many for a genuine alternative. During recent years there have been some large protest demonstrations, including against corruption, discrimination, pollution and police brutality.
Israel has more poverty than any other OECD country when disposable income is compared. Ordinary people suffer from extortionate housing costs, cuts in services and many are struggling to get by financially. According to the latest report by Israel's Central Bureau of Statistics, 29.9% of those surveyed were unable to pay their bills last year and nearly 25% had given up medicine or health treatment, or hot meals even.
None of the pro-capitalist politicians have any way to transform this situation; and there was no election list put together among the myriad of parties that socialists could advocate a vote for. Only through a workers' party being created and being firmly based on working class interests – independent of opposing class interests – can a way forward be concretely posed.
The occupation
Poverty and conditions in the occupied territories continue to be dire, with Gaza still largely strangled by a blockade, and made worse by the US under Trump cutting hundreds of millions of dollars of aid. A large majority in the territories have unsurprisingly already rejected Trump's much talked about 'peace' proposal, even before most of its content is revealed.
But they are burdened with leadership bodies – the Palestinian Authority in the West Bank and Hamas in Gaza – that are pro-capitalist, have no solutions to their plight and have lost the confidence of most who originally elected them. Hopes for a Palestinian state were already low in the territories before the September election in Israel. Now, after the statements of Israeli leaders on the Jordan valley, despondency is likely to be higher, with more people turning towards a 'one state' solution. A Palestinian opinion poll done in September (shortly before the Israeli election) showed 42% support for a two state solution (it was 47% three months ago) and 32% for one state. A majority of 63% thought that "a two-state solution is no longer practical or feasible due to the expansion of Israeli settlements" and 78% thought "the chances for the creation of a Palestinian state in the next five years are slim or non-existent".
The pollsters also asked for opinions on the most effective means of ending the occupation. The results were 44% said "armed struggle" (52% in Gaza), 24% "negotiations", and 22% "popular resistance". The findings were seemingly contradictory, because while 44% supported "armed struggle", 62% supported "popular non-violent resistance", so some respondents supported both of these. But the flaw lies in the questions. The words "armed struggle" conjures up in people's minds the blind alley of terrorism carried out by small secretive groups, as that has been a common form of struggle during the last three decades.
Urgently needed is the building of mass, democratically organised struggle, with the right to be armed as part of this. Along with this, adopting a socialist programme would be as vital in this context as inside Israel, to make clear that the aim of the struggle is not a conflict between ordinary people on the two sides of the divide, but an end to poverty, insecurity, exploitation and war for all, as the only means of securing a decent future.