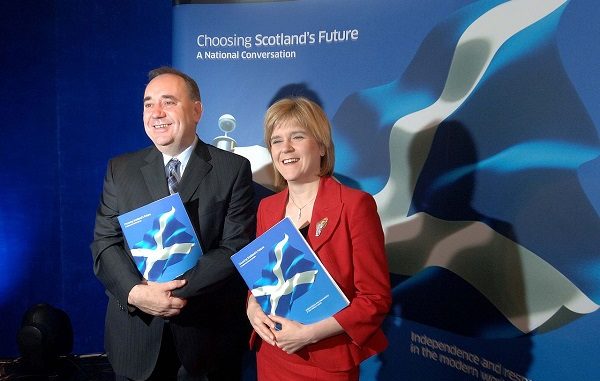 The Scotland National Party's (SNP) internal warfare has dominated the political and press agenda in Scotland over recent days. A parliamentary committee of enquiry into the Scottish government's handling of sexual harassment allegations against former first minister Alex Salmond has driven Covid off the front pages. Both Nicola Sturgeon, current SNP first minister, and her predecessor Salmond, have given hours of evidence amid wall-to-wall media coverage.
In his testimony, Salmond, who has accused the Scottish government, the legal establishment and the civil service of a witch hunt against him, claimed: "The Scottish civil service hasn't failed, its leadership has failed. The Crown Office hasn't failed, its leadership has failed. Scotland hasn't failed, its leadership has failed."
Sturgeon, in turn, said it was as "absurd suggestion that anyone acted with malice or as part of a plot against Alex Salmond".
Salmond has also accused the SNP leadership of seeking to have him jailed.
The civil war in the SNP – although Salmond is no longer a member of the party – has spilled over to the broader independence movement as well. Sides have been taken. The majority of the SNP establishment back Sturgeon and the #IstandwithNicola campaign is in full flow. Salmond, however, also has significant minority support among the SNP membership, some parliamentarians and in the Yes to Scottish independence movement.
The catalyst for the blood-letting dates back almost three years. In 2018, the Scottish government had investigated complaints about Salmond from two female civil servants who had accused him of sexual harassment during the time when he was first minister and SNP leader. The internal investigation that took place was under a new procedure for dealing with "inappropriate conduct" drawn up in 2017 in the wake of the #MeToo movement.
It allowed for former ministers to be investigated and not just current ones. The investigation into the complaints under this new procedure led to a report being handed to the police who began their own investigation.
Salmond took the Scottish government to court over the investigation and the way it was handled. The civil servant who conducted the inquiry into sexual harassment allegations had previously spoken to the two women and was aware of their claims. This meant the Scottish government has acted illegally. The case collapsed and Salmond was awarded around £600,000 of public money in costs.
Sturgeon, in her evidence to the 2021 parliamentary inquiry, admitted that the SNP government had made a "dreadful, catastrophic mistake" by appointing a person who had already prior knowledge of the harassment allegations. It did not prevent her government from trying for months to defend the case in 2018, even after the Scottish government's legal team were telling them it was "unwinnable". Their lawyers complained that the government had withheld key information from them.
Alex Salmond was charged in 2019 with 14 counts of sexual assault against nine women, including attempted rape. The outcome of the trial in March 2020 was that the jury found him not guilty on 12 counts and not proven on one charge – the other charge had been dropped. It was clear during the trial, including from his own evidence, that he had acted in a sexist, predatory and unacceptable manner towards women he worked with.
Demands for parliamentary inquiries by Salmond and opposition parties soon followed. Sturgeon is primarily accused of "breaking the ministerial code", and there is a separate inquiry led by a judge into this due to report next month. The SNP government have been under intense criticism after refusing for months to release key legal documents to the parliamentary committee, which has still not been fully done. It is still possible that either or both of the investigations into aspects of this saga will conclude that Sturgeon has broken the rules of a first minister. However, at this stage, it is likely that she will lead the SNP into the election on 6 May.
Nevertheless, both sides have emerged damaged. Recent polling evidence shows support for independence has fallen, coinciding with the Salmond/Sturgeon conflict. Certainly, the Tories and British Tory prime minister, Boris Johnson, have been hoping that long term damage will have been inflicted and the SNP will be a weakened political force, as a result. It strengthens the case made by Socialist Party Scotland that the pro-capitalist SNP leadership are itself a barrier to leading a successful mass struggle for self-determination, never mind and an independent socialist Scotland.
An independent class position
It is not the job of socialists to defend one side or another in this conflict. We have to take an independent class position. Salmond's conduct toward women is not defensible. Nor are his political positions, including passing on Tory cuts as first minister, or his support for capitalism. Let's not forget Salmond was the one who championed major cuts to corporation tax for big business in an independent Scotland in the SNP's 2014 independence 'white paper'.
That does not mean that there wasn't a conspiracy among leading SNP members to "get" Alex Salmond, particularly after he announced he was going to court to challenge the Scottish government investigation and was himself being investigated by the police on sexual assault. Indeed Sturgeon's partner and SNP CEO, Peter Murrell, allegedly sent texts to party officials saying: "It was a good time to be pressuring the police" to pursue Salmond. He also sent a text saying he wanted London's Metropolitan force to start a second inquiry into the former SNP leader: "The more fronts he is having to firefight on the better for all complainers."
At a certain point, these events became for Sturgeon and her clique a battle for survival, for political positions and prestige. Defeat to Salmond was unthinkable. If defending her position meant throwing Salmond 'under the bus' then that was preferable to the alternative.
The SNP are not a workers' party. They are a brutal pro-capitalist machine with a middle class, careerist leadership (in reality now the political establishment in Scotland) that fervently wish to rule in the interests of big business in an independent Scotland.
Sturgeon is also no ally of the working class and the trade union movement. Her government have been unending in their pursuit of cuts to 'balance the books'. If anything, Sturgeon has moved the SNP to the right and in a more pro-big business direction than even under Salmond.
This warfare between these leading figures in the independence movement is also reflected in other issues, including gender recognition. Key Salmond allies, like Joanna Cherry MP and others, oppose Sturgeon on the right for trans people to self-identify. Cherry has been removed as a Westminster spokesperson recently by the Sturgeon leadership for her stance and support for Salmond. Both sides, while claiming to be 'feminist', are engaging in a toxic, divisive debate based on identity politics. Socialists, in contrast, put forward the need for a united struggle against all oppression.  
Above all, these splits and divisions are also indicative of a conflict over how to confront British capitalism's opposition to Scottish independence. Sturgeon is widely seen outside of the SNP as too timid. Her insistence that only a 'legal' referendum (i.e. one agreed by Boris Johnson) can offer a route to independence is increasingly seen as a utopia. Her fear of mobilising the working class in a mass movement for democratic rights is a morbid one.
Salmond and other pro-Salmond elements take a more combative position, at least in rhetoric. This could crystallise into a split from the SNP after the election in May, with the creation of a new political formation. It's not ruled out that Salmond could even stand in the election, perhaps on one of the pro-independence lists. Unfortunately, Tommy Sheridan, the former socialist Member of the Scottish Parliament, is calling for a Salmond to consider standing, as well as backing Salmond in this current battle with Sturgeon.
The task of socialists is to give not one iota of support to either Sturgeon or Salmond, far less call for a vote for the SNP, as Tommy Sheridan and many others of the left do. The SNP leadership have failed on austerity, on Covid, on workers' rights and on confronting capitalism.
It is the building of a new workers' party in Scotland with the trade unions playing a lead role that is the essential step that needs to be taken. Indeed the election of the Blairite Anas Sarwar as the new Scottish Labour leader underlines that task even more clearly.
The Scottish Trade Unionist and Socialist Coalition is standing across Scotland to offer that fighting socialist alternative. For both a socialist recovery for the working class after Covid and for a mass movement for the right to hold indyref2.