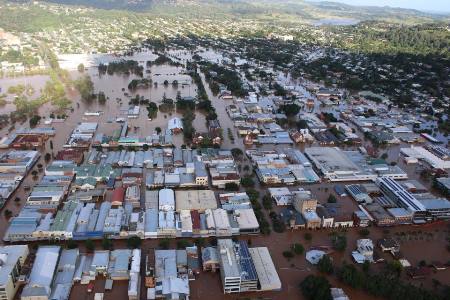 The floods all along the eastern coast of Australia were and continue to be a disaster. For the most part, by mid-March, the floods are starting to dissipate. But they have left devastating consequences. The city of Brisbane, in Queensland and, north Sydney, in New South Wales, suffered major flooding, the worst recorded floods in Australia's history. Many towns have been washed away with many losing their homes, cars, and all personal processions. There have been 22 deaths reported and terrible consequences for the thousands of residences along the east coast, not only in the immediate term but long term. There were food shortages, and a thousand schools were closed. In the Hawksbury-Nepean Valley, a quarter of the properties were declared uninhabitable.
There is now little doubt among most scientists that global warming is a reality.
The long-term after-effects of Australia's flooding will last for some time. Sewerage water overspills have left waters dangerous to drink or even swim in, causing gastral illness and eye infections. There are now warnings not to touch the water and keep away if you can.
Government response to victims of the floods
Less than $1 billion in government support for victims of the floods across New South Wales is pitiful compared to what is needed for families.
The maximum people can get is the equivalent rate of the JobSeeker (unemployment benefit) rate of AU$629.50 per fortnight (352GBP or $US460). There are other grants that can be applied for but, in total, they remain very small. Again, this paltry amount is way below what is needed to support families, where the average wage in Australia is around AU$3,000 per fortnight. There are also huge geographical discrepancies – where one side of the street is deemed a disaster area while the other side of the street is not.
There have been floods for decades in Australia but none as bad as now. Yet with increasing evidence of global warming, there is no excuse for these floods to have taken place.
What could have been done and what needs to be done
All the dams in the area are at 100% capacity and overflowing. And they have been in this position before. Some were built a hundred years ago. What should have taken place was the planning and implementation of more extensive dams and overflow routes of the water.
The only way is to start a massive programme of dam structures to cater for any event. They could even be subterranean structures, where there would be negative impacts on communities and wildlife. But these should not be 'ordinary' dams. Built in pairs and interconnected, they could be used to harness clean energy by lifting one dam from another with green energy, and powering energy plants, as the rainfall rises and falls. Even the existing dams and overflow safety run-off systems should be fitted with hydroelectric power constructs. This way, all water systems could be utilised for power generation.
Will this be done?
Australian capitalism cannot conceive of such a plan. The short-term state and federal parties and governments would never plan for such a programme that will run for decades and require proper funding. There is no profit here for private industry, so this plan will not come to fruition.
Both conservative parties, the Australian Labor Party and the Liberal Party, would never commit to such a programme to save lives and generate a massive amount of clean energy. 'No profit, no go!' Capitalism is based on the pursuit of private profit. So, we can expect that droughts, fires, and floods will only increase with the advance of global warming.
Only a socialist society, with real daily democracy and common ownership of the biggest banks, mines and industry, could plan for such a future and cater for the needs of the Australian people.