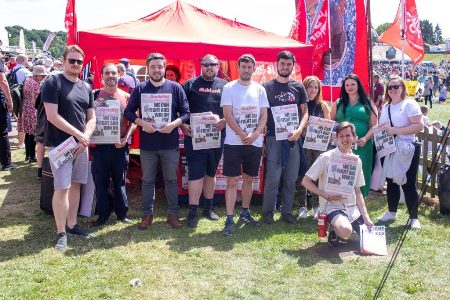 The annual Gala has been a feature in Durham almost every year since 1871 – a chance to witness union organisations march for a celebration of workers' pride.
Labour leader Keir Starmer didn't speak. A lot of boos were heard when his name was mentioned.
Out of the union leaders, Unite general secretary Sharon Graham was the standout speaker, and the message was clear: she wants to stop the working class paying for an economic crisis it didn't create, and it will take collective action to achieve this.
Rail strikes
Attendees wanted to hear what Mick Lynch, RMT union general secretary had to say following his TV appearances during the rail strikes.
Mick had stern words for Starmer and the Tory government: "We refuse to be meek, we refuse to be humble and we refuse to be poor any more".
To those in attendance, he said: "You need to find your message, you need to find your voice, and it's got to be the voice of the working people in struggle, or you've no place in our movement."
NHS nurse Holly Johnston – a Socialist Party member in GMB union – also took to the podium. She said: "Every worker in this country is in the same position, and we need to fight together. The whole of the UK needs a pay rise, and don't be fooled, the money is there."
"NHS workers have had enough… which is why we are organising like never before". She was one of the few speakers to mention socialism. "For many of us [the NHS] embodies the socialist ideal… we need more socialism, not less socialism".
There were lots of stalls. However, it was only the Socialist Party that was calling for a new mass workers' party on a socialist platform.
People left the Gala with the hope that the workers' movement will find its courage and belief and take the fight to the bosses and a hostile-to-workers government. Let's hope that the next 12 months means the next Gala is revelling in workers' victories.