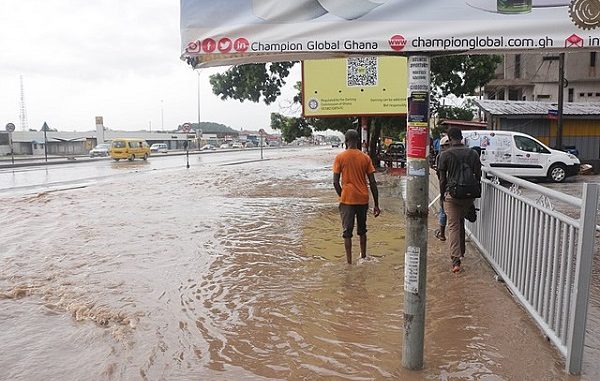 This year, floods have wreaked serious havoc and suffering in Nigeria. The country experiences floods every year but this is the worst since 2012 when there was a similar degree of devastation with 363 deaths and over 2 million people affected. The monstrous floods by mid-October had already officially claimed over 603 lives, displaced over 1.3 million people, destroyed 82,053 houses and affected 2.5 million people in at least 33 out of 36 states in the country.  Yet, by the metrological agency forecast, the torrential rain which is the major cause of this monumental disaster may not abate until the end of November.
The flood disaster is also expected to worsen food inflation in the country as 332,327 hectares of farmlands with different crops have been washed away. Food inflation was 23.34 percent in September on a year-on-a-year basis with the headline inflation 17-year high at 20.8 percent.  For instance, to the raging flood, Olam Rice farm located in Nasarawa state lost over 4,500 hectares of land with the crop together with other damages caused on infrastructures including dykes, canals, and drainage worth $8 million. The farm is said to be Africa's biggest rice farm and supplies 25 percent of Nigeria's rice needs (Cable October 7, 2022).
Many smallholder farmers in different states have also suffered huge losses. According to the National Emergency Management Agency (NEMA) 14,496 farmlands were destroyed by the flood across five local government areas of Kano State. (Vanguard September 21, 2022)
In many states, the floods have also posed serious public health challenges with a possible outbreak of epidemic of waterborne diseases including cholera and vector-borne disease like malaria. For instance, in Bayelsa where many parts were practically submerged in water, corpses from a flooded mortuary were seen floating and sewage washed away.
For over four weeks between September and October, the FCT and its environs were faced with lingering petrol scarcity, which development authorities blamed on the massive flooding in Lokoja, Kogi State. The flooding also affected the movement of food items from the North to the southern parts of the country.
The Nigeria Liquefied Natural Gas Company (NLNG) export facility on October 17 declared force majeure on its supplies citing disruption to its feed gas suppliers' production by the recent heavy flooding in Delta State. Though the company was still operating, it was "not getting enough gas" due to the impact of the flooding on its suppliers (Reuters October 20). Stoppage of gas export will further worsen the economic crisis associated with the revenue problem from oil and gas which, especially the oil sector, has suffered disruption from oil theft, shut-in of facilities, inadequate investment and divestment.
The meteorological and hydrological service agencies have jointly blamed the flooding on excessive rainfalls and excess waters released separately from Kainji and Shiroro dams in Nigeria as well as Lagbo dam in Cameroon on September 13 (Daily Trust October 12, 2022).
Some analysts have highlighted the role of the Lagbo dam in the flooding disaster, especially against the background of the failure of the Nigerian government to build the Dansi Hausa dam in Adamawa that could collect the released water. However, the Minister of Water Resources Adamu claimed that the contribution of the Lagbo dam to the flooding was only one percent and its effect did not go beyond Adamawa. He said tributaries of River Benue are the main cause and that this year the rains have been unprecedented (Nigerian Tribune October 20). While the claim of the Minister is debatable, the fact is that there is no provision for any mitigation or prevention of flooding in Nigeria in case the water from the Lagbo dam is excessive. Also, the rains were totally expected, government inaction is solely responsible for the unfolding catastrophe! According to the Premium Times editorial of 24 October 2022, as early as 15 February, "the Nigeria Meteorological Agency released the 2022 Seasonal Climate Forecast that warned of heavier rainfalls and floods than experienced in 2012".
Climate Change
However, what is not doubtful is the excessiveness of rain as a result of climate change. There's evidence to suggest increasing rainfall over time. Data from the Nigerian Meteorological Agency from 1981-2017, analysing 13 affected locations, reveals a rising trend in annual rainfall, which it says is likely to be a significant factor responsible for floods (BBC Reality Check September 27, 2018).
No doubt extreme weather conditions driven by climate change are a disaster which is not peculiar to Nigeria, nay the developing world. Indeed, at present at least 19 countries across West and Central Africa are ravaged by floods, affecting 5 million people according to a new U.N. World Food Programme situation report (AP October 22, 2022).  Recently, it was a monumental catastrophe in Pakistan where one-third of the country's land mass was devastated by floods which also claimed about 1,400 lives.
In the US, one week in late July and early August, Kentucky, Illinois and Missouri all experienced rainfall so heavy, with severe flash flooding and some death tolls, that it's only supposed to occur once every 1,000 years. On October 15, Australia experienced widespread flash flooding on its east coast as a result of heavy rains. Storm waters inundated homes and cars in three states and some areas were evacuated (YahooNews October 17, 2022), and immediately followed a period of severe drought between December 2021 and last September.
But the impacts of extreme weather events are more devastating in Nigeria and developing countries than in advanced capitalist countries because of the stark failure and backwardness of capitalism in the neo-colonial world. For instance, Nigeria does not have the adequate resilient infrastructure to adapt to climate change including to control or fight floods. This explains why despite the devastating experience in 2012 and the fact that the National Policy on Erosion, Flood Control and Coastal Zone Management has been developed since 2005, little efforts were on the ground to lessen the degree of flooding in the year 2022; and, nothing suggests that things may change fundamentally in the future.
The country has agencies and experts who understand the science of flooding and have an idea of what to do to control it. Tonnes of policy documents have been produced and several agencies set up on different sectors or areas impacted by climate change – water, agriculture, energy, etc. Nigeria has, for instance, an efficient early warning system and agencies which forecast precipitation, temperature, flood, drought, etc.  But the country is simply hampered by the limitation of capitalism including the primitiveness of its capitalist ruling elite to prevent or mitigate the effects of an approaching danger already known.
The Minister of Water Resources  Suleiman Adamu, for instance, was reported to have explained at a forum in October that large amounts of sediments are brought down the river Niger from the Sahara every year, and when there are intense rains the capacity of the river bed cannot take it, causing the river to burst its banks. Therefore, according to him, what Nigeria requires is an engineering solution in the form of an extensive programme of dredging, creating embankments, reclaiming certain floodplains, and straightening some of the sharp bends of its rivers. This he said would cost about $14bn to undertake (African Business October 6, 2022).
This suggests that despite close to two decades the country has been producing different policy documents and action plans that include flood control none of the identified measures or facilities has been provided.
Corruption
Yes, given other needs and priorities that compete for its resources, on the basis of capitalism, it would be difficult for Nigeria to immediately mobilise $14bn for flood defence. However, the main problem is that its endemic corruption means that even the relatively limited funds made available are often mismanaged or looted. For instance, in the last four years, a total of about N1trillion has been voted for ecological and disaster management with little to show for it. (Vanguard October 20, 2022)
Also in Lagos, despite huge resources at the disposal of the state government, roads are usually washed away or taken over by flood because of poorly constructed drainage or poor management of the drainage system. An example is the Agege-Pen Cinema flyover, commissioned just in 2021, but began to be flooded after just a few weeks, something that has also exacerbated the flooding of communities around the bridge. A section of the bridge had been washed away within a year such that it had to be closed down for a month between October and November in order to allow the reconstruction of the drainage system.
Climate Finance
However, the recent past international climate summits have had agreements on climate finance that mandate developed countries, which have contributed more than 80% of the greenhouse gas emissions causing climate change, to help developing countries to mitigate (reduce emission level), and adapt (respond to the effects) to climate change. Africa is said to have accounted for just about three percent of the emission of greenhouse gases but is the worst hit by its effects. Yet according to Akinwumi Adesina, president of the African Development Bank Group (AfDB), Africa receives only about three percent of global climate financing and thus lacks the resources to tackle climate change. (Cable September 12, 2022)
Worse still, a report reveals rather than the adaptation programme, which is needed to tackle the effects of climate change like flooding, much greater parts of the climate finance to developing countries including Africa are meant to fund mitigation. The adaptation finance is said to have remained at between 20 and 25 per cent of committed concessional finance across all sources. This is despite an agreement at the Paris climate summit for a 50:50 balance between mitigation and adaptation. (UNFCCC Report 2020)
Besides, a good part of the climate support from advanced capitalist countries and multinational institutions comes in form of loan facilities to developing countries. For instance, Nigeria recently got such a facility – $700 million – from World Bank to develop 20 watershed management plans; and prioritise investments that can slow desertification, among others (Punch September 8, 2022).
Failure of Capitalism
This November in Egypt another climate conference codenamed COP27 will be held. There will be new agreements and pledges and reaffirmation of old ones on emission reduction and the effects of climate change. But the fact that by the logic of capitalism which puts profit over people little will be achieved to save the poor and the environment.
For instance, one of the things the United Nations Secretary-General António Guterres wants to achieve in Egypt is launching "an action plan to provide early warning systems for all within five years". This is aimed to end the situation in which "entire populations are being blindsided by cascading climate disasters, without any means of prior alert" (YahooNews October 14, 2022)
Yes, disaster warning systems are important. But they are only useful to those who have the means to take precautions such as evacuation. Only half of the countries in the world are said to have early warning systems, and Nigeria is one of them. Truly, the current flooding had been long predicted but the warning did little to reduce the causalities and losses as a result of the characteristic irresponsibility of capitalist government and poverty among those affected. For example, one of the victims in Benue State whose house was overtaken by flood told Daily Trust: "As we speak, I, my wife and our four children are stranded. Although I was aware of the warning issued by the state government, I was, however, waiting for my salary at month's end to enable me to move. I didn't know the water would rise to this level, and I really don't have anywhere to go" (Daily Trust October 8, 2022)
The failure of the successive capitalist governments to provide decent public mass housing and proper planning for physical development that works and is people-friendly means that people build on floodplains, usually without efficient or required drainage systems.
Socialist Alternative
Given capitalism's drive for profit, it requires a socialist plan of production, science and technology, based on public ownership of the key economic sectors, to actualise the objective of limiting temperature rise below 1.5 degrees Celsius, provide the necessary adaptation measures to effectively fight the effects of global warming and generally protect the environment while still adequately meeting the basic needs of people and society. Nonetheless, while striving to build a movement for socialist system change, working people and youth have to mount sustained pressure on governments and corporations to force them to reduce the damage their actions and inactions wreaked on the environment and the poor.
In Nigeria at the moment, one of the immediate tasks for working people and youth is to agitate for adequate provision of relief materials and measures for the victims of the current flood disaster. Good enough, the Nigeria Labour Congress (NLC) in the resolution of its NEC meeting held on October 24, 2022, called on federal, state and local governments to compensate victims of the flooding, provide humanitarian services to submerged communities and citizens who have lost their means of livelihood and adopt measures that would forestall a possible outbreak of an epidemic in communities ravaged by the floods. It also specifically asked the government to construct catchment dams, clear water channels and ensure an effective deployment of ecological funds to mitigate environmental issues confronting the country. (Business Day October 25, 2022).
However, the NLC, together with the TUC and pro-masses organisations, should add to the above demands for the building of decent mass housing and objection to demolition without genuine alternative provisions. Also, there must be preparation and resolve to back up the demands with different mass actions including demand for democratic control of the distribution of relief materials and management of relief funds by committees of elected representatives of affected communities and trade unions.
Ahead of the 2023 election, the three frontline contesters whose policies or inaction in the past contributed to making the poor and environment vulnerable to the rage of nature have been making donations or visiting the victims in desperation to win votes. Incidentally, two of them, Bola Tinubu of the APC and Peter Obi of the LP, in recent public comments dismissively and cynically relegated the question of climate change to the backseat of their priorities and betrayed lack of understanding of its serious impacts on the economy, security and agriculture which they tout as being of paramount interests albeit with usual empty promises.
By and large, given that the inherent incapability of the capitalist elite and politicians explains their failure not only concerning the environment but also the overall issues of economy and development, despite the huge human and material resources of Nigeria, there is a need for the building of a mass working people party armed with Socialist programme linked to an international movement of the working class and youth demanding serious actions against climate change and arguing for Socialist Change. Such a party in government will ensure a socialist reconstruction of the society such that the commanding heights of the economy are democratically controlled by the working people in order to mobilise adequate resources, and the needs of the society including environmental protection, and not the greed of the thieving capitalist ruling elite, form the basis of governance and economy.