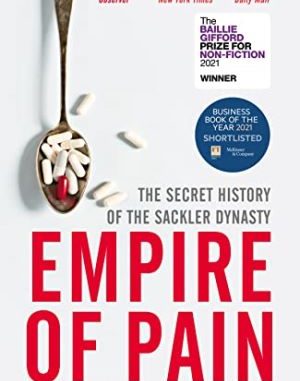 Visitors to museums and educational establishments, such as the V&A Museum in London and Oxford University, will be acquainted with the name of Sackler. This is the billionaire family from America which, for decades, has funded many of aspects of these institutions, and other world renowned galleries and universities, like the Louvre, Yale and Harvard. Less well known until recent years of revelations is that the Sackler's great wealth comes from the suffering of many people, particularly the poor.
An estimated half a million Americans have died from opioid -related overdoses since 1999 and millions more have become addicted. The Sackler family, through their company Purdue Pharma, made a painkiller drug in the 1990s called OxyContin, which is twice as powerful as morphine. They sold it is a slow release drug and claimed that it was less addictive than other opiates. Scandalously the US Food and Drug Administration (FDA) approved OxyContin without testing the company's claims. This created the conditions for an opioid epidemic in the United States and elsewhere. Not only was the drug addictive for many users, addicts soon discovered that by crushing the OxyContin pills they could ingest it much faster and get an immediate high.
All of this is brilliantly described in Patrick Radden Keefe's book, Empire of Pain – The secret history of the Sackler family. Keefe's last book, the acclaimed Say Nothing: A True Story of Murder and Memory in Northern Ireland, is also well told and centred around the disappearance of Jean McConville, in 1972, a widowed mother of 10 abducted from a home in Belfast by the IRA and never seen alive again, and the Price sisters, who were, at one time, world famous Irish republican prisoners in an English jail.
Keefe traces the history of the Sackler dynasty, beginning with Arthur Sackler, the eldest of three boys born to a Ukrainian Jewish grocer in Brooklyn in 1913. Arthur funded himself through college and medical school, partly by working in advertising, and with his two younger brothers, Mortimer and Raymond, established or bought a number of businesses, including one which would change its name to Perdue Pharma.
Arthur used his adverting experience to aggressively market his pharmaceutical products, including Valium, with often misleading and false information. Valium sold widely in the 1960s and 1970s, and made the Sackler's rich.
Arthur liked to work behind-the-scenes concerning his company but he was a keen collector of Asian art and a high profile philanthropist. He drove hard to get the Sackler name on the walls of art galleries, universities and museums throughout the world. This granted the family name a veneer of respectability that belied the sordid origins of its enormous wealth.
Richard Sackler, the son of Raymond, became de facto head of the family business after Arthur's death in 1987. Once the company had devised OxyContin, it followed Arthur's policy and mounted an aggressive and false publicity campaign, employing an army of sales people to lobby hard and entice with material inducements medical practitioners to sell OxyContin. The plan was a great success; it is estimated that since OxyContin went on sale the Sackler family profited by $14 billion, which was often put into offshore shell companies and bank accounts.
Keefe describes the heroic efforts of a journalist, Barry Meir, from the New York Times, to expose the Sackler's role in the opioid epidemic. However with their huge wealth and influence, the Sacklers were able to lobby the Times which subsequently took Meir off the subject.
Public pressure
But as the death toll continue to grow from opioids; public pressure forced the American government to finally take action. This was half-hearted, to say the least. A US attorney who raised alarm bells about OxyContin went on to become a consultant for Perdue. Yet after many years of litigation and action by some attorney generals of US states which were particularly hit hard by the opiate epidemic, the Sackler family filed the Perdu Pharma company for bankruptcy. This allowed the family to avoid any criminal charges or to accept any liability for the opioid crisis. It also took place as the patent for OxyContin was reaching its end. The Sacklers successfully gorged as much profit as possible from the drug and then discarded Perdue Pharma when it became too much of a liability.
Keefe has drawn on thousands of court documents, internal company emails and hundreds of interviews that he conducted, to write a devastating portrait of the greed of the Sackler family and their unwillingness to take any responsibility or show any remorse for what OxyContin led to. When addicts could not get OxyContin and a new version of the pill proved harder to break up, they went on to heroin. In this way, OxyContin acted as a boost for the Mexican drug cartels selling heroin.
Richard Sackler, who was president of Perdue Pharma from 1999 to 2003, along with the rest of the family, attempted to obscure the family's involvement in the opiate disaster. Big law firms were ruthlessly deployed to threaten litigation against any perceived threat to Perdue's reputation. If necessary, others took the blame; three Purdue Pharma executives pleaded guilty to a misdemeanour count of misbranding in a 2006 settlement with the Justice Department. They were later given large financial pay-outs by Purdue.
This superbly written book is an engrossing account of the immoral Sackler dynasty, which has a striking resemblance to the fictional Roy family from the TV hit show, Succession (with a similar ensemble of the ruthless and the alternative living-type family members, all of whom happily live off the company profits). Intentionally or not, Empire of Pain is also a searing indictment of the system of capitalism itself, at its most corrupt and sordid.
Empire of Pain – The secret history of the Sackler family, by Patrick Radden Keefe (Picador paperback, 2022)