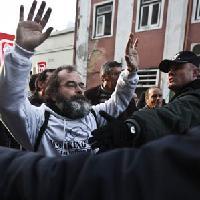 Growing authoritarianism as economic crisis deepens and workers' resistance grows
[see: Trade unionists attacked and arrested]
Two Portuguese union leaders, José Manuel Marques and Marco Rosa, were arrested by police after a national meeting of 500 shop stewards and leaders of the Public Sector Unions Front. Their court hearing has been postponed until 31 January.
The police, to date, have charged José Manuel Marques with 'disobedience' and for "throwing himself to the floor". Marco Rosa was accused by police of "assaulting a policeman" but he has not been formally charged and was handcuffed for 3 hours by police.
During an initial court hearing, dozens of union leaders, from the public and private sectors, held a solidarity gathering outside the court.
After the court session, José Manuel Marqus said: "I'll be here on 31 January…I am not a criminal, I am a union leader who is fighting a fight that is just, a struggle against the theft of wages… we're all being robbed, we are all being attacked! And that was why I was arrested because I protested because I dared to protest! But that's why I'll continue to fight, that's why we'll all continue to fight!"
In a solidarity statement sent to unions, Socialismo Revolicionário (CWI in Portugal) commented:
"The behaviour of the police force reflects the attitude of growing authoritarianism with which this Government, the President of the Republic and the political system work against the workers, pensioners, young people, the poor and their organizations. This is in stark contrast to their complete subservience to big business, domestic and international, and financial speculators, and the corrupt criminals who plunder the wealth produced by those who work and see their work and living conditions deteriorate, day by day.
"We are certain that nothing will diminish the determination of workers and their unions and class in building a strong resistance against the bosses and their government. These try to make the working class pay for a crisis that their system caused, while enriching speculators and criminals and impoverishing the vast majority of workers."