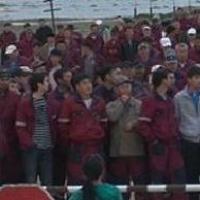 Lawyer arrested, new address for solidarity messages needed
Nearly two weeks into the oil and gas workers strike and now over 15,000 workers are involved. In effect the whole Mangistauskaya region in West Kazakhstan is involved in an all out strike.
Repression is being stepped up. Already one person has died. Tens have been arrested and charged with administrative offences and the strike leaders have had their flats searched. Most disgracefully the lawyer representing the "Trade union of the workers of Karazhanbasmanai" Natalia Sokolova has been arrested and has already been held for three days. She has been charged with "stirring up class conflict" – a criminal offence which could mean she spends 4-7 years in one of the country's notorious prison colonies. The Chinese employer has demanded this from the authorities and is attempting to whip up ethnic division amongst the strikers with articles in the local press with headlines such as "Who needs this Russian" (Sokolova is Russian) but the strikers insist that they will not allow such calls to divide them.
Today the strikers are marching on the regional capital Aktau where they are demanding the release of Natalia Sokolova and the end of repression, the nationalization of the company, an increase in the wages of oil and gas workers as well of those of nurses, teachers and so on and freedom for the independent trade unions.
We call on all trade union and left organisations to send urgent solidarity to the striking workers at
doverie@kmg.kz, info@mangystau.kz, ppo@s-k.kz
with copies to solidar@socialismkz.info and Robert.cwi@gmail.com