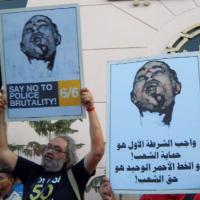 Struggle against state repression continues under
"Before the revolution, demonstrating in front of the Ministry of Interior would have been suicide," one of 400 young protestors told the CWI. 6th June 2010 was the day that Khalid Saied was beaten to death by police in Alexandria. The Facebook site , 'We are all Khalid Saied', attracted thousands of members and played a part in mobilizing the 2011 January 25th demonstrations that led to the downfall of the former dictator, Mubarak.
Protestors demonstrated in front of the Ministry, last week, in memory of this martyr of the emergency law and police brutality. The Supreme Council of the Armed Forces (SCAF) state that criticizing the army is a red line not to be crossed. But a clear message was sent SCAF and the government in opposition to military trials for civilian protestors and against the slow 'trials' of the killers of protestors during the revolution and continuing police brutality.
Special financial appeal to all readers of socialistworld.net

Support building alternative socialist media

---

Socialistworld.net provides a unique analysis and perspective of world events. Socialistworld.net also plays a crucial role in building the struggle for socialism across all continents. Capitalism has failed! Assist us to build the fight-back and prepare for the stormy period of class struggles ahead. Please make a donation to help us reach more readers and to widen our socialist campaigning work across the world.

Donate via Paypal

CWI- Please inform us if you are reproducing any material from this site.