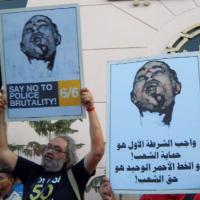 Struggle against state repression continues under
"Before the revolution, demonstrating in front of the Ministry of Interior would have been suicide," one of 400 young protestors told the CWI. 6th June 2010 was the day that Khalid Saied was beaten to death by police in Alexandria. The Facebook site , 'We are all Khalid Saied', attracted thousands of members and played a part in mobilizing the 2011 January 25th demonstrations that led to the downfall of the former dictator, Mubarak.
Protestors demonstrated in front of the Ministry, last week, in memory of this martyr of the emergency law and police brutality. The Supreme Council of the Armed Forces (SCAF) state that criticizing the army is a red line not to be crossed. But a clear message was sent SCAF and the government in opposition to military trials for civilian protestors and against the slow 'trials' of the killers of protestors during the revolution and continuing police brutality.