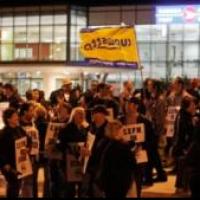 Disputes over pensions, pay and deregulation show underlying discontent
Just a few weeks into the formation of Stephen Harper's newly-elected Conservative government, strikes are taking place across Canada. Postal workers who have been taking rotating strike action and were recently locked out and 3,800 Air Canada workers have just ended a four day strike. These strikes are sending a strong message that workers are prepared to continue to fight back against attacks to pensions, pay, funding and deregulation.
For the past 12 days, members of the Canadian Postal Workers Union (CPWU) have been taking rotating strike action throughout Canada, primarily over the issues of pay, deregulation and pensions. In a bid to try and break the postal strike, last Tuesday Canada Post suspended all operations and locked out all of its workers. Canada Post, which is owned and run by the Crown Corporation, is trying to cut the starting pay of new hires from $23 an hour to $18 an hour, as well as trying to attack postal workers pensions. In addition, members of CPWU are fighting against plans to deregulate Canada Post.
The current lockout comes on top of postal workers health and dental benefits being suspended for the duration of the dispute. The CPWU point out that the current lock-out could allow back-to-work legislation to be drawn up. At this stage in the strike, the CPWU need to build support with other unions to help escalate the battle for their jobs and pensions. The importance of the postal workers winning their current action goes beyond the postal service. The CPWU is a strong union who are not apologetic at defending the gains they won in the 1970's. The Conservatives and big business in Canada would like to be able to carry out a full neo-liberal agenda on health, education and other public services. However, the government and big business are likely to have a big fight on their hands, if they were to try and quickly push through huge swathes of attacks, at once. The strong union traditions and willingness, if necessary, to take strike action to defend jobs and pensions, run deep among workers in Canada. According to the European Industrial Relations Observatory, Canada ranked the top country in 2009 for loss of work days due to strike action, with 2.2 million days lost. South Africa, France, Spain were next with 1.5, 1.4 and 1.3 million days lost respectively. An impressive statistic considering Canada has a population of around 35million.
'Back-to-work legislation'
As well as the postal workers, 3,800 members of the Canadian Autoworkers Union (CAW), who are Air Canada customer service and sales staff, were on strike over proposed attacks to pay and pensions. In a disgraceful and undemocratic move, the government threatened to introduce 'back-to-work legislation' to try to stop the strike from developing further. It seems the CAW has come to a deal with Air Canada. However, the contentious issue of new hires being taken on with a weaker benefit and pension package remains unresolved. The BCTF are also fighting on a number of ongoing issues facing teachers and schools throughout British Colombia province (BC). Among some of the issues they are fighting for are: for benefit improvements, against any more increases to class sizes, class preparation time and for the restoration of the $275 million which has been cut every year since 2002. BCTF members are taking a vote between 24-28th June, for initially "non-essential administrative work" industrial action to begin in September. As with the current postal and Air Canada strikes, the teachers could come up against back-to-work legislation, which is a tactic that is increasingly being used to try and break strikes. The unions must step up the campaigns to fight against this legislation being used.
These current disputes are taking place in Canada against the backdrop of Harper's recently elected majority Conservative government. The New Democratic Party (NDP), led by Jack Layton, is the new main opposition party. The NDP, who have a social-democratic history and are seen by many as the party of the unions and as the party who won universal health care. On the back of their past, a large part of the NDP vote came from workers and youth hoping to bring about a change to the agenda of cuts and attacks of the Conservative government. The vote for the NDP swept aside the long standing separatist party, Bloc Quebecois, leaving them with just 4 MPs, and helped to reduce the Liberal party to an historic low of just 34 MPs. The NDP have spoken out against the back-to-work legislation in parliament, and pointed out that the government "won't stop with Air Canada and Canada Post" and that this is "simply the start of the way the government will act in the future." The Liberals have also spoken against the legislation by saying that it "has been the single biggest sucker-punch that organized labour has received in years." Although workers taking strike action will not disagree with these comments, the position the NDP won in the federal election could have quickly used to help build the vital support needed for these disputes, such as helping to build support between the unions and local communities to help escalate the strikes towards victory.
"Canadian needs Arab Spring"
There is no doubt that there is a sea of underlying discontent and anger over Harper becoming Prime Minster on the back of less than 40% of the federal election votes. There is also an acute awareness among many workers and youth of the potential for continued cuts to services, such as in healthcare and education. An expression of this anger was when a 21 year old Senate Page, Brigette De Pape, who during the throne speech, walked onto the Senate floor carrying a "Stop Harper" sign. In her press release, De Pape said she did the protest because, "Harper's agenda is disastrous for this country and for my generation." She also stated that Canadians have to stop Harper "from wasting billions on fighter jets, military bases, and corporate tax cuts while cutting social programs and destroying the climate." She said that Canada needs a "Canadian version of an Arab Spring, a flowering of popular movements that demonstrate that real power to change things lies not with Harper but in the hands of the people, when we act together in our streets, neighbourhoods and workplaces."
Although this is an example of just one person, it is a good representation of how despite an attempted ideological campaign against the idea of fighting for better pay and conditions and against cuts, many workers and young people are still angry and are prepared to take part in strikes, campaigns and actions.
NDP leaders aim to ditch "socialist principles"
Yet, what is desperately missing in Canada, is an organized opposition and alternative to the big-business, Conservative agenda. After a few weeks of being the main parliamentary opposition for the first time, the NDP are opposing the government in parliament but have not built upon this outside of the House of Commons. This will prove to be disappointing for more and more workers and youth who voted for the NDP expecting change. As a further sign of the direction the NDP leadership are travelling towards, at the coming NDP convention, they are set to remove the reference to standing for "socialist principles" in a move to "modernize" their programme.
While strikes and disputes are taking place, such as the postal workers' struggle, and with the threat of privatizations and more Tory attacks looming, there is no time to waste in building a bold, socialist alternative. Union activists, socialists, workers and youth in Canada need a new mass workers' party capable of organizing against these attacks and to boldly struggle for a socialist society – where the needs of all – not just the rich few – are met.