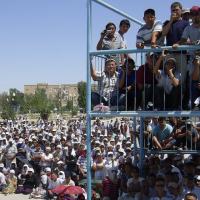 Hundreds sacked and union lawyer sentenced to six years in jail. Intransigent employer refuses negotiations. Now a striker murdered!
The determination of the oil workers on strike in West Kazakhstan is increasing day by day. Two events have served to escalate the tension.
Last week, on the 2nd August, 28 year old trade union activist Zhalsylyk Turbaev was murdered at his workplace. He was due to attend a trade union meeting at which he was to play a key role in revealing the corrupt activities of the previous trade union representative, but the management insisted he stay at his workplace. Once the meeting started, he was approached by three thugs, his body was found only some time later. This apparently all took place in premises guarded by the company's own security service.
Yesterday, the 8th August, the verdict against trade union lawyer, Natalia Sokolova was delivered. She has been given a horrendous sentence of six years in prison "for stirring up social tension". During her one week trial, the judge allowed no witnesses for the defence, nor evidence by independent experts from Almaty. A long queue of management representatives gave evidence backed by experts from the recordings made by police through illegal listening devices. Comments were taken out of context, but Natalia was not allowed access to the tapes. The workers are interpreting this court decision as an attempt to ban trade union activity completely.
In agreement with the strikers, the CWI in Kazakhstan has set up a solidarity campaign to help the families and particularly children during this difficult period. To ensure transparency and the correct use of funds, the management of the campaign is being overseen by a committee of well known cultural figures from Kazakhstan (See appeal letter) . These include:- the editor of the Kazakh language paper "Zhas Alash", Ryspek Sarsenbayev; the internationally renowned artist, Kanat Ibragimov; theatre director, Bolat Atabaev; president of the "Leave our homes alone" campaign, Yesenbek Ukteshbaev; trade union activist, Igor Kolov; vice-president of the All-Republic "Zhanartu" trade union and president of the Kazakhstan Socialist Movement, Ainur Kurmanov; civic activist, Bakhit Tumenova and writer and poet, Mukhtar Shakhanov.
The strikers have also asked Paul Murphy, Member of the European Parliament from the Irish Socialist Party, to assist in raising money from the international trade union and workers' movement and he has subsequently opened a bank account to which donations can be sent.
A special appeal letter aimed at trade union and other organizations, including details of the bank account can be found here and a longer analytical article taking up some of the disinformation spread by the employers and Kazakhstan state about the strike can be found here.
Further information, messages of support etc via: Kazakhstansolidarity@gmail.com
Messages of protest can be sent to doverie@kmg.kz (KazMunaiGas – the company), info@mangystau.kz (the local government) , ppo@s-k.kz (the state's sovereign wealth fund that holds a majority of shares in KMG) P.Howes@s-k.kz and kbm@kbm.kz (Karazhanbasmunai – one of the subsidiary companies). A model letter of protest can be found on www.paulmurphymep.eu.
Special financial appeal to all readers of socialistworld.net

Support building alternative socialist media

---

Socialistworld.net provides a unique analysis and perspective of world events. Socialistworld.net also plays a crucial role in building the struggle for socialism across all continents. Capitalism has failed! Assist us to build the fight-back and prepare for the stormy period of class struggles ahead. Please make a donation to help us reach more readers and to widen our socialist campaigning work across the world.

Donate via Paypal

CWI- Please inform us if you are reproducing any material from this site.