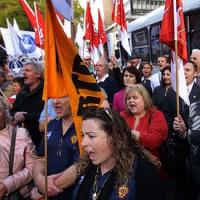 Premier of New South Wales (NSW) want to "take on" public sector
Barry O'Farrell, the recently elected Liberal Premier of NSW and his National Party coalition partners, made much recently of the fact that they had been in office for 100 days.
This milestone may have passed quietly for many but for workers in the state's public sector this anniversary has marked what will be seen as an enormous attack on their rights.
During the state election campaign earlier this year O'Farrell had promised to "take on" the public service. When questioned about this promise he was suitably vague preferring instead to rely on conservative rhetoric. We are now starting to see what O'Farrell meant by his comments.
He has now launched an attack on workers rights not seen since the dark days of [the former prime minister] Howard's Work Choices laws. The attacks are encompassed within the Industrial Relations Amendment (Public Sector Conditions of Employment) Bill 2011. This bill will adversely affect more than 400,000 public sector workers.
It does so by effectively removing the safety net of the state based Industrial Relations Commission (IRC). This will allow the government to undermine wages and other condition under the guise of 'protecting the government fiscal strategy'.
A major element of this bill is that all public sector wage rises are to be capped at 2.5% annually, a figure which is actually below inflation resulting in a pay cut for workers in real terms. Any rise which is above the 2.5% figure will be required to be off-set by 'productivity gains'. This is really code for making people work harder for less money.
During the debate about this legislation O'Farrell was at pains to point out that the Coalition were merely implementing the previous Australian Labor Party (ALP) government's policy. This was reference to the fact that Labor did in fact have a very similar policy in place.
This illustrates the lack of credible choices for workers when it comes to political representation. The policies of both the major parties are indistinguishable from each other.
Public sector workers are willing to fight against these changes. An example of their determination was seen on June 15 when a hastily arranged stop work meeting brought more than 12,000 public sector workers onto the steps of parliament house.
These laws can be stopped, but only by a concerted political campaign coupled with industrial action. While email campaigns do have a role they will not be enough to stop the Coalition.
We need to draw both public and private sector workers into this fight. After all, if employers see the government getting away with these changes they will be demanding the same in the private sector next.
As a first step unions in NSW need to set a date for a state wide 24 hour stoppage. Mass demonstrations need to be organised in all major cities on the day. Workplace meetings need to be organised in the lead up to the strike to explain the changes and to encourage people to come out on mass.
At the same time, as the campaign against Work Choices showed, we need a political alternative to the Coalition and the ALP. Side by side with industrial action we need to campaign for the establishment of a new workers' party. While the bosses have two parties its time we built one of our own.