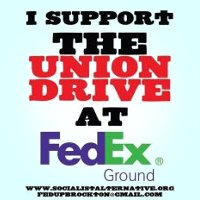 SocialistAlternative.org interviewed a package handler, "Steven" at FedEx in Brockton, Massachusetts, who led a union drive with his co-workers.
The workers were able to get enough cards signed to force a vote – the first time this has ever happened at FedEx Ground! However, only two days from the vote the Teamsters decided to pull the petition to the NLRB, thereby preventing the vote from taking place. "Steven," whose name we have changed, prefers to remain anonymous.
Socialist Alternative: You and your co-workers were ready to vote on Friday. What happened? Why wasn't there a vote?
Steven: At the Teamsters Convention on July 1 in Las Vegas, the Teamsters announced a plan to organize FedEx Freight, a separate division from us at FedEx Ground, in front of thousands of Teamsters and the media. This was announced weeks after management learned about our union drive in Brockton.
The Teamsters bureaucracy in Washington, D.C., was worried that if we lost the vote on Friday, FedEx would use the headline "FedEx Workers in Brockton Reject Teamsters." So unless we could guarantee them a victory, they wanted to pull the petition so we couldn't vote on Friday. We couldn't guarantee them a victory. We on the organizers committee felt that we would win, but we honestly couldn't predict by how much. But now that they pulled the petition, we'll never know.
How could the drive have won?
Steven: Even now, we could have won the vote. The pro-union guys are absolutely gutted at this betrayal. We'd all rather go down fighting than be jerked around by national Teamster politics.
The biggest thing that would have helped, besides actually holding the vote, is if the Teamsters had really put resources into this union drive. They only assigned one business agent and sent one more organizer for a few days who was not very helpful. We needed more organizers for longer to counter the dozen managers that FedEx shipped from all over the country. We needed the weaker morning shift to see Teamsters every single day after their shift. We needed every single phone number we got from workers called at least every other day to counter the constant FedEx propaganda at work.
FedEx probably spent over $200,000, including legal fees, on this campaign, including hotel rooms and rental cars for managers shipped in from as far as Seattle. We needed to escalate our efforts to counter this, but besides my pro-union co-workers and some great help from volunteer community supporters, we didn't get serious backup from the union leaders.
How did this union drive start? And why at FedEx Ground?
Steven: I was the one that initially started it. It came from my experiences as supervisor at UPS for five years. It was my job to be against the union and push the workers to work harder and harder. Management at UPS always badmouthed the union, but I slowly began to see that they were scared of the union.
When I started working at FedEx Ground in November of 2010, I saw that we were doing the same exact work except we didn't get a 10-minute break, we didn't get time and a half after five hours, there were no health benefits, no sick days, no optional days off, no paid holidays, and there were no worker safety committee meetings. All of which the UPS workers in the Teamsters enjoyed.
Plus we had a manager who regularly threatened certain workers with firings, said racist remarks to others, swore at us, and even once threatened to write up any worker who used the bathroom during work time.
So I got the idea that maybe we should organize a union at FedEx Ground to win rights on the job that would protect us against the managers and improve our standards of living. My involvement in Socialist Alternative helped me develop arguments and gave me the backing and confidence to start organizing. So I went down to Teamsters Local 653 and met with the business agent, who agreed to represent us if we got over 50% of our co-workers signed up for a union election. Our business agent was a former UPS driver and was able to understand our conditions at FedEx. After months of planning and educating my co-workers on what a union contract would guarantee and what FedEx was going to do us during the 45 days before the election, we turned in union cards signed by almost 75% of our co-workers.
How did FedEx respond to the union drive?
Steven: FedEx made some very positive changes to the workplace within days of the cards being turned in to the government: We suddenly got holiday pay, all the fans were fixed, thousands of dollars worth of equipment was fixed and replaced, our horrible manager was replaced – and was rumored to be fired afterwards, we had cookouts weekly, free Gatorade was given to us during work, the flown-in managers all wanted to be our buddy unless you were an outspoken pro-union worker, management opportunities suddenly popped up all the time, and anti-union workers were given easier jobs in the warehouse.
FedEx flew in around twelve managers and brought in a bunch of people from Human Resources. They didn't expect me to speak up during our forced anti-union meetings and point out how they were either telling lies or half-truths about the union. After those early meetings, I was targeted for harassment by management on a daily basis for three weeks. I was taken out of loading trucks, where most of the 25 workers on my shift work together, and I was moved to a position where I was isolated and worked alone. A manager was either standing at the edge of the trailer I was unloading or was in earshot of me at all times.
When we handed out pro-union fliers at 6 a.m. to the overnight crew, all six managers would stand outside and stare us down the entire time. A flown-in manager walked by us recently and questioned our religion since we were handing out fliers for a union meeting on a Sunday. Workers from that shift later came forward and told us that management told them to not talk to us. When we would do standouts management would drive up to us while recording us with their camera phones.
An anti-union worker, who was applying for promotion, was talking to my co-workers telling them that I was a paid "union mole." He later handed out fliers explaining what a union mole was right in front of a flown-in manager who was poorly pretending to be on his cell phone for thirty minutes.
If any of my co-workers came up to talk to me for a second, the manger would pop up and tell them to stop talking to me. For the past 45 days, FedEx has forced us to watch anti-union videos, installed a 48-inch flat screen TV with anti-union propaganda that referred to us as "anti-FedEx employees," handed out fliers with misleading information on them, and surrounded lone workers while drilling them with questions about their views on the union. Workers were becoming terrified to talk to pro-union co-workers even off company property.
What was the response to the union drive from co-workers, the Teamsters and union members in the area?
Steven: On my shift, out of twenty-six workers, twenty-five signed cards, and we were pretty confident that we had at least twenty-four yes votes. Most of these workers were educated in the campaign before it went public. Unfortunately, there wasn't time to make any serious contacts on the morning shift. I was impressed by the level of excitement and confidence that I saw on my shift: Ninety percent of the guys had no experience in a union before this drive. The Teamsters – especially the rank-and-file members we met – were excited, as were the Verizon workers when we visited their picket lines.
And the Teamsters Local 653 leaders, despite the pressure they were getting from Washington to pull the petition, were very supportive of letting us vote. But it seems that the national Teamster leaders only wanted us to organize if it would look like we'd win, if it didn't interfere with their plans to organize FedEx Freight.
Comment by socialistalternative.org:
The betrayal of the Brockton union drive by the Teamster leadership should be roundly condemned by all genuine trade unionists. This was a potentially historic opportunity to organize the first FedEx Ground plant in the country. Yet the Teamsters effort was completely inadequate, and at the 11th hour, the top union leadership pulled the rug out from under the workers without even giving them a say in the matter.
We can only speculate on the reasons for this betrayal. But it seems likely that Teamster president Jimmy Hoffa's re-election battle against Sandy Pope, representing Teamsters for a Democratic Union (TDU), had something to do with it! Hoffa is correctly criticized for his failure to organize unorganized workers, and he was likely concerned that a defeat in Brockton – after failing to provide serious resources for the union drive – would be another black mark on his record.
Also, with the Hoffa bureaucracy split in the upcoming elections and a serious challenge from TDU in a three-way race, they were probably less than enthusiastic about inviting a fresh set of workers led by socialists into the Boston area local which, up to now, has been led by stalwart Hoffa supporters.
Unlike the union bureaucrats, members of Socialist Alternative were outside the morning shift as much as possible to support the union drive. In our view this was not only a fight for the FedEx workers but for all low-wage, non-union workers in this country. The FedEx workers showed incredible courage in standing up to the giant of FedEx, and their heroic example could have inspired others to stand up for themselves and aided the revitalization of a new, fighting labor movement.
This was only one battle in a bigger fight. Everywhere, workers are under attack, and everywhere, we're seeing the first signs of a fight-back. Presently, 45,000 Verizon workers are on strike waging a fierce battle to defend all the gains they made through militant action over the last 40 years.
Lessons are learned in both victory and defeat, and often, in defeat, many conclude that it was never worth fighting in the first place. But the exploitation of corporations like FedEx and the deepening crisis of the profit-driven system of capitalism will only continue. Workers will be faced with no choice but to organize and fight. And, when that day comes, these FedEx workers can rely on the experience they gained in this round to wage an even mightier battle in the next.