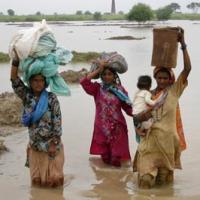 Crisis worsens, hundreds killed, millions affected
The terrible floods in Pakistan have left hundreds of thousands homeless in Sindh province and the situation is getting worse by the day. More than 500 people have been killed and 1.5 million houses destroyed or badly damaged. Five million acres have been flooded since late last month.
Because of the flood waters everywhere, snakes have been attacking people; more than 7,000 people are being treated for potentially lethal snake bites. The floods have also had a devastating impact on livestock – about a million cattle have died or disappeared.
Entire villages have been destroyed, with only the roofs of houses or the tops of trees visible in several areas. "We have lost everything," a woman in Jamal Shah in rural Sindh province told us. "Our houses, our valuables. All our fields are under water and the government hasn't given us anything. No one has come here to help us".
The crisis is getting worse by the hour while the government has totally failed to rescue people from the affected areas. Anger with the government is running high. Eighty men blocked the main road to Hyderabad, the biggest city near the flooded areas, on Wednesday, demanding help from the authorities.
Growing disease risk
"Our houses and farms are submerged under water," said Darya Khan, taking shelter along with his eight children at the camp organised by the Progressive Workers' Federation of Pakistan (PWFP). "The government shifted us to a school which is also full of water. Many of us have got infected with diarrhoea, malaria and skin diseases".
Aid groups have said that victims of Pakistan's floods are at growing risk of potentially fatal diseases. Eight people have already died of dengue fever which has now arrived in the flood-hit areas. Hafeez Memon, the director-general of the Sindh health department, said there were 2,000 confirmed cases of malaria and that the number was likely to rise.
There is an urgent need to provide immediate and life saving relief to the millions affected. It has not stopped raining in Sindh for the last 10 days. Large swathes of land are underwater and people are desperately awaiting relief. The agency has called for the international community to "expedite its response to ensure that millions affected get the help they need as soon as possible".
Mirpurkhas district
Initial data has been collected from Trade Union councils, including 41 from the PWFP and TURCP (Trade Union Rights – Pakistan) committees. It shows that, due to the 255 mm of rain that has fallen in Mipurkhas and breaches in the Left Bank Outfall Drain (LBOD), 275,000 people have been displaced and 500,000 people have been badly affected. 18 people have died while 200 have been badly injured. 201,031 houses are badly damaged. 70 % of the standing crops including cotton, chilli, rice and sugar-cane have been completely destroyed. 113 camps have been established in Mipurkhas district mostly by the affected people forming spontaneous settlements beside main roads and relatively safe areas in the districts.
The Progressive Workers' Federation of Pakistan and Trade Union Rights Campaign – Pakistan has set up two camps in the Mirpurkhas District. More than 200 of our trade union workers and also members of the Socialist Movement have been moved here with their families. We have provided them with medicines, food and accommodation for the last three weeks. But now we urgently need solidarity from our trade union friends and comrades from all over the world to meet the disaster and secure the lives of our friends and comrades.
Needs
We need to be able to provide facilities to organise food, shelter, medicines, safe drinking water and vital washing facilities.
Please send solidarity donations to the TURCP at the following bank account:
LloydsTSB
Account number: 00574699
Sort code: 30-95-03
BIG: Loydgb21500
IBAN: GB70LOYD30950300574699
Please send messages of support to: turc.pakistan@gmail.com