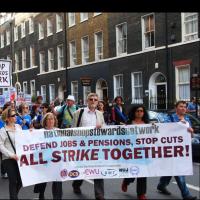 Public sector-wide action announced for 30 November!
Below we publish a video featuring footage from the National Shop Stewards' Network (NSSN) lobby of Trades Union Congress in London on 11 September. We also publish a statement by the National Shop Stewards' Network on the important decision by the TUC following the lobby, to call for united public sector action on 30 November, which has the potential to bring millions of workers out on strike. For more info, see the Socialist Party (CWI in England & Wales) website here.
socialistworld.net
Rank-and-file trade unionists have welcomed the announcement from the TUC today (14 September) that a 'day of action' will take place on 30 November, including strike action across the public sector, to defend pensions, jobs and services.
On the eve of the TUC conference, the National Shop Stewards Network (NSSN- a national body for trade union lay reps, established by the RMT in 2006) organised a 700-strong lobby of Congress House calling on the TUC to name a date for joint industrial action (see report below and video above).
The lobby was addressed by militant trade union leaders including Bob Crow, general secretary of the RMT, and Mark Serwotka, general secretary of the PCS.
Now, under pressure from trade union members, it appears the leadership of the TUC have heeded this call.
Rob Williams, NSSN chair person said:
"The National Shop Stewards Network stands shoulder to shoulder with all public sector unions taking action on pensions.
"What the government is afraid of most is the organised working class striking together in a three or four million strong strike in November.
"Now the date has been named, trade unionists up and down the country will be pressuring their union leaderships to make sure that they're out on that day, and building for the action amongst their members in order to strike a devastating blow to this government's plans to make us pay for the fall out of a crisis of their system."