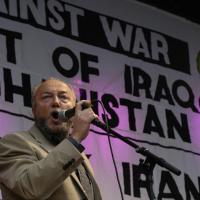 It shows the potential for anti-cuts election challenges
It was a week when New Labour was passively benefitting from multiple crises of the Tory-Lib Dem coalition – in particular Osborne's budget for the rich, the 'cash for Cameron' scandal, and the queues at petrol stations.
But then came the earthquake of George Galloway's astonishing byelection victory in Bradford West.
After a three week campaign Galloway received more votes than all the other parties on the ballot paper put together! With 18,341 votes, he beat the Labour Party candidate by more than 10,000.
Labour reeled in great shock as its share of the vote fell 20% on its 2010 figure, losing a seat it had comfortably won with a 5,000 majority just two years ago.
The Labour leaders – some of whom had visited Bradford during the election campaign – were so out of touch that they considered Labour victory secure even as the polling booths were closing. Yet Labour was in fact losing a constituency that it had held for 38 years.
The Tory vote also fell dramatically, by 10,000 votes, a 23% drop in share and the Lib-Dems did so badly that they lost their deposit.
This result was a major haemorrhaging of support for the main parties – a sharp rejection of their policies of austerity and support for the wars in Iraq and Afghanistan.
Only four out of every ten votes were cast for them. This mood is not confined to Bradford; a recent YouGov national poll revealed sinking ratings for the leaders of all three main parties, to a negative degree described as "quite exceptional" by psephologist Mike Smithson in that he could not find any other period in modern history when all three leaders had such poor ratings simultaneously.
Galloway summed up his victory as being a result of "massive dissatisfaction with the political system… and the main political parties…
"If a backside could have three cheeks then they are the three cheeks of the same backside. They support the same things, the same wars, the same neoliberal policies to make the poor poorer for the crimes of the rich people".
He also pointed to the problems in Bradford: "A rotten combination of complacency, incompetence, opportunism and rule by clique has presided over Bradford's decline.
"It was going down even during the 13 years of New Labour government… now it is in danger of sinking under the sado-monetarist austerity of the Con-Dem coalition" (Guardian 31.3.12).
Bradford has a run-down city centre and a closed main library. It has the 12th worst unemployment rate in the UK – youth unemployment has tripled in three years – and its schools are near the bottom of the national league tables.
Voting for Galloway was seen as a way of protesting against these deprivations and of agreeing with his main campaign demands: against the "smashing up" of the NHS, the lack of NHS dentists, against tuition fees and the scrapping of EMA, and for his strong anti-war message.
It was a reaction to the false promises of the main political parties and their lack of solutions for the acute problems workers and young people face.
George Galloway was viewed by many as somebody who, in comparison, 'tells the truth' and 'fights for justice'.
The way in which he vociferously stood up to US senators in 2005 over the Iraq war had left an impression.
The Labour candidate, Imran Hussain, was an Asian Muslim in a constituency in which around 38% of voters were from a similar background, but he was in a different camp to most of them.
He was the deputy leader of a council that has made massive cuts, including up to 1,000 job losses, and he supports Britain's military presence in Afghanistan.
So indefensible were his policies that he refused to publicly debate with the other candidates during the election campaign.
For Galloway though, over one thousand people crammed into a hall to hear him outline the need for change in Bradford.
His Facebook page had over 82,000 followers and he urged people to use social media and to simply send text messages to everyone in their address lists urging them to use their vote for him on polling day.
Divisive politics?
The Socialist Party has in the past sometimes criticised Galloway and his Respect party for creating a too narrowly based appeal aimed specifically at Muslims – especially in Respect's former stronghold of London's Tower Hamlets where it once had 12 councillors plus Galloway as the MP for Bethnal Green and Bow after he overturned a 10,000 majority held by Labour's Oona King.
In Bradford West, he did though place some emphasis on the need to represent "all" against austerity attacks and he made a forthright appeal for the withdrawal of British troops from Afghanistan, appealing to white working class families as well as Asian.
He lambasted the "village politics" of a Labour campaign that leant heavily on the Asian community networks, and the history of carving up of positions by the existing Muslim political leaders.
He also argued with effect against supporting the Labour candidate simply because he was local: "What's it going to do for you, if you vote for a local man whose father came from the same village as your father 50 years ago…
"If I was a local politician I'd be embarrassed when I look around at the problems in this city to say vote for me I'm a local politician, because these local politicians are the problem not the solution".
These comments fell on fertile ground in the Asian working class community, especially among the young.
Over half of British people of Asian origin are living in poverty and suffer from inordinate levels of unemployment.
This byelection result shows that they are now strongly questioning traditional support in their communities for Labour and are open to casting at least a protest vote against Labour's cuts-making policies.
However, one of the shortcomings of Galloway's campaigning is that he gives a confusing message about the Labour Party.
Despite condemning Labour's austerity agenda and support for imperialist wars, he says that he is only outside of the Labour Party because the party expelled him. "I am real Labour, not New Labour" declared his leaflet.
So rather than giving a clear message, as the Socialist Party does, that a new mass workers' party urgently needs to be built to give workers a political voice, he has adopted an ambiguous position.
Also, unfortunately Respect has failed as yet to build a solid and growing active membership base on a lasting basis.
It has suffered political difficulties as a result of not predominately taking a class-based approach and developing roots in the trade union movement.
It lost most of its elected positions in Tower Hamlets in part because it had a number of councillors who were not taking this standpoint, and it suffered a split in 2007 (separating from the SWP and others).
Prospects for the left
Notwithstanding the criticisms that can be made by socialists of Respect and Galloway, the Bradford West victory is extremely significant and indicates the electoral potential that is opening up for anti-cuts candidates standing against the main parties.
It is easier to win protest votes in a parliamentary byelection than in a general election, but huge disaffection with the three main parties now exists on a sustained basis and is widespread, as was shown when none of them achieved a majority in the last general election.
It was also shown in Scotland last year when the SNP won a majority in the Scottish parliament.
The Lib Dems have in the past been a recipient of protest votes against the Tories or Labour, but this is a different prospect now that the Lib Dems are in a brutal cuts-making government.
The Bradford West byelection also indicates, as the Socialist Party has been saying, that Labour councillors will not be viewed as being innocent after passing on government cuts.
This shows the growing potential for anti-cuts candidates at council level, with the May council elections fast approaching.
Respect has decided to challenge for council seats across Bradford in May, with great possibilities if it stands on the basis of firmly opposing all cuts in deeds as well as words.
There will be many other anti-cuts candidates across the country, including over 100 standing for council seats as part of the Trade Unionist and Socialist Coalition (TUSC), at present being ignored by the mainstream media.
Much of the media is claiming that Bradford West is a one-off, arguing that there are 'no other George Galloways' – that he is the only figurehead to the left of the main parties.
This is deliberate distortion. Tony Mulhearn was a key leader of the fight of Liverpool City Council against the cuts of the Thatcher government in the 1980s and is now a TUSC challenger against the Labour leader of Liverpool council for the newly created position of mayor.
In Coventry, Socialist Party councillor Dave Nellist, a former socialist MP, is standing for relelection to the council in St Michael's ward.
In London, Alex Gordon, the president of the Rail, Maritime and Transport workers union is head of the TUSC list for winning seats in the London Assembly.
The strongest possible campaigns are needed in the next few weeks to make sure that voters in areas with TUSC and other anti-cuts candidates know that they have the chance to strike another major blow against austerity politics, and also in favour of a socialist alternative.