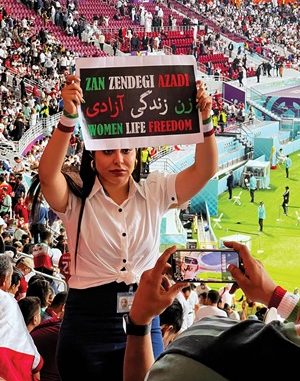 Well before a ball was kicked, the 2022 World Cup in Qatar was mired in controversy – especially around corruption, and the Qatari regime's treatment of workers, women and LGBTQ+ people.
Unsurprisingly, new research from Opinium shows that three-quarters of UK football fans think that World Cup hosting rights should never have been awarded to Qatar.
The decision of who hosts the World Cup should be made under the democratic oversight of football fans and professionals, organised into supporters' associations and trade unions. This should come as part of a wider movement to 'reclaim the game', to transfer control and ownership of football from the billionaires to the working class.
Nonetheless, the 2022 World Cup has gone ahead. While some fans have boycotted this year's tournament from an understandable mood to oppose the Qatari regime, viewing figures from the first two rounds of fixtures suggest that more people are watching than ever before. In 2018, 3.6 billion people around the world tuned in to the World Cup final in Russia. It could be even higher this year.
In front of such a mass audience, this World Cup has become a stage for fans, players and pundits alike to highlight the various inequalities and prejudices fostered by capitalism.
Some have focused their criticism on the Qatari regime. Ahead of England's opening match against Iran, BBC pundit and former England stalwart Alex Scott wore the 'OneLove' armband in the face of Qatar's anti-LGBTQ+ laws. Scott's gesture was also an act of protest against international governing body FIFA, who threatened the captains of seven national teams with yellow cards and a one-game ban for wearing the armbands.
Others have taken the opportunity to highlight issues abroad. The Iranian team refused to sing the national anthem during their match with England, in an act of protest against the Iranian state. Images of two Iran fans in shirts carrying the name of Mahsa Amini, whose death triggered the massive protests across that country, have been transmitted across the world.
Appearing live on ITV, former Ireland captain Roy Keane said: "The corruption, the way [Qatar] treats migrant workers, gay people…I think it's great it's been brought up". In the same discussion, fellow pundit Graeme Souness commented: "Can I just say: we're not perfect as well in our history…You know the British haven't been perfect in many parts of the world and including in Roy's country".
The comments of Souness, together with the actions of the Iranian national team and others, have highlighted how repression and discrimination are by no means unique to Qatar.
The World Cup and other major international events can lead workers around the world to draw conclusions about the global nature of their suffering, and the global system that causes it, capitalism.