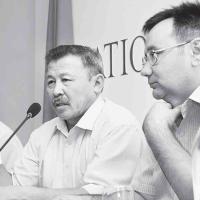 Ainur Kurmanov and Esenbek Ukteshbayev to address OSCE Human Rights Conference
A Venezuelan trade union general secretary and a human rights organisation, also in Venezuela, have written to the Kazakh authorities in opposition to their apparent plans to move against the leaders of the Socialist Movement Kazakhstan – Ainur Kurmanov, Esenbek Ukteshbayev and others. This threat is an attempt to behead the movement being built in opposition to the increasingly dictatorial regime of Nazarbayev (see 'Kazakhstan: "Kurmanov to be jailed?" http://www.socialistworld.net/doc/5284). The movement's lawyers was told by police on 14 September that Ainur and Esenbek, along with two other activists – mother and daughter, Kulzhan and Nuosulu Sailybaeva – are to be charged by the end of this month with "arbitrariness" or "despotism", which can carry charges of up to two years in prison, with further charges likely to added, once the case comes to court.
The campaign in protest at this repression has received support from all around the world. Support from Venezeula has come from Melvin Brito, the General Secretary of the union, Sindicato de Trabajadores de FOGADE, and also from the human rights' organisation, Asociacion Civil de Derechos Humanos: Programa de Particpacion Social ASOPROPAS AC (Caracas, Venezuela). The CWI in Venezuela, Colectivo Socialismo Revolucionario, also sent protests.
From all across the world, from Australia, where Anthony Main, Socialist Party Councillor, in Yarra, Melbourne sent protests, to the Netherlands, where Patrick Zoomermeijer, leader of the Socialist Councilors of the Socialist Party in Zaanstad sent protests, workers, youth and public representatives are taking action against the Kazakhstan regime's repressive measures and threats.
Lobbies have been organised, including this week at the Kazakhstan embassies in Berlin and London. A resolution, passed by the Socialist Party (CWI England and Wales) National Committee on 24 September, condemning the repression against the Kazakhstan opposition activists, will be presented to the London embassy staff.
As well as this, Ainur Kurmanov and Esenbek Ukteshbayev intend to travel to Warsaw, this week, where they will speak about repression against opposition activists and oil strikers at the invitation of the Organisation of Security and Cooperation in Europe (OSCE) Human Rights Conference in Warsaw.
We call on supporters across the world to step up their campaign in protest at the actions of the Kazakhstan Authorities (to view a model protest letter and for details of where to send protests etc, see 'Kazakhstan: "Kurmanov to be jailed?" http://www.socialistworld.net/doc/5284).