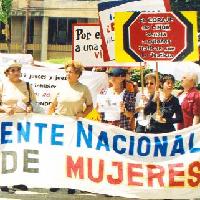 Economic crisis sees clawing back of reforms for women
In the first years of the Bolivarian Revolution significant gains were made for working class women, including the establishment of a Ministry for Women and various education and health programmes (Missions) that aimed to lift women out of poverty and financial dependence. Unfortunately, however, in the last few years we have seen a steady clawing back in these reforms, partly as a result of the two-year-long recession which has resulted in funding cuts of up to 50% in many of the Missions.
Venezuelan President Hugo Chavez has spoken of his government as 'feminist', yet the recently elected National Assembly (Parliament) has abolished the 'Women's Commission' which was designed to look into the issues of sexism and 'machismo' which continue to be prevalent in Venezuelan society today. Furthermore, abortion remains illegal, impacting on the lives and wellbeing of hundreds and thousands of women.
There are huge obstacles in Venezuela to organising around these issues, namely the extreme political polarisation in society between those who support Chavez and those who don't. This results in many on the left being reluctant or unwilling to take part in a campaign which may be seen to be 'against' the government in some way and therefore part of the organised right wing.
However, this International Women's Day, an International Conference of Women is being organised in Caracas, presenting a forum and an opportunity to discuss these issues and hopefully present a plan of action to struggle for the rights of women.