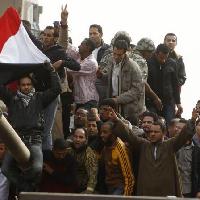 Another mighty demonstration demands real regime change
Last Friday, 4 March, witnessed another mighty demonstration of the power and determination of Egyptians to win real change. Tahrir Square, in central Cairo, was packed with singing, chanting, flag-waving people from every age and background. Parts of the Square were like a victory parade for a cup-winning team. Elsewhere, different political platforms spoke to vast crowds. Some people held aloft home-made placards with lists of demands. Every so often, processions of hundreds surged through the crush – one seemed to be an entire Coptic Christian girls' school, all dressed in black, with the Coptic cross on their chests, stewarded by parents with linked arms. Tents and make-shift shelters filled the centre of the Square, where hundreds have camped out for weeks demanding an end to the regime. A sea of red, white and black – Egypt's national colours – represent a feeling that the people are reclaiming their country after 30 years of Mubarak's hated regime. Many Libyan flags were also on display.
All roads to the Square were blocked, with young people checking ID and searching everyone who entered. But barely 100 metres away another power was on display. Surrounding the misnamed 'Peoples Assembly', fraudulently elected last November, were army tanks and armoured cars. A fire engine and water tankers were also lined up. The burnt-out massive headquarters of the ruling National Democratic Party was visible on the opposite side of the Square. A razor-wired enclosure, containing a tank and more armoured cars, surrounded the National Bank, a few hundred metres in the opposite direction.
The regime is still in place. One man put it this way to me, "some skin has been peeled off, but the body survives".
Before the demonstration started last Friday, one of the protesters most popular demands was already won – Prime Minister Shafiq, appointed in the dying days of the Mubarak regime, resigned. He lasted a shorter time than Ghanouchi in Tunisia! His replacement, Essam Sharaf, is a more credible candidate from the ruling class point of view. Although he had been in a previous Mubarak government, Essam Sharaf resigned five years ago and visited the Tahrir protests before Mubarak fell.
New prime minister
In an unusual sign of the balance of forces, Sharaf made his first public address as new prime minister in the Square itself, on Friday morning, and he was cheered by a large crowd. But workers and youth should have no illusions that his government will represent their interests. The Egyptian ruling class is desperately seeking a way to defend its vast wealth and regain control over every part of society. They hope to ensnare the masses in a discussion about a new constitution – one that will protect their right to own the huge corporations, banks and land interests, while denying workers, the youth and the poor the democratic control over the economy that is needed to meet their needs.
By 5 March, the demonstrators have mostly gone from the square, although a few hundred continue to camp and will be joined by thousands, as has happened every day over the past week. The square is now becoming more of a tourist attraction than the pulsating centre of a revolution. Everyone seems to want to have their photograph taken where history was made over the past few weeks. Souvenir, food and drink sellers have stalls everywhere. Young men control traffic around the square and nearby streets, as the police continue to be almost invisible.
A small sign of the strong desire to build a better society is seen by the many home-made litter bins attached to lamp posts throughout the centre of Cairo, placed there by demonstrators and their supporters. Unfortunately, litter still blows across the city, despite continuous cleaning and sweeping, because of years of under-investment in basic services and infrastructure. Planning and democratic workers and community control is needed to change this.
The CWI says:
Defend the revolution: Clear out the entire old regime
Defend the right to strike, to protest and to organise
No compromise with the old remnants of the regime
For a government of representatives of workers, the youth and the poor
For the immediate elections of a revolutionary constituent assembly supervised by committees of working people, the poor and the youth