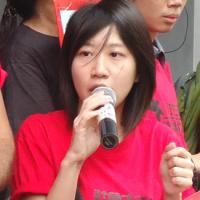 Socialist Action's (CWI Hong Kong) first election campaign
For the first time, Socialist Action (CWI Hong Kong) are standing in Hong Kong's district council elections, under an electoral agreement with the radical League of Social Democrats (LSD). The Socialist Action/LSD candidate in Un Chau and So Uk is Sally Tang Mei-ching, a 22 year-old university student.
Sally will be the only female candidate among 22 LSD candidates for the election, and is also the youngest. Understandably her candidacy has generated much enthusiasm from women LSD members and other activists. The elections – for a total of 412 district council seats – take place on 6 November.
Nomination on 23 September at Sham Shui Po government office
Joined by supporters, including LSD legislator 'Long Hair' Leung Kwok-hung, at her nomination on 23 September, Sally stressed the struggle for women's rights as one the campaign's priorities. She also pledged to only accept a workers' wage if elected and demanded the resignation of Police Commissioner Andy Tsang Wai-hung (embroiled in a scandal over repressive police methods).
"Hong Kong politicians are extremely overpaid," said Sally. "Donald Tsang [the Chief Executive] gets more money than Obama." In line with the CWI's stand internationally, she pledged that if elected she would only accept one-third of a district councillor's HK$25,000 (US$3,200) monthly salary. "I will donate the rest to Socialist Action's campaigns for the rights of workers and the poor," she said.
Mass poverty, broken promises
Un Chau and So Uk is a sub-district of Sham Shui Po, one of Hong Kong's poorest districts. Sham Shui Po has the highest youth unemployment in the city, 12 percent, and median household income is just HK$14,500 (US$1,858) per month, one-third lower than the citywide figure. More than one in five of families in Sham Shui Po are below the official poverty line and its tenement buildings are riddled with notorious 'cage homes'.
The seat of Un Chau and So Uk is currently held by the Alliance for Democracy and People's Livelihoods (ADPL), a small right-wing pan-democratic party. Despite its 'pan-democratic' label, ADPL supported the government's undemocratic election reform package last year, and its leaders stand for negotiations and 'compromise' (meaning: no struggle) with the Beijing dictatorship, which controls Hong Kong's government. ADPL's traditional main rival in the area is the pro-Beijing Democratic Alliance for the Betterment and Progress of Hong Kong (DAB), the biggest pro-government party. The DAB is actually a front for China's ruling 'communist' party, the CCP (despite ruling Hong Kong, the CCP does not formally exist in the territory). The DAB stands for neo-liberal pro-business economic policies and an authoritarian, repressive political agenda.
"This election will be a tough battle, especially as we are a new force," admits Sally. "ADPL regard Un Chau as their stronghold. But they do not offer any real alternative to the policies of the DAB and the government. They do not stand for mass struggle against dictatorial rule and this means their support for democracy is just empty words. In reality, as their betrayal [on electoral reform] last year shows, they are getting closer and closer to the government side," she said.
Socialist Action stall to collect nomination signatures in Un Chau Street
Socialist alternative
Socialist Action is standing in order to present a socialist alternative, and to show the need for collective struggle – over housing, wages, working hours and democratic rights. On all these issues, the other parties stand on the same side as the capitalists. Traditionally, as a result of pressure from the capitalist establishment to de-politicise the district councils, these elections have been regarded as low-key and non-political. In standing, Socialist Action, decided to challenge this view and try to use the election as a platform to raise political consciousness.
The main slogans of its campaign are:
For the billions, down with the billionaires (為億萬人民  打倒億萬富翁)
Cut politicians' salaries – Sally Tang Mei-ching promises to take only one-third [of a district councillor's] wage (削減高官議員薪金 我承諾只支1/3工資)
Smash property hegemony – kick out the capitalists (粉碎地產霸權 踢走大財團大商家)
Down with Article 23 [national security law], end single party rule (打倒廿三條惡法 結束一黨專政)
Increase welfare spending – pensions, hospitals and public services (增加福利開支 – 退休金、醫療設施和公共服務)
Already, Socialist Action and its candidate have gained some media attention, especially given the lack of women candidates in the district council elections.
'Property hegemony'
All over Hong Kong the issue of house prices and rents is a ticking bomb, summed up in the term 'property hegemony' that is popularly used to describe the controlling hand of the property tycoons. Four out of five people want the government to revive a subsidised housing scheme (HOS), but it is dragging its feet.
"The two biggest property companies in Hong Kong control 70 percent of the market for new residential units," said Sally. "We are calling for a massive investment in public housing to build 50,000 homes every year at cheap rents. The current level of public housing construction is not even 15,000."
Socialist Action calls for the nationalisation of the banks and property conglomerates under the democratic control of the people.
The cost of private rental accommodation has risen an average of 10 percent this year, and many small businesses are also being forced to move or close because of high rental costs. High rents are a major factor driving inflation, as businesses raise their prices. Inflation hit a 16-year high of 7.9 percent this summer.
Election banner says Sally Tang mei-ching will only take one-third of district councillor salary
Electoral alliance
The decision to stand in an alliance with LSD, a much bigger party, means that Socialist Action produces its own election manifesto, slogans and leaflets for its area. These carry the logos of both LSD and Socialist Action. The LSD is standing on the most radical platform of any party represented in the Legislative Council (Hong Kong's quasi-parliament), calling for renationalisation of transport infrastructure, a wealth tax, and increased welfare spending. Socialist Action supports all these proposals, but also clearly states the need to oppose capitalism and win support for a socialist programme.
"Our goals are to discuss with grass-roots people – workers, pensioners, unemployed and migrants – and raise awareness of the socialist alternative. We also want to build our organisation and get new members, which has already started," says Sally Tang.
"We will fight hard to expose the bankruptcy of the government camp, but also fake 'democratic' parties like APDL. We offer a fighting socialist alternative."