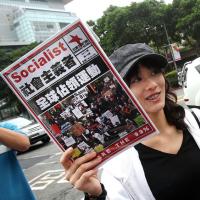 CWI Taiwan members make media splash
Between 300 to 500 people demonstrated in the Taiwanese capital, Taipei, on 15 October, according to media reports. These included students activists and workers, protesting over issues ranging from house prices to multinational companies such as Carrefour. Over one hundred people including CWI supporters marched into the Taipei 101 tower (Taiwan's tallest skyscraper), singing and staging a sit-in. During the occupation, CWI sympathizers had a paper patch pinned to their clothing proclaiming "Occupied! We are the Socialist Blog" with a big CWI symbol, which made a great influence so that many people asked us about this.
The crowds seemed very radical. Some students were shouting "smash capitalism" and singing the 'Internationale' with a megaphone, holding a big picture of Marx during the siege and occupation inside Taipei 101. These slogans are really radical for Taiwan.
People were eager to buy copies of 'Socialist magazine', which is a CWI magazine produced jointly by members in Taiwan, Hong Kong and China. So many people bought our magazine that it sold out and afterwards people still kept asking us how could they buy one. Lots of people also expressed interest in joining our party. Our magazine was the only left wing or political pamphlet available at this event and was widely photographed by local and international media, as the picture from CNN shows.
A CWI comrade was interviewed on lunchtime TV news talking about youth poverty, house prices and 'Socialist magazine'. Our comrade is also interviewed on the front page of Taipei Times, an English language daily
[CWI Member interviewed at 1:11 – Socialistworld.net]
During the TV interview, a Japanese man ran up to our comrade and said in Chinese, "Comrade! I'm a socialist from Japan, I want to buy one!" Then they shook hands, and lots of press took pictures of this.