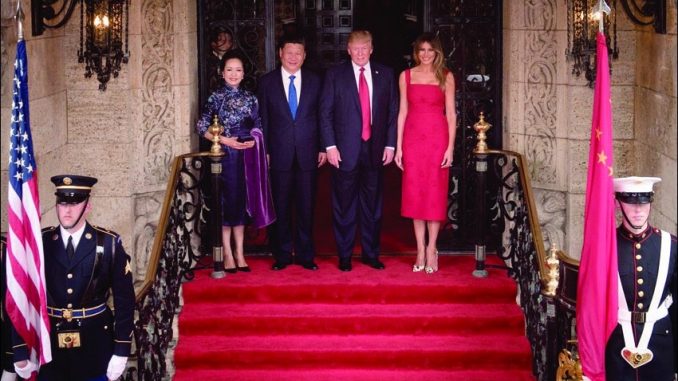 Donald Trump's cruise missile attack on a Syrian airbase on 6 April, during a round of "beautiful chocolate cake" with China's president Xi Jinping, marks a reckless and dangerous escalation of tensions in the Syrian conflict.
It was also intended as a warning to the North Korean regime and Trump's dinner guest Xi of possible US military action to stop Kim Jong-un's nuclear weapons programme.
Prior to Xi's arrival for talks, Trump warned in a Financial Times interview that he was prepared to take "unilateral action" to eliminate North Korea's nuclear weapons if China was not willing to increase its pressure upon Kim's regime.
Within days of the Xi-Trump summit the US moved its carrier battle group to the Korean peninsula, increasing tensions further.
These moves, while possibly intended only as psychological warfare to wear down the Kim regime and press Beijing into imposing stiffer sanctions against it, represent a dangerous escalation of one of the world's most complex and potentially deadly conflicts.
The Kim regime, a peculiar mix of Stalinist remnants and militaristic nationalism, has for reasons of self-preservation perfected the art of calculated irrationality – doing the unexpected or 'crazy' in order to shock and extract concessions from the imperialist powers and from South Korea.
It is ironic that the politician who most imitates Kim Jong-un's way of doing things is Trump himself.
The US strategy, if such exists, seems to be modelled on the 2013 Iran nuclear deal, whereby economic sanctions led to a negotiated end of that country's nuclear weapons programme. Note that during his election campaign Trump criticised the Iranian deal as a failure.
North Korea has faced a succession of sanctions since 2006 and these were tightened further in February this year in response to ballistic missile tests by the regime. China then decided to ban all coal imports from its neighbour, a significant step affecting around one-third of North Korea's total exports.
The Trump administration wants to crank up sanctions. To succeed this strategy requires the full cooperation of the Chinese regime.
Conflicting interests
Beijing has grown increasingly uneasy with North Korea. But there are limits to how far Beijing and Washington can pursue a common strategy given what are fundamentally antagonistic interests in the Korean peninsula.
Japanese imperialism's use of the Korean crisis to push forward its own positions is a further complicating factor for Beijing. So too is the US decision this year to base the THAAD (Terminal High Altitude Area Device) anti-missile system in South Korea.
China is currently applying unofficial trade 'sanctions' against the Seoul government in protest over the THAAD deployment.
China fears the collapse of Kim's regime, which increased sanctions could trigger. The fallout from this could be colossal, including a refugee crisis spilling into China and even the possible fragmentation of the current North Korean state into warring factions laying hold of nuclear or chemical weapons.
The South Korean capitalists also, for their own reasons, do not want to see the collapse of the North Korean regime.
It cannot be ruled out that Kim Jong-un will again call Washington's bluff and engage in nuclear brinkmanship with further underground nuclear explosions or ballistic missile tests. This of course would ramp up the pressure on the Trump administration to react or risk being exposed as a 'paper tiger'.
Furthermore, an election clock is ticking in that South Korea will elect a new president on 9 May, in the shadow of previous president Park Geun-hye's spectacular fall from power – impeached and imprisoned after an estimated 10 million people took to the streets to remove her last year.
The two front-runners in opinion polls both represent a softer stance towards North Korea than Park's party, advocating negotiations and economic concessions in return for a security agreement (a so-called 'Sunshine policy').
Neither is the Iranian nuclear agreement necessarily a template for a deal with Pyongyang for the simple reason that the latter already has nuclear weapons.
However scary that Kim – and Trump – possess weapons of mass destruction, it is the policies of successive US administrations that are responsible for this situation.
Decades of US warmongering, such as George W Bush's "axis of evil" speech on the eve of invading Iraq (singling out Iran, Iraq and North Korea for US-sponsored regime change), have reinforced the 'strategic paranoia' of the North Korean generals.
The grisly end that befell the dictators Saddam Hussein and Muammar Gaddafi, who were on the receiving end of US-engineered regime change, convinced Pyongyang of the need for a nuclear insurance policy. Trump's strike on Syria will only have bolstered that view.
The "great chemistry" Trump claims between himself and Xi Jinping has done nothing to reduce national tensions or stabilise an increasingly dangerous geopolitical environment. The relationship between the world's two biggest powers is in reality more strained than ever and this can face new tests and crises even in the space of the next months.
Conflicts and economic and political shocks are rooted in the global capitalist order, which since the worldwide crisis of 2008 has entered unchartered territory and seen the rise of dangerous populists like Trump. Only the working class, organising around a mass socialist alternative to sweep away the rule of the billionaires, can offer a way out.