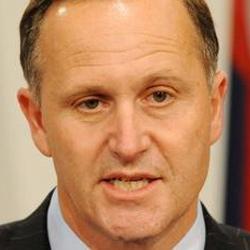 Workers sceptical of Labour while new Mana party represents seed of an alternative
The recent New Zealand general election, held on 26 November, played out with few surprises. Throughout the campaign period polling consistently showed an increased majority for the incumbent conservative National Party government. This came to fruition on polling day with National winning 48% of the Party vote across the country.
New Zealand's Mixed Member Proportional (MMP) voting system (where voters are allocated both a candidate vote and a party vote), makes it difficult for any one party to achieve an outright majority, yet National came very close. National won 60 seats, one seat short of achieving the 61 seat majority needed to govern outright.
All of National's coalition partners going into the election (ACT, United Future and the Maori Party) lost seats, but retain a presence in the new parliament.
Re-elected National Party Prime Minister John Key
The election resulted in disaster for the Labour Party, who saw their Party Vote reduced to just 27.1%, ultimately winning a mere 34 seats. Labour failed dismally to convince New Zealand workers that they represented a pro-worker alternative to National.
New Zealand has not been immune from the global economic crisis, despite fairing better than some counties. The election was framed around who could deliver the most spending cuts and demonstrate the greatest 'fiscal responsibility' after a six-quarter recession and ongoing economic instability.
With a ballooning national budget deficit and pressure from international ratings agencies to reduce the country's debt, the election was fought over the questions of asset privatisation, pension reform, and welfare cuts. In reality how to best undermine working class living standards.
Failure of Labour
National's plan is to sell off sections of a number of state-owned enterprises, to which Labour is nominally opposed. But considering the Labour Party has been at the forefront of the neo-liberal agenda in New Zealand for decades, it's no wonder voters were skeptical. While the National sell-off plan is largely unpopular amongst voters, people are clearly cynical about Labour's opposition.
National managed to appease voters by promising to retain majority stakes in the state assets and use the estimated $7 billion in proceeds to build new infrastructure projects. This apparently appealed more to New Zealand workers than Labour's plan to raise the retirement age from 65 to 67, in order to save $100 billion over 20 years.
The new National government has plans to introduce welfare cuts and re-introduce lesser wages for young workers. These measures will clearly hurt some of the most impoverished sections of the New Zealand working class. Despite these measures being part of National's election program workers were still unenthused about voting for Labour.
Labour last held government from 1999 to 2008, overseeing an increasing gap between rich and poor. New Zealand workers have not forgotten this. The child poverty rate in New Zealand is now one of the highest in the developed world, some estimating at a rate of 26%!
A telling sign of the lack of enthusiasm for Labour, and indeed all the major parties, was the low voter turnout. Over 1 million people (out of a voting population of just 3.27 million) stayed home, producing the lowest turnout percentage in 120 years!
The Greens benefited from some of this dissatisfaction, breaking the 10% threshold for the first time and increasing their number of MP's from 9 to 13.
Seed of an alternative
The Left received a modest result but an increase compared to recent elections. The most promising development in recent months has been the emergence of the Mana Party, a new left formation based upon sections of the Maori working class and the established Left. Formed just 7 months ago after the successful by-election campaign of ex-Maori Party MP Hone Harawira, Mana represents a left break from the right-wing Maori Party and an edging towards working class unity.
Hone Harawira MP & Mana party members and supporters
Always strongest in the Maori electorates, Mana's highest polling before the election suggested that winning three seats was not out of reach. Ultimately retaining just Harawira's seat, Mana came second in two further Maori seats. In the general (non-Maori) electorates votes were modest yet respectable.
Mana's strength lay in standing a number of candidates with proven records as activists. However, it seems the new party has not yet established itself in the minds of broad layers of workers and youth, with their Party Vote significantly less than the number of votes for individual Mana candidates.
Standing 20 candidates across the country and receiving almost 20,000 votes (approx 1%) should be seen as a good debut for a new party based on a left programme. The challenge now is to build Mana into a political party that gets its hands dirty and does the hard work campaigning on the ground in working class areas in between elections.
What New Zealand workers need more than ever is a new political party that genuinely represents the interests and aspirations of New Zealand workers and youth. Such a force will take time to build and require the development of a programme that can articulate a clear alternative to capitalism. With a spate of further attacks against working people guaranteed under National, and with Labour incapable of posing an alternative, the conditions for Mana to grow along these lines will become increasingly favourable.
The danger would be for Mana to retreat from this goal and re-organise itself simply as a rival to the Maori Party. Such an approach would be incapable of resolving the deep and widespread impoverishment of the Maori and the working class in general. Class unity of Maori and non-Maori workers under the banner of socialist solutions to the crisis of capitalism is the only way forward for New Zealand workers.
The Mana Party
The Mana Party (Maori word mana: strength, honour, respect) is a split from the Maori Party.
The Maori Party was originally formed in 2004 after a Labour MP split over the question of whether or not the Maori people have legitimate claim to ownership of New Zealand's foreshore and seabed.
While based on a pro-capitalist program, in the beginning the Maori party was able to attract a layer of more radical indigenous people.
In 2008 however it supported the National-led government which led to many tensions within its ranks.
The tensions eventually culminated in one of the Maori Party MPs, Hone Harawira, leading a left split and setting up Mana with the help of a layer of activists from the trade union movement.
In the 2011 election it stood on a left-reformist program which included a $15 minimum wage, building 20,000 state houses, abolishing the Goods and Services Tax and establishing a Financial Transaction Tax, the nationalisation of monopolies and duopolies and free education from preschool through to tertiary study.
Mana gained just under 20,000 votes which translates to about 1% of the total electorate.
See the Mana Party website here