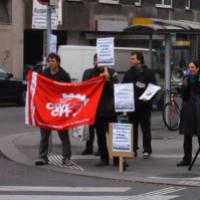 Vienna protests publicised in Kazakhstan
Paul Murphy MEP has made a second attempt to organise a delegation to Kazakhstan to visit the scene of last December's massacre in Zhanaozen of striking oil workers and other important areas where opposition to the regime of Kazakhstan president President Nazarbayev is gaining momentum. Due to leave this Wednesday, it looks as if Paul Murphy's visa has once again been obstructed by the authorities.
This was given publicity across Kazakhstan by the independent TV channel, 'K+'. It followed extensive media coverage of campaigning by supporters of Campaign Kazakhstan and socialist activists in Vienna during a two-day visit to Austria by President Nazarbayev.