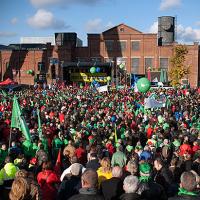 Ford plant closure would see 4,000 jobs lost
On Sunday 11 November, more than 15,000 people attended a demonstration organised by the Belgian trade unions for jobs and against the closure of the Ford car factory in Genk. The plant closure would mean the slashing of 4,000 jobs (without even counting the subcontractors). The announcement of the closure comes as November was a record month for the number of bankruptcies in Belgium, while layoffs and restructuring plans are hitting workers across the country.
We need a united fight-back, with a fighting plan of action: we are lost if we all fight isolated from each other. Let us oppose the plans of the bosses and multinationals. Workers need to organise under the slogan of the nationalisation of major companies, under the control of workers, and without compensation for the shareholders, and to stop the redundancies! The next important date in this struggle is Wednesday 14 November – the European day of action against austerity. But let us not stop there! We must discuss the following-up to the struggle, to fight back against austerity and against all those who seek to make us pay for it.