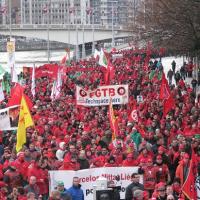 "Without our work, your capital isn't worth a penny!"
Yesterday, 7 December, tens of thousands of trade unionists rallied and marched in Liège, Belgium. The trade unions are calling for the nationalisation of the ArcelorMittal 'hot-phase' or 'liquid' steel production plant based in the region. AreclorMittal, the largest steel-producer in the world and a multi-national mining corporation, plans to close its facility and sack about 1,000 workers. This comes years after years of special treatment and tax concessions from the government. For more background information, see this previous article on socialistworld.net
On the demonstration there were also calls for a regional regional demonstration. Members of the LSP/PSL (CWI Belgium) participated in the demonstration. They put forward the idea that not just the one facility, but the entire steel industry should be nationalised, without compensation, and run under democratic control and management of the workers and the community. The LSP/PSL also pointed out that occupation of the facility was the key way forward to winning the demands.
Below we publish several photos of the demonstration, and links to galleries of photos published on the website of the LSP/PSL.
"International Steel workers say no to FULL MITTAL RACKET"
Tens of thousands of demonstrators march through Liège
See more photos from the demonstrations
Further news and analysis of this struggle will feature on Socialistworld.net as it continues to develop