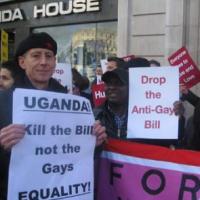 Lesbian, Gay, Bisexual, Trans and Intersex (LGBTI) activists, together with human rights campaigners, protested outside the Ugandan High Commission in London on Monday 10 December against a repressive new bill currently going through the Ugandan parliament.
If enacted, the bill will introduce the death penalty for gay sex. This is part of a wave of anti-LGBTI repression in many African countries.
The rulers of these countries aim to bolster their positions by scapegoating sexual minorities as "unafrican", diverting attention from corruption and poverty.
Winnie Sseruma, a Ugandan activist, called for solidarity with the LGBTI community in Uganda. Activist Peter Tatchell called for the Ugandan government to respect human rights commitments it has signed up to.
Speakers called for an end to the deportation of Ugandan LGBTI refugees by the British government.
The African regimes using these tactics, including Uganda, have used the language of anti-imperialism, claiming LGBTI rights to be a western import.
This is a falsehood. Anti-gay sex laws in Africa date from the period of colonialism and were used to suppress the traditions of same sex relationships and sexual diversity that existed before western powers moved in to exploit Africa.
Speakers highlighted the willingness of Ugandan elites to accept US aid money and take support from far right US Christian fundamentalists.
This, with the activities of western multinational companies, is the real exploitation of Africa.
The Ugandan parliament should be taking up issues of democracy, using oil wealth for the benefit of Ugandan workers and poor farmers and combating HIV/AIDS, not attacking minorities.
Socialist Party members joined the protest, with Bobbie Cranney speaking on the need for international workers' solidarity. We will continue to stand in solidarity with the Ugandan LGBTI communities.
Special financial appeal to all readers of socialistworld.net

Support building alternative socialist media

---

Socialistworld.net provides a unique analysis and perspective of world events. Socialistworld.net also plays a crucial role in building the struggle for socialism across all continents. Capitalism has failed! Assist us to build the fight-back and prepare for the stormy period of class struggles ahead. Please make a donation to help us reach more readers and to widen our socialist campaigning work across the world.

Donate via Paypal

CWI- Please inform us if you are reproducing any material from this site.