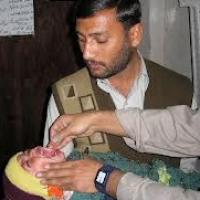 Low wages, non-payment of salaries and increased terror attacks
According to the World Health Oorganisation (WHO), 33 polio workers have been killed and nine others injured between July 2012 and January 2014.
Teams of health workers combatting polio again came under attack in Karachi, Mansehra and Panjgur, for carrying out a vaccination campaign. The attacks left four people dead. In Karachi, three people – including two female polio workers – were killed and two others sustained injuries in a gun attack. The team – working without any security – was attacked in Karachi's Qayummabad area. The polio campaign was postponed in the city's East Zone after the attack. The chairperson of the Sindh Polio Workers Association also announced that association members will not take part in the campaign. "Our workers will not put their lives in danger for Rs250 (1.40 pounds) per day wages," she said.
The situation has worsened as violent attacks by religious extremists have significantly increased all over Pakistan. In the past, most of these attacks were confined to the tribal areas but now these attacks are even taking place in cities. Some areas of Karachi have become no-go areas for polio workers because religious militant groups have banned the vaccination campaign. Most of the health workers' involved in the polio vaccination campaign are women. These female workers are facing harassment and threats daily. There is a strong sense of fear amongst these workers during the campaign.
Clerics publicly attack polio vaccinations
Soon after the killing of Osama Bin Laden, international organisations, such as Unicef and the World Health Organisations (WHO) spent a lot of time clarifying their position on Dr Shakil Afridi's vaccination campaign [it was alleged that Afridi's campaign was a ruse by which US forces targetted Bin Laden]. However, it took both the organisations over a year to come out with a strongly worded statement to distance themselves from Afridi. After an investigation by the Pakistani security agencies and health department officials, it was found that the campaign Dr Shakil had conducted in Abbottabad was, in fact, not for polio.
"There is growing misconception among the people and they associate polio vaccines with an attempt by the government to control birth rate, which is totally wrong," a senior official of WHO told the media in Peshawar on condition of anonymity. He said some clerics have been speaking publicly against polio vaccination, via loud-speakers and in publications, asking people not to get their children vaccinated as, according to them, it is un-Islamic and an attempt to cause infertility. "The state and its institutions have been unable to counter propaganda against polio vaccination," the WHO official says. It is due to this malicious propaganda that polio workers are being targeted everywhere.
Besides the mainstream Taliban, led by Maulana Fazlullah, two major militant groups which are not part of the TTP, operating in South Waziristan and North Waziristan, headed by Bahawal Khan alias Salahuddin Ayubi and Hafiz Gul Bahadur, respectively, had banned polio campaign in their respective tribal regions. This was done two years ago to protest against US drone strikes. The government has not been able to reach 160, 000 children in North Waziristan and 75,000 in South Waziristan for the past two years to vaccinate them against the polio virus due to a ban on campaign by the religious extremists.
A senior official of Khyber Pakhtunkhwa department, Dr Jan Baz Afridi, who heads the immunisation campaign in the province, says polio workers had started facing serious security challenges after Dr Shakil Afridi ran the fake campaign in Abbottabad. "People started hating all health workers, particularly those engaged in the vaccination campaign and considered them spies," he adds. According to the WHO, 33 polio workers have been killed and nine others injured between July 2012 and January 2014.
Besides the terrible security situation, field workers, who are considered the backbone of the campaign, have been complaining of low-wages and long hours on duty in the field. The government and foreign donors have been spending millions of dollars on seminars and workshops but paying only $2.05 per day to a worker to risk his or her life! Field workers are losing morale. They are paid less than a labourer can earn in a day. The workers complain that field workers are not paid their wages on time. Sometime they even have to wait for more than six months to get their salaries. There is a serious disconnect between these workers and high-ranking officers that draw high salaries, drive around in armored cars, and stay in 5-star hotels. There is no insurance for health workers in Pakistan. In November, last year, 11 school teachers were kidnapped in the Bara subdivision of Khyber tribal region as they were administering the vaccine. They were later released.
Killings, injuries and harassment
On the one hand, the polio workers are facing attacks, killings, injuries and harassment. On the other hand, the polio virus is spreading throughout the country. Despite all the efforts by the government to rid the country of this disease, every year sees more cases coming to the fore.
According to the latest genomic sequencing results of the Regional Reference Laboratory for Poliovirus, 83 out of 91 polio cases in the country during the last year are genetically linked to the polio virus circulating actively in Peshawar.
Eighty-six samples of sewage water were collected from different locations in Peshawar over the last four years. Seventy two of these samples have shown the presence of the highly contagious and paralytic wild polio virus strain. Forty five polio cases have been reported in Peshawar in the last five years and four in 2013. The cases of 65 children paralysed by polio in Fata are said to be linked to the Peshawar virus.
The Progressive Workers Federation of Pakistan (PWFP) and the TURCP support all the demands of the health workers. We support the demand for an immediate increase in the wages of all health workers, including female health workers. All the daily wages and contract workers should immediately be regularized on permanent basis. Their salaries should be paid regularly and on time. Proper security must be provided to the polio workers.
Forty five polio cases have been reported in Peshawar in the last five years and four in 2013. The cases of 65 children paralysed by polio in Fata are said to be linked to the Peshawar virus.