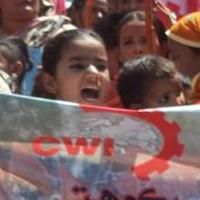 Progressive Workers' Federation and SMP (CWI) organise inspirational rally against Talibanisation
The Progressive Workers' Federation Pakistan, & the B.L.L.F.s Mirpur khas sindh Women group (linked to the SMP – CWI in Sindh Pakistan) organised a rally against religious fundamentalism and the Talibanisation of the country, on international women's day, 8 March 2014. The rally started from the railway station and marched through the main roads. When it reached the post office and shoping centre, many more people joined the march. Protestors chanted, rejecting the Taliban's imposition of Sharia law. When it finally reached the press club Mirpur Khas, a number of local & National T V channels began to record and give coverage to the rally and take quotes from women workers.
Afterwards, female workers gathered in bhitai cultural hall to hear main speakers, Iqbal begum Narejo, Sughra Khaskhely, Sunder Channa, Nazira Qumbrani, Rukhsana, Aster, Sonia Baloch, Aroj Shah, Shumaila Shaikhr.