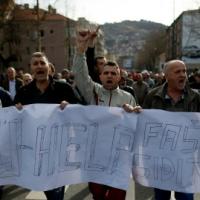 Working people stir to end poverty, joblessness, corruption and ethnic divisions!
The following is the text in Bosnian of a CWI leaflet that will be distributed for discussion amongst protest activists in Tuzla and Sarajevo over the next few days. This follows a revolt of workers, students, the jobless and war veterans that swept across Bosnia Herzegovina in protest at dire economic and social conditions and corrupt, greedy ethnic based politicians.
Click here for an english pdf file
socialistworld.net
Masovni protesti radnih ljudi i omladine u Bosni i Hercegovini pokazuju put naprijed
Nakon nekoliko decenija lažnih obećanja i nade, radnici, nezaposleni, omladina i njihove porodice hrabro su izašli na talas protesta širom Bosne. Masovni bijes je najzad ekplodirao. Bijes je prouzrokovan privatizacijama; prodajom bogatstva zemlje međunarodnim bankama i kompanijama, kao i malom broju bosansko-hercegovačkih kapitalista. Takođe i bijes prema parazitskoj političkoj eliti koja radi u korist oba i eksploatiše radne ljude. Ljudi širom svijeta sa zanimanjem posmatraju šta se dogadja u Tuzli i drugim krajevima zemlje, kao i u drugim dijelovima bivše Jugoslavije. Vaša borba nije samo inspiracija mnogima, već može da pokrene dalje proteste u drugim zemljama na Balkanu, u Grčkoj, Italiji itd.
Mi smo aktivisti Komiteta za Radničku Internacionalu (Committee for a Workers International, CWI) i želimo da saznamo više o dogadjajima u Bosni. Mi smo dio solidarnosti sa demonstrantima u Bosni, koju ste mogli vidjeti u zemljama kao što su Austrija, Njemačka, Turska i SAD. Želimo da proširimo solidarnost sa vašom borbom i da pomognemo da se takva slična borbe proširi drugde. Želimo da saznamo više o zahtjevima vašeg pokreta i kako ti zahtjevi mogu biti sprovedeni.
Mi smo članovi internacionalne socijalističke organizacije sa grupama i sekcijama aktivnim u radničkim borbama na svim kontinentima, u više od 45 zemalja.
Ekonomija mora biti u rukama radnih ljudi!
Mi smo dio borbenih i revolucionarnih procesa protiv uticaja krize u svijetu kapitalističke ekonomije, protiv bogataša koji se još više bogate na račun većine, protiv pljačke javnih dobara i protiv diktature.
Nekoliko proteklih godina bile su svjedoci moćnih pokreta širom svijeta, od ,,occupy" protesta koji su započeli u SAD, brazilskog pokreta protiv rasipništva i korupcije u vezi sa Svijetskim kupom, generalnih štrajkova u jednoj zemlji nakon druge protiv mjera štednje i, u brojnim zemljama, ustanaka i revolucija protiv trulih režima.
Ove revolucije su pokazale ogromnu potencijalnu moć radnih ljudi koja, kad se upotrebi, može da svrgne diktatore i korumpirane režime.
Ali, kao što smo vidjeli u Tunisu i Egiptu, to postavlja pitanje, šta dalje? Mnogi ljudi imaju osjećaj, ,,Da, postoje borbe, čak i revolucije, ali na kraju krajeva partije koje podržavaju kapitalistički sistem, krajnja desnica ili predstavnici super-bogataša uvek prevladavaju". Ovo se dogodilo u revolucijama od 1989.-91. koje su svrgnule nedemokratske režime u istočnoj Evropi i bivšem SSSR. Ali isto se dogadja danas u arapskom svijetu i Ukrajini. Da bi se to sprečilo jako je važno sagledati sljedeće korake masovnih pokreta i naučiti iz iskustva drugih zemalja. Pitanje koje snage će prevladati nakon pada starog režima je ključno. Mi smo od prvog dana arapske revolucije tvrdili da je od suštinske važnosti koja klasa je na vlasti i ko upravlja ekonomijom. Sve dok je bogatstvo zemlje kao što je Egipat u rukama male elite – bilo da je ona egipatska ili strana – duboki socijalni problemi, kao siromaštvo i masovna nezaposlenost, ne mogu biti riješeni. U BiH, državno bogatstvo je takodje rasprodato domaćim i stranim kapitalistima. Privatizacija je uvijek pljačka radnih ljudi. Čak i apsolutno ,,čista" privatizacija predstavlja obogaćenje novih vlasnika i smanjenje plata radnika, smanjenja broja poslova i zatvaranje službi. Mnogi radnici širom svijeta saosjećaju sa vašom borbom jer su i oni naučili gorku lekciju privatizacije. Bilo je kompanija koje su okupirane ili čak preuzete od strane radnika u drugim zemljama takodje. Ovo pokazuje ogroman talenat i sposobnost radnih ljudi i njihove klase. Ali oni takodje imaju problem da iste kompanije funkcionišu u kapitalističkoj ekonomiji. Dok god su te kompanije u konkurenciji jedna s drugom a ne dio veće demokratski planirane ekonomije, zasnovane na potrebama ljudi a ne na profitu, one će biti vidjene od strane mnogih kao hrabri koraci ali ne i da imaju perspektivu opstanka na duže vrijeme ili da će fundamentalno poboljšati životni standard ljudi.
Borbena tradicija – demokratska socijalistička Bosna i Hercegovina je budućnost
Solidarnost koju su Bosni izrazili radnici iz drugih dijelova Balkana pokazuje da otrov nacionalizma nije mogao ubiti dugu tradiciju solidarnosti i socijalističkih ideja u regiji. Ali iskustvo iz birokratske i ,,odgore" predvodjene države u bivšoj Jugoslaviji takodje znači da su ljudi, s razlogom, skeptični prema socijalističkim idejama. Iako se mnogi radnici sjećaju pozitivnih strana – da su osnovne potrebe bile pokrivene – nedostatak punih demokratskih prava za radnike, u svim nivoima jugoslovenskog društva, doprineo je stvaranju iluzije da bi kapitalizam mogao ponuditi bolji život. Ali ovo se ubrzo pokazalo kao pogrešno. Jedan razlog za mržnju današnje vladajuće elite ja da se veliki dio nekadašnje državne elite uspio obogatiti na račun radničke klase kroz privatizaciju, korupciju i koristeći nacionalizam da bi podijelio i vladao radnim ljudima.
Ipak, borbena i anti-fašistička tradicija regije, kao i iskustvo iz jugoslovenskog perioda, mogu biti osnova za preuzimanje vlasti od strane radnih ljudi i za demokratsko rukovodjenje ekonomije od strane istih. Nema potrebe za gazdama, menadžerima ili drugim predstavnicima interesa kapitalizma koji dominiraju ekonomijom. Radnička klasa zna kako treba organizirati i upravljati fabrikama i radnim mjestima, demokratski odlučivati o proizvodnji itd. Osoblje u bolnici zna mnogo bolje kako upravljati istom nego što to znaju gazde, a isto je sa univerzitetima, školama i oko pitanja lokalne infrastrukture.
Demokratska radnička kontrola i menadžment znači da ekonomijom upravlja sama radnička klasa, bez pro-kapitalističkih partija i super-bogataša ili birokratskog aparatusa koji odlučuje za njih!
Moć se nalazi na ulici – pazite da je stari vladari ne uzmu nazad!
Vladajuća klasa, njene partije i domaći i strani kapitalisti su svjesni da bi mogli izgubiti moć u BiH i nakon toga, u čitavoj regiji. Ovo je bio razlog iza pretnje o militarnoj intervenciji od strane ,,prokonzula" Evropske Unije, austrijskog ,,diplomate" Valentina Inzka. Vladajuća elita osjeća da bi moć mogla da im isklizne iz ruku i radni ljudi u Bosni su u mogućnosti da se bore da zaustave kapitalističko uredjenje da povrati svoju prethodnu kontrolu. Plenumi koji su formirani od strane demonstranata pokazuju inicijativu radnih ljudi i omladine i mogli bi biti osnova za nešto zaista novo. Samo održavati nove izbore u okviru stare strukture ili zamijeniti jednog korumpiranog političara drugim, neće donijeti stvarne promjene. Plenumi, sa svojom demokratskom strukturom i sa izabranim delegatima bez privilegija, koji mogu biti opozvani u bilo koje vrijeme, mogu biti važan dio nove, stvarno demokratske strukture. Ako su kombinovani sa radničkim komitetima na radnim mjestima i fabrikama, kontrolisani i upravljani od strane radnika zajedno sa studentskim komitetima, oni mogu donijeti stvarne promjene.
Izabrani predstavnici koji dobijaju radničku platu
Kshama Sawant, član Socijalističke Alternative u SAD (partija koja je povezana sa CWI), nedavno je izabrana u gradsko vijeće u Seattle-u. Njena predizborna kampanja je uključivala poziv na minimalnu zaradu od koje radni ljudi mogu da žive. Kshama šalje pozdrave solidarnosti radnicima u BiH. Ona prakticira ono što se zahtjeva u plenumima BiH – od fondova koje dobija kao član gradskog vijeća, za sebe uzima samo prosječnu radničku zaradu. Paul Murphy, član Evropskog Parlamenta i član irske sekcije CWI, radi isto – za razliku od korumpiranih, pohlepnih, bogatih političara; Paul zaradjuje isto koliko i radni ljudi. I Kshama i Paul koriste svoje pozicije kao platformu za promociju radničke borbe i u svrhu kampanji u radničkim zajednicama i radnim mjestima.
Nova, demokratska, multi-etnička radnička partija je ono što je potrebno – bez privilegija, puna borbenog duha i sa socijalističkim programom.
Širom svijeta, ljudima je dosta partija koje su dio elite, sistema i politike koja jedino koristi potrebama bogataša, kapitalista. Mnoge partije kao što su socio-demokratske partije u Evropi, koje su nekad koristile radnim ljudima da podignu glas, danas su izgubile svoje korijene i postale su iste kao pro-kapitalističke partije. Kad uzmemo u obzir brutalne napade kapitalizma danas, očigledno je da nam očajnički trebaju organizacije koje će povezati borbe protiv politike neo-liberalizma i kapitalističke eksploatacije u globalu. Trebaju nam borbeni sindikati, ali takodje i prave radničke partije. Te nove organizacije se mogu razviti iz borbe eksploatisanih, radnika i omladine. Južnoafrička sekcija CWI je bila na čelu borbe rudara u Marikani, koji su zahtjevali pristojne plate od gazdi. Morali su da se teško bore protiv smrtonosne represije od strane države i gazdi. Kao rezultat ove borbe, nova politička partija, Radnička i socijalistička partija (Workers and Socialist Party, WASP) je osnovana, koja nema ništa zajedničko sa korumpiranim, ukorijenjenim partijama koje su odgovorne za neprekidno masovno siromaštvo u Južnoafričkoj Republici.
Skeptičnost i odbojnost prema političkim partijama – iz dobrih razloga – je vrlo jako u BiH. Ukorijenjene partije su pokazale do čega im je jedino stalo – pljačkanje novca od radnih ljudi. Jedan od rezultata Daytonskog ugovora je da različite partije koriste veliki broj administrativnih jedinica da bi dali privilegije i pozicije svojim prijateljima i funkcionerima.
Neki demonstranti su tražili da se oformi vlada eksperata umesto sadašnjih kriminalaca ili etničkih partija. Naravno da su stručnjaci potrebni da vode ekonomiju i društvo, ali ne i stručnjaci koji će raditi u korist kapitalizma, nego bi trebalo da oni budu izabrani iz radnih mjesta i zajednica i da su spremni da rade pod demokratskom kontrolom radnog naroda.
Vlade ekperata (,,tehničke vlade") koje su nametnute nekim zemljama od strane EU, su samo instrumenti koji služe da bi se i dalje gurali neo-liberalni napadi na penzije, zdravstvo i javni prevoz. Grčke, španske, portugalske i italijanske sekcije CWI, dio su borbe protiv politike ovih ,,stručnjaka". Mi pojašnjavamo da rešenje nije u formiranju vlade koja je sastavljena od neke druge grupe pro-kapitalista, nego u jednoj sasvim različitoj vladi, sastavljenoj od predstavnika radnih ljudi i njihovih organizacija.
Novije partije pokušavaju da dobiju podršku u protestima i u plenumima. To daje aktivistima i demonstrantima dobru mogućnost da ih isprobaju. Da li su one stvarni dio borbe ili samo žele da budu izabrani na funkciju da bi dobili sve privilegije koje to podrazumjeva? Da li brane potrebe i zahtjeve od 99% ili se savijaju pod preprekama kapitalističke logike? Ono što je potrebno je prava radnička partija sa programom koji će pomoći u ostvarenju zahtjeva demonstranata i da ide još dalje, da stavi pod pitanje i otarasi se vladajućeg 1%.
Mi vjerujemo da izabrani predstavnici ili izabrani delegati iz pokreta moraju snositi punu odgovornost za svoj rad i da mogu biti opozvani u bilo koje vrijeme. Bez skrivenih pregovora! Važne odluke se moraju donijeti pred plenume i izabrane komitete pokreta. Da li će nove snage biti dio procesa da se izvrši eksproprijacija eksploatatora, da se oduzme bogatstvo onih koji su zaradili privatizacijom i kapitalizmom? Banke i kompanije se neće tako lako odreći svog bogatstva. Okupacije kompanija od strane demonstranata su bile pozitivan korak i trebalo bi da budu praćene okupacijama banaka, kancelarija i drugih kompanija – bez obzira da li su one privatizovane, bankrotirane ili ,,funkcionalne", jer sve one kradu bogatstvo bosanskih radnika. Radnici širom svijeta će gledati na to sa naklonošću i biće ohrabreni da i oni urade isto.
Svaki korak naprijed će se susresti sa žestokim otporom vladajuće klase i on mora da se pobedi. Oni će igrati na vrijeme, nadajući se da će pokret izgubiti momentum. Oni su već koristili državno nasilje protiv demonstranata i neće se snebivati da to opet urade ako se pokret nastavi. Da bi se odbranili postignuti ciljevi, da bi se odbranila osnovna prava radnika koja odredjuju njihovu budućnost, radnim ljudima BiH će trebati demokratski izabrane i upravljane samo-organizovane grupe koje su sposobne da brane socijalne i demokratske napretke, one već postignute i one koje treba tek postići. Ali kao što su radnici u Tuzli već pokazali, takodje će možda u jednom momentu biti naophodno organizovati odbranu od agenata provokatora i nasilnih napada vladajuće klase.
Ujedinjeni radnici nikada neće biti poraženi!
Širom svijeta, vladajuća klasa pokušava da odvrati i razjedini radnike i omladinu po nacionalnim, etničkim i religioznim linijama. Mi uvijek branimo pravo radnih ljudi da odlučuju o svojoj budućnosti, uključujući i pravo na samo-opredeljenje ugroženih nacionalnosti, u isto vrijeme braneći prava svih manjina. Ali mi takodje znamo da je ovo samo jedna strana priče i da vladajuća klasa koristi ovo pitanje da zavadi pa vlada. Zato, na primjer, Ujedinjena socijalistička partija, CWI u Šri Lanci, brani prava Tamila (Hindu i Muslimane) protiv Sinhala šovinizma dešnjačke vlade. Mi takodje povezujemo sve radničke borbe protiv državne represije i napada na radnička prava.
Dosta kapitalističkoj eksploataciji Balkana
U BiH, kompanije, strane sile i EU se ponašaju kao feudalna vlastela. Austrijske banke, na primjer, imaju jake ekonomske interese u daljoj eksploataciji Bosne i njenog naroda. To je povratak kolonijalizma. Kao i svi imperijalisti, oni se zalažu za ,,mir" i ,,stabilnost" ali su jedino zainteresovani za svoj profit. Oni su stvorili zavisnu državu, sa ogromnim birokratskim lavirintom koji jedino služi interesima vladajuće klase i koji takodje institucionalizuje etničke podeljenosti. Njihovo ,,rješenje" za etničke konflikte je da radničku klasu svih etničkih i religioznih pripadnosti treba podjednako eksploatisati i osiromašiti. Koje god da sada ponude ,,rješenje", ono neće rješiti duboke probleme masovne nezaposlenosti i nedostatak socijalnih službi, penzija i zdravstva. Kapitalizam nije sposoban – naročito sada u ovom periodu duboke svijetske krize – da obezbijedi osnovne potrebe za sva ljudska bića, uprkos tome što postoji bogatstvo i resursi koji bi mogli da promjene živote.
Mi zato smatramo da rješenje problema ljudi u Bosni i Hercegovini nije moguće u okviru kapitalizma. Primjeri masovno povećanog siromaštva u Grčkoj, etnički podeljenoj i osiromašenoj Ukrajini, gde su imperijalističke sile SAD/EU sa jedne strane i Rusija sa druge čak spremne da rizikuju rat da bi zadržale svoje uticaje, primjeri uništenja životne sredine… ovo sve pokazuje da funkcionalan, stabilan kapitalizam koji obezbijedjuje potrebe za sva ljudska bića, nije ništa drugo nego iluzija. Radnici Tuzle, Sarajeva i drugih mjesta dobro razumjeju da mi svi nismo u istom čamcu i da, dok mi moramo da veslamo, bogataši lijepo sjede na suncu.
Nova Bosna i Hercegovina – za demokratsku, socijalističku Bosnu i Hercegovinu
Do sada, vladajuća klasa nije uspjela da razdvoji proteste po etničkoj osnovi. Ovo je važan korak naprijed za radnike, bez obzira na etničku ili religioznu pripadnost. To dokazuje onu staru radničku izreku da ,,ujedinjeni ne možemo nikada biti poraženi". Za razvoj pokreta, od suštinske je važnosti da se prava svake etničke grupe u potpunosti garantuju.
Novoj Bosni i Hercegovini trebaju nove strukture koje nisu nametnute odgore nego koje su dogovorene od strane radničke klase izmedju sebe. Zašto treba otplatiti ,,nacionalni" dug – ovaj finansijski teret je odgovornost korumpiranih političara koji su istisnuli sve iz zemlje za profit nekolicine. Internacionalne banke i EU će histerično vrištati ako BiH odbije da otplati dug. Kao i u Grčkoj, Portugalu i drugim zemljama, EU i nacionalne vlade prisiljavaju radni narod da plati za krizu za koju oni nisu odgovorni. EU neće donijeti nikakva rješenja za probleme s kojima se suočavaju radni ljudi Bosne i Hercegovine. Ali internacionalna solidarnost i ujedinjena borba sa radnim ljudima iz drugih zemalja Balkana i Evrope može da obezbijedi izlaz iz ove noćne more zvane kapitalizam. Braća i sestre u ovoj borbi su londonski vatrogasci, njemačke mašinovodje, grčki bolničarski radnici, omladina Portugala i Španije… Članovi CWI širom svijeta će pokušati da prenesu poruku radnika i demonstranata Bosne i Hercegovine i da podrže vašu borbu.
Komitet za radničku internacionalu (CWI) je otvoren za diskusiju sa aktivistima, radnicima i omladinom. Ako želite dalje da razgovarate o idejama iz ove brošure, za više informacija o CWI ili za učlanjenje u CWI, molimo vas da kontaktirate CWI ispod/ili CWI u Njemačkoj i Austriji:
Committee for a workers' International (CWI):
Website: www.worldsocialist.net email: cwi@worldsoc.co.uk
Telefon: ++ 44 20 8988 8760
Poštanska adresa: CWI, PO Box 3688, London, E11 1YE, Britain
Austria (CWI): Website: www.slp.at
email: slp@slp.at
Telefon: 0043-(0)650-424 63 10 0043-(0)650-424 63 10
facebook: https://www.facebook.com/slp.cwi?fref=ts