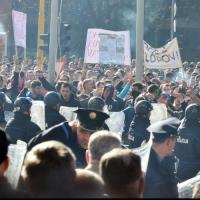 "I think this is a genuine Bosnian spring. We have nothing to lose…"
Seething anger at the dire economic situation, political corruption, mass unemployment and poverty has boiled over in Bosnia and Herzegovina. In three days of lightening-speed struggle by workers and youth, the government has been shaken to its foundations.
DAY 1 Wednesday, February 5th
Laid-off workers from the privatised and now closed chemical works DITA, in northern Bosnia, and three other firms demonstrated. They accused the government of standing idly by as several state firms collapsed after privatisation.
"Elections will change nothing and only actions like this, and I'm afraid, even more radical actions, can force our politicians to step down," said one protester.
Football fans joined the workers, as well as the unemployed. Stones were thrown and tyres set on fire. At least 20 people were injured and over 20 arrests made.
DAY 2 Thursday, February 6th
Workers continued to demonstrate in Tuzla. A ferocious battle took place as 130 people, including 104 police officers, were injured.
Teargas was used as thousands tried to storm government buildings in the town.
But Tuzla was only the spark which ignited deep discontent in the whole of Bosnia. Solidarity protests were held in the capital Sarajevo and the towns of Zenica, Bihac and Mostar.
Prime Minister Nermin Niksic held a security meeting and inevitably blamed hooligans for the unrest.
In reality, it was workers who led the way. The protesters were initially made up mainly of workers laid off when state-owned companies that were sold and then collapsed under private ownership. Later thousands of jobless people and youths joined in. Bosnia has an unemployment rate of 44% and one in five people are living below the poverty line. Even those in work are getting by on €250 – €450 a month. Many workers in DITA had not been paid for over two years!
"It was our government that sold state assets for peanuts and left the people without pensions, jobs or health insurance," said 24-year-old Hana Obradovic, an unemployed graduate from Sarajevo.
The government ordered schools to close on Friday.
DAY 3 Friday, February 7th
By Friday, protests had spread to over 30 cities in Bosnia and with it the anger at the corrupt politicians. Demonstrators set fire to government buildings in Sarajevo. One hundred and forty five people were injured in the capital, including 93 policemen.
Police used rubber bullets and tear gas to disperse protestors as demonstrators stormed a presidential office, which was set on fire.
In the ex-mining area of Zenica thousands demonstrated and 50 were wounded. Facebook was used to organise the protest. The people chanted: "Thieves!" and "Revolution!"
Sakib Kopic, one of the workers' representatives, said they were "the people's answer" to the government's failure to address the ongoing economic decline.
"This is the shout of rage, hunger and hopelessness about the future that has accumulated for years since the conflict and is exploding right now," local newspaper Dnevni Avaz said in an editorial.
Several thousand protesters in Mostar stormed two local government buildings and also set fire to the city hall. Police did not intervene.
A young demonstrator in Bihac joked and summed up the distain Bosnians have for the corrupt political class and their nepotism: 'Why is there no sex in Bosnian government institutions? Because they are all family!'
A homemade placard in Tuzla simply: 'I don't work. I've come here to destroy the government.'
On Friday, people finally burnt down government buildings in Tuzla. Eyewitnesses have told us that the special riot police took off their helmets and protective clothing and let the demonstrators get on with what they had come to do. Later the police were applauded and handshakes were exchanged with demonstrators.
"I think this is a genuine Bosnian spring. We have nothing to lose. There will be more and more of us in the streets, there are around 550,000 unemployed people in Bosnia," said Almir Arnaut, an unemployed economist and activist from Tuzla.
In Zenica and Tuzla the politicians in charge of privatisations were forced to resign by the protestors.
Why now? And where now?
Bosnian workers have endured 20 years of misery since the civil war. Twenty years of mass unemployment. Power sharing quotas along ethnic lines has enabled corrupt politicians to enrich themselves in the poorest country in Europe. Workers have been reluctant to struggle for fear of provoking ethnic tensions again. But there is a limit. The privatisations and closures have been the last straw.
There is a yearning for working class unity in Bosnia, which is reflected in the placards and on Facebook. One placard read: 'ARISE TITO! SEE WHAT YOUR PIONEERS ARE DOING!' (The 'Pioniri' were the Young Communists in the time of Tito).
Also on Facebook there is a photo doing the rounds. Tito is looking at his watch and the caption says: 'Time to return.'
It is understandable that there is a certain nostalgia for Tito even amongst the youth. Parents tell their kids of the times when everyone had a job, a home and a future to look forward to, despite the dictatorial one-party Stalinist regime which presided over the Yugoslavian planned economy. Capitalism was born in Bosnia through a horrific ethnic civil war and has offered nothing to the Bosnian working class except poverty, corrupt politicians and the threat of further ethnic conflicts.
These are early days in the Bosnian uprising but already the workers and youth are striving for unity. They are united in their utter contempt and hatred for the corrupt government and their hangers on. No political party represents the working class in Bosnia at this time.
It is significant that in Banja Luka, the capital of Bosnia's Serb half, some 300 activists and citizens staged a peaceful march to call for unity among all Bosnia's ethnicities.
They said: 'We are all citizens of Bosnia and we all have the same difficult lives here."
Activists also demanded:
•Abolition of cantons
•Parliamentarians to give up 50% of their salaries
•Dismissal of the director of PIO FB&H (Government department of pensions and social security)
•An increase pensions to 1.000 BAM (500 Euros)
•Provide work and benefits for the unemployed
•Abolish illegal work and the black market economy
Protesters have also called for re-nationalisation of privatised firms, limiting salaries of officials, against nepotism, and the right to life and education. There are also statements from the police and army veterans.
Workers and socialists around the world salute the Bosnian workers and youth in their struggle against privatisation and corruption and for a better life. This struggle can only be consequently waged with the perspective of a break with capitalism and a struggle for socialist policies based on workers' democracy. SOLIDARNOST I REVOLUJICA!