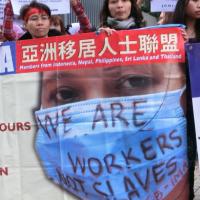 Sexism, discriminatory laws and poverty hit women hard in China's richest city
For the fourth year in a row Socialist Action (CWI in Hong Kong) took the initiative to organise a public rally on International Women's Day (IWD), Saturday 8 March, to gather women from different nationalities. While this event in Times Square, a busy shopping area, was modest in size with around 40 participants, it is important as the only truly international IWD event in Hong Kong. The aim was to bring women together from the territory's many ethnic communities and struggles in different sectors to mark the need for united struggle against discrimination and the oppression of women.
Internationalism
At this year's rally women from Africa, China (mainland), Indonesia, the Philippines and Sri Lanka took part alongside activists (women and men) from Hong Kong. Several groups had speakers including the Refugee Union, involved in a month-long occupation struggle against discrimination and corruption in government-run services. Representatives of the League of Social Democrats (LSD), Slutwalk Hong Kong and the Women's Coalition HK (an LGBT organisation) also addressed the event.
In 2014, the most prominent struggle of women and workers in Hong Kong is the ongoing campaign of migrant domestic workers against slave-like employment laws. Successive mass protests have taken place this year over the case of Indonesian domestic worker, Erwiana, violently abused by her employer for seven months, which became an international issue. As a result, Hong Kong is now known as a city of "modern slavery." Around 330,000 domestic workers mostly from the Philippines and Indonesia, but also in smaller numbers from Thailand, Nepal and Myanmar, live and work under harsh discriminatory laws. They work extremely long hours with almost no legal protection against the economic blackmail used by ruthless recruitment agencies or against physical abuse in the home.
Exploitation of migrants
It is very common that these agencies charge the Indonesian domestic workers a placement or contract fee of HK$21,000 (1,950 euro) – equivalent to the first seven months' salary. This is charged every time the worker gets a new employer and therefore deters the women from terminating a contract even if an employer is abusive or violent. The government's live-in rule means that foreign domestic workers are not allowed to live away from their employer, which in turn means they are on 24-hour stand-by for work. Many of them work 18-20 hours a day and do not have any privacy, as living space in Hong Kong is so small. Domestic workers often sleep in the living room or sometimes in a corridor or on the kitchen floor. This makes them vulnerable to violence and harassment, sometimes sexual. The oppression of migrant domestic workers is the most extreme example of a system of oppression that affects all women and all workers – 'local' as well as 'foreign'.
On 9 March – Sunday being their only day-off – over 1,000 domestic workers took part in a march organised by a coalition of migrant organisations. "We are workers, we are not slaves!" echoed through the streets, with expressions of support from many bystanders.
This protest was particularly aimed against a recent government propaganda offensive that accuses migrants of 'job hopping'. At the same time the Hong Kong government has hardened its stance against demands to repeal repressive employment laws such as the live-in rule and two-week rule. The latter forces foreign domestic workers to leave Hong Kong within 14 days of a contract being terminated.
The Secretary of Labour, Matthew Cheung Kin-chung, recently defended the live-in rule as "a matter of principle". But as Sringatin of the Indonesian Migrant Workers' Union (IMWU) told the media during the 9 March demonstration, this rule deters domestic workers from filing complaints because not only can they lose their job but can also have no place to live. The marchers condemned the government's accusation of 'job hopping' – which anyway is virtually impossible under current rules.
"We are workers, not slaves!" – the Erwiana case has highlighted the exploitation of migrant women.
Socialist Action was one of the few Hong Kong political groups to take part in the migrant workers' demonstration on 9 March, despite this being by far the biggest protest to commemorate International Women's Day, and an obvious priority for any organisation claiming to stand for women's rights or a feminist perspective. Several speakers from a variety of migrant organisations spoke including Eni Lestari of the Justice for Erwiana campaign who reported from her recent visit to Indonesia to meet with Erwiana, her family and supporters. Puji Babul of the Refugee Union also addressed the migrant workers' demonstration speaking in Indonesian.
Violence against women
The IWD rally in Times Square was also supported by Slutwalk Hong Kong, which protests against sexual violence, a campaign that Socialist Action has helped to build in recent years. One in seven women in Hong Kong have experienced sexual violence according to the Association Concerning Sexual Violence Against Women. Socialists explain that violence against women and sexist attitudes are rooted in capitalism, which is built on gender as well as class oppression.
There are many examples of how the state – senior judges and police chiefs – and the right-wing political establishment reinforce gender oppression and promote ideas that undermine women's rights and freedoms. This was shown by last year's infamous comments from Hong Kong's Secretary for Security, Lai Tung-Kwok, who said women should avoid drinking alcohol to prevent rape. These comments outraged many people and led especially to more young women becoming active to challenge sexist ideas and the system that creates them.
Underspending on welfare
The same politicians who peddle archaic ideas about women also carry out economic policies that perpetuate gender inequality. Neoliberal government policies have meant that public spending is diverted to the big corporations (Hong Kong ranks first in The Economist's recent survey of 'crony capitalism') instead of being spent on public services such as childcare and elderly care. This forces women in poorer families to stay at home and take care of the family for no wage or, if they are slightly better off, to enlist a low-paid domestic worker to take care of the children or elderly relatives.
One of the themes of Socialist Action's IWD protest on 8 March was the need for a universal pension system, which Hong Kong lacks despite its status as one of the world's richest economies. The current system excludes women who have not been formally employed, robbing hundreds of thousands of women of any pension entitlement.
This is why one in three elderly people lives below the poverty line in Hong Kong and most of them are women. More than 30,000 women of pension age make a living by picking up cardboard boxes on the street for recycling.
Refugees' struggle
Another important feature of this year's International Women's Day was the plight of the refugees in Hong Kong who are currently occupying the street outside the government's Social Welfare Department. The Refugee Union sent a big contingent to the IWD rally in Times Square and Adella, a refugee from Uganda, gave a speech about why they are fighting and the important role women play in this struggle. Socialist Action assists the Refugee Union in its campaign of occupations and protests, to find ways to overcome the government-imposed isolation of refugees and to publicise their case. On IWD, the Refugee Union's stall got a very good response, showing the big potential support for their demands.
In addition to our Chinese language magazine, Socialist Action in Hong Kong and CWI supporters in China and Taiwan produced a special English language pamphlet on the struggle of women to commemorate International Women's Day. This is aimed at reaching out to the many women involved in important struggles such as migrants and refugees who cannot read Chinese. We also produced leaflets in four languages (Chinese, English, Filipino and Indonesian) in solidarity with the struggle of domestic workers.
To order our English language women's pamphlet (10 HKD plus 10 HKD postage) send an order to socialist.hk@gmail.com