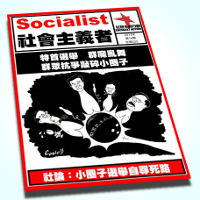 Mass struggle needed for genuine and fair elections and the end of tycoon rule
Popular anger over scandals around the political figures – Donald Tsang Yam-kuen and Henry Tang Ying-yen – and against the March 25 pseudo elections was shown when around 10,000 people marched in Hong Kong last weekend, in demonstrations on Saturday and Sunday. Marchers demanded the resignation and prosecution of Chief Executive, Tsang, and pledged complete opposition to what is known as the 'small circle' election in which only an elite layer can vote.
In Hong Kong, candidates for government office cannot belong to a political party, to insure they serve only 'one master' – the Chinese dictatorship. There are two main political camps – the establishment camp (an assortment of pro-Beijing parties) and the pan-democrats (an assortment of parties advocating universal suffrage) – but only individuals from the former can win government positions under the present system.
Hong Kong's rigged 'small circle' election for Chief Executive (CE) has disintegrated into a scandal-plagued farce. As the saying goes, truth is stranger than fiction, and the dramatic events of recent weeks confirm this. A succession of scandals has left no doubt about the culture of corruption, lying, law breaking and cronyism surrounding Hong Kong's pro-Beijing political elite and the business tycoons they serve. These scandals have spread to the current Chief Executive, Donald Tsang Yam-kuen, who is facing possible impeachment with just four months left in office. On 1 March, Tsang apologised before an extraordinary session of the largely powerless pseudo-parliament – the Legislative Council – confessing that his jet-setting antics (see below) had "shaken the public's belief in Hong Kong's system."
Around the world there is a surge of protest against the capitalist "1 percent" who control the economy and all political decision-making. But Hong Kong's elitist election system is not even open to one percent of voters! An election committee of just 1,200 people – 0.017 percent of citizens – will choose the next Chief Executive. The committee is dominated by tycoons and the super-rich, with a thin layer of 'other interest groups' added in order to cloud the picture. Even this arrangement is no more than a front for the Chinese Communist Party (CCP), which ultimately decides.
Simulation exercise goes awry
Previously – in 2007 and 2002 – Beijing fielded just one candidate, who of course won the 'election'. This year, it has given the go-ahead for a simulated contest with a second candidate from its own camp. This was done for a number of reasons, but mainly in response to mounting pressure within society for real democracy. The 'small circle' election model is widely discredited. Beijing therefore wanted a choreographed 'election' contest with all the trappings of a real election (rival manifestos, opinion polls, campaign rallies and debates) but without real voters! This, they figured, would lend a certain measure of popular legitimacy to the winning candidate. This would also give Beijing more options in the future as it manoeuvres to limit popular demands for universal suffrage and defend its own 'bottom line' – to maintain overall control. The 1,200-member election committee could, they calculate, be revamped whenever the electoral franchise is widened in future to become a nomination committee (i.e. 'filtering system' to keep undesirable candidates from running).
But the 'contest between gentlemen' envisaged by the CCP has collapsed. In its place, Hong Kongers have been treated to a blood-fight between the two pro-Beijing contenders: former Chief Secretary Henry Tang Ying-yen and former Executive Council convenor Leung Chun-ying. This reflects a wider power struggle within Hong Kong's capitalist elite – and not only there. Undoubtedly, the intense behind-the-scenes manoeuvring we are witnessing also reflects emerging splits within the Chinese dictatorship itself.
The collapse of Henry Tang's campaign
It was known from the start that Beijing's favoured candidate, Henry Tang, was a dull and rather dull-witted businessman-turned-official. But few could have predicted the spectacular collapse of his campaign and the dithering, inept performances that have now become his stock-in-trade. This also says a lot about the 'powerful team' of business luminaries who are running Tang's campaign. His team is headed by Bank of East Asia boss David Li Kwok-po. Former Hong Kong Monetary Authority (central bank) chief Joseph Yam Chi-kwong is 'senior adviser' to Tang, while another team member is billionaire Joseph Lau Luen Hung, whose brother Thomas shot to notoriety recently by giving Donald Tsang and his wife a "lift" back to Hong Kong on his HK152 million super-yacht after the CE's impeccably timed casino holiday in Macau!
The 'basement-gate' scandal revealed a massive 'underground palace' or leisure area, built illegally at the Tang family mansion in Kowloon Tong. Tang's response set a new record for evasiveness and blunders, first by trying to hide its existence, then claiming the illegal construction was a 'storage room', and finally blaming his wife and asking the public for a 'second chance'! The Tangs' opulent basement complex houses a wine-tasting room, gym, film theatre, hair salon and swimming pool. If, as seems likely, the illegal basement complex was part of the original design for the house, erected in 2007, Tang or his wife could face up to two years in jail for attempting to defraud the buildings department. They have now been ordered to demolish the basement, which will reportedly be filled with concrete!
These revelations of the pampered and corrupt lifestyle of the capitalist elite have sickened and angered the vast majority, especially given Hong Kong's cramped living conditions and sky-high costs. The city has the world's most unaffordable housing thanks to Tang's tycoon friends. With a reported area of 2,400 square feet, the Tangs' underground 'leisure palace' alone is five times bigger than the average Hong Kong apartment, and 40 times the size of our notorious subdivided apartments or 'cubicles'!
A recent well-publicised survey by the US-based National Academy of Sciences found that "the wealthy are more likely to lie, cheat and break the law than those who have less". These findings – no surprise to socialists – are certainly borne out by the antics of Tang and his coterie. Tang was a member of the government charged with cracking down on illegal structures. In May last year, members of the government were ordered to put their own houses in order – literally – and report any illegal structures. This followed a scandal involving unauthorised construction work at the home of Donald Tsang. Five members of the government are known to have committed similar violations of the law. More then these transgressions, it is the mind-set of the ruling elite – that they are above their own laws – that has outraged millions. Tang claims his campaign is about "defending Hong Kong's core values". This must mean "the rights of the rich to break the law," noted a South China Morning Post columnist.
Why didn't Tang quit?
"Tang has no option but to quit the race," declared the editorial page of the South China Morning Post (17 February). His credibility has been "buried in the underground palace", said Apple Daily. Yet Tang's campaign staggers on. This is clearly not just a personal decision (in so far as Tang makes any decisions) but reflects the wishes – or rather instructions – of both Beijing and the tycoons. His decision not to withdraw has been described as "shameless," "absurd", and "a travesty". In opinion polls, two-thirds say he should quit the race. Even the Liberal Party, which Tang helped to found, is threatening, for its own opportunist reasons, not to vote for Tang in the election committee "if a majority of the population is still opposed."
It is the system itself, and not just the person, Tang, that is 'shameless' and 'absurd'. Even more disreputable then, is the decision of the Democratic Party's Albert Ho Chun-yan to continue playing his 'minor role' in this farce. Ho's motives for entering the contest – he does not even have a theoretical chance of victory [and therefore does not need to resign his party affiliation]– were from the outset cynical: to grab some publicity for his party and demonstrate goodwill towards Beijing in pursuit of the Democrats' chimera of 'negotiations for democracy'.
As the 'Socialist' magazine has always insisted, the struggle for real democratic rights will not be granted by a 'benevolent' dictatorship; it must be fought for through mass struggle, not just in Hong Kong but also by linking up with the workers and poor masses in mainland China. The compromise wing of the pan-democrats have only played into the hands of the CCP, by opposing real resistance and lending a 'democratic' façade to anti-democratic manoeuvres such as this 'small circle' election and the 2010 electoral reform package.
Tang is the main choice of the dominant tycoon class. He is the scion of a Shanghai textile empire. His father Tang Hsiang-chien was ranked the 40th-richest person in Hong Kong in 2010 (Forbes Magazine) and is said to be close to former Chinese leader Jiang Zemin. Tang is backed by a 'Who's Who' of Hong Kong's top bankers and property developers. Of the 12 major property conglomerates, which wield 64 votes in the election committee, 38 of them have already nominated Tang. HSBC Asia Pacific chief executive Peter Wong Tung-shun, who has just ordered 3,000 job cuts in Hong Kong, is another prominent Tang supporter, as is Li Ka-shing, Hong Kong's richest man.
The tycoons want a pliant front man in Government House. They are wary of Leung, who is ambitious and is seen to represent a rival faction of second-tier business interests that resent the existing pecking order of tycoon empires. Both of Beijing's candidates have clearly capitalist agendas, but while Tang represents the neo-liberal orthodoxy of 'small government', Leung is a social liberal, favouring more government intervention in areas like pensions and housing. Some anti-Leung commentators attack him as a 'socialist', but this is a preposterous allegation, echoing similar attacks on Obama by extreme-right Republicans.
Crisis is a fact – what next?
Beijing now faces a serious dilemma and the risk of a political crisis no matter who wins in Hong Kong. After the basement scandal broke, many thought Beijing would hastily improvise a 'Plan B' and cast in a new candidate such as the biggest pro-Beijing party DAB's honorary chairman Tsang Yok-sing before the February deadline for nominations expired. But Beijing is sticking with 'Plan A' – at least for the time being. This is partly because it believes any change now would be a sign of panic, but also because it is hesitating over what its next step should be. The bureaucratic machinery of the central government can, in times of dramatic change, face paralysis and indecision, with no one wanting to carry the can in the event of failure. The entry of a third establishment candidate, which looked possible at one stage, would also have increased the risk that none of Beijing's nominees would get the required 601 votes on March 25, forcing an even more embarrassing re-run of the election to be held in May.
As many have warned, Hong Kong could face "a governance crisis" should Tang be chosen in the face of widespread public hostility. Even Tang's former comrade-in-arms, Liberal Party honorary chairman, James Tien Pei-chun, has warned that tens of thousands could take to the streets in a re-run of the 2003 events. The ramifications of this go beyond Hong Kong.
It is the likely successor to president Hu Jintao, Xi Jinping, who carries the ultimate responsibility for political developments in Hong Kong. An anonymous source close to the central government gave this verdict: "If the situation in Hong Kong gets out of hand, it will reflect badly on the new leadership [in China]. This is not just a Hong Kong affair." (South China Morning Post, 29 February)
The sharpening power struggle within the Chinese one-party state, between 'liberalisers' and 'state-capitalists' on the one hand, and among competing regional and business factions on the other, means that Xi will face hurdles to establishing his authority. Should Hong Kong suffer political instability, Xi will face the question: How can you run China if you can't run Hong Kong?
Beijing has been taken aback by the ferocity of the Tang-Leung rivalry. This reflects a power struggle within the capitalist establishment that has been enormously sharpened by the 'election' campaign and its mud slinging. This split at the top is in turn a symptom of the deepening crisis of capitalism. This, by the way, is a major reason why the CCP does not want to entertain ideas of 'Western-style democracy' in China, knowing that its own elite power struggle, which is repressed and contained at this stage within the dictatorial strait-jacket, would likely explode and pose a threat to its own rule. This could very likely develop even on the basis of a limited, Hong Kong-style mock election, should such an experiment be reproduced in China. That Beijing has lost control of the process in Hong Kong will sound even more alarm bells over its own 'reform' deliberations.
CCP-tycoon alliance
Since the early 1980s, and the start of the reunification process, the CCP has built up close links with the dominant tycoon families in Hong Kong, and since 1997 it has ruled the territory largely through them. The CCP's support for Tang was predicated on the fact that he was the tycoons' choice and represented a 'safe pair of hands' based on his record in previous governments. Beijing gave the green light to Leung's challenge only to create the illusion of a real 'election'. Leung himself probably stood with the next race, in 2017, in his sights, rather than a serious hope of becoming CE now. But elections, like any field of struggle, have their own logic. Leung himself almost certainly underestimated the devastating political fall-out that would result from the 'basement-gate' scandal, which his camp initiated. The capitalist establishment as a whole only have the dimmest of realisations of the explosive mood that is developing in society. But for Leung there's no turning back. The damage – to his own system – is already done.
The tycoons – who care even less about opinion polls and democratic niceties than the CCP – seem to be sticking with Tang. Their distrust of Leung, and fear that he will be too 'independent', has been heightened by his role in the campaign. It is an open secret that Leung's campaign team are behind the leaks that have destroyed the credibility of Tang, and more recently also of Donald Tsang, whose not-so-private antics have also been used to discredit the Tang camp. The tycoons may lobby hard for Beijing to stick with Tang on the grounds that they 'cannot work with' Leung, and that his election tactics have jeopardised the whole basis of their rule.
Is it possible that Beijing could still opt for Tang? It is impossible to predict with any certainty. But the CCP, as shown on many occasions, suffers a massive 'disconnect' from the public mood in Hong Kong. Its authoritarian nature means it lacks some of the political tools and instincts associated with managing a 'democracy' and weighing up more complex situations that cannot be resolved by bureaucratic diktat. The Chinese regime also, like Hong Kong's tycoons, suffers from an excess of confidence at present, believing their economic 'successes' afford them a degree of infallibility. This could still open a door to Henry Tang, especially if mass opposition is not manifested on the streets.
The farcical disintegration of this election charade presents a huge opportunity for all who oppose dictatorial rule and the capitalist "1 percent". Today's massive discontent, which goes beyond opposition to the undemocratic electoral system, and represents a seething rage against the whole ruling class, must be given an organised expression. Street protests and mass activity must be organised to expose all three candidates, their pro-capitalist agendas, and the abomination of the 'small circle' election.
Socialist Action will play our part in this struggle. The collapse of the old pan-democratic camp, with the ignominious surrender of the right-wing pan-democrats, necessitates the building of a new democratic movement based on mass struggle, a democratic grassroots membership and a programme to fight capitalism and dictatorship. The decisive force in this context is the working class and the youth, who must create a new grassroots workers' party with a socialist programme.