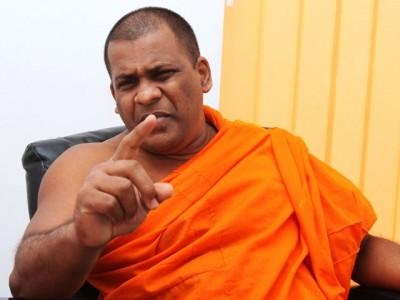 USP mounts motor cycle 'march' to fight for united struggle against chauvinists
The number of attacks against religious minorities in Sri Lanka is on the increase. One such horrific incident took place recently in the Aluthgama and Beruwala area, on the south-western coast of Sri Lanka. It happened the day after a Buddhist religious day, celebrated across the country. Muslim shops and houses were attacked by organised Buddhist extremists. They claimed to have acted in the interests of thousands of Buddhist people who celebrated their religious day peacefully, the majority of whom certainly will not condone this type of brutal attack on minority Muslims.
This incident began after a heated argument developed between Muslim youth and the driver of one of the vehicles travelling alongside the Buddhist monks. It eventually ended up in a big fight in which a Buddhist monk also participated, but without any injury. Later, however, a monk was admitted to hospital, and police arrested three Muslim youth, remanding them in custody. Just after this, the extremist Buddhist organisation, Bodu Bala Sena (BBS – Buddhist power force), organised a rally in Aluthgama town, despite the opposition from several political leaders and social organisations, including some Buddhist monks, who knew about the tensions that existed. The police ignored this warning and allowed the BBS rally to take place.
In this rally, BBS leader, Galagoda Aththe Gnanasara, whipped up the crowd and said: "In this country we have a Sinhala police and Sinhala army. If any single marakkalaya [a derogatory term for Muslims] or any others dare to touch even a single Sinhala person, we will see the end of them. Tamils have their leaders. Muslims too have leaders. Yet Sinhala people do not have a leader. We are prepared to give the leadership to Sinhala people. Yes, I am a Sinhala communalist. We are not shy to say this. If anyone is trying to play with us, we will destroy Aluthgama and other Muslim towns".
This provocative rally was followed by a demonstration. Mobs then started violently attacking Muslim shops and houses, while the police looked on. Four people were shot dead – three Muslim youth and one Tamil. More than 100 people were injured in the attack. There was clear evidence that members of the Special Task Force and the armed forces, in civilian clothes, were involved in that attack. It is no surprise, then, that so far no one has been taken into custody by the authorities.
A week later, on 22 June, a Muslim-owned, large clothing retail outlet in Panadura town, 30km from Aluthgama, was completely destroyed by fire. This shop had more sales than other shops during the last New Year season. It was a big challenge to Sinhala businesses in that area. BBS is mainly supported by the Sinhala business community to gain advantage over their competitors.
Not isolated incident
This attack is not an isolated incident as claimed by the government. BBS has been campaigning against Muslims in recent years. One of the insulting campaigns it initiated was against Halal food. It urged Sinhalese not to buy the Muslim Halal Certification brand of goods, and demanded a ban on issuing the certificate. This campaign led to the destruction of many Muslim shops in various places. In March last year, a popular garment chain also owned by Muslims, Fashion Bug, situated near Colombo city, was attacked and vandalised during the day. Many Buddhist monks and Sinhala communal organisations were involved in this attack. After TV channels showed some video recordings, the police arrested a few monks and Sinhala youths. But they were released by the magistrate after a few days, following instructions received from top figures in the government.
Simultaneously, BBS launched another campaign against the niqab veil worn by some Muslim women. The Rajapaksa regime has not condemned any of these attacks, so far, or the hate speeches of these extremist Buddhist organisations. The government has clearly lost its credibility among the Tamils. That was evident in the landslide victory of the Tamil National Alliance (TNA) in the first provincial election held in the north, in September 2013.
President Rajapaksa was given more reason to worry by his party's disappointing results in the Sinhala-dominated southern and western provincial elections in March this year. After five years since the war victory, the ruling alliance has not been able to improve the living conditions of the masses. Rajapaksa is implementing IMF and World Bank led attacks. Deteriorating conditions have caused misery to the working class and the poor masses. The education system is in a big mess. University students are continuing their campaigns against privatisation and cuts. The health sector, too, is in crisis. Nurses and other staff are launching various actions and token strikes.
Attacks on workers
The Rajapaksa regime is once again trying to destroy the pension funds of government workers. His government introduced a new system of getting pension gratuities as bank loans. Finally, president Rajapaksa had to call for the scrapping of the new system.
In this situation, the Rajapaksa regime is attempting to consolidate a Sinhala Buddhist southern base for its future election campaign victories. The government is planning for an early presidential election, to take place as soon as possible. BBS and other Sinhala Buddhist communal forces are campaigning for a Sinhala Buddhist majority to dominate the country with the direct support of the Rajapaksa regime. Communal and religious campaigns will play a big role in the near future, to mislead the Sinhala masses and divert their attention away from the social problems people are facing.
A BBS education centre was opened in Galle (the main city in the south). Defence secretary Gotabaya Rajapaksa was the chief guest to open it. BBS has become the most powerful organisation in the country, and can enter any private premises or office to carry out attacks with impunity. The fact that the Rajapaksa regime has not taken any steps to control BBS, or taken strong positions on the incidents, has further strengthened fears of state-backed Sinhala Buddhist communalism emerging on a mass scale yet again. In March this year, the Human Rights Council also expressed its concern about the significant surge in attacks against members of religious minority groups in the country, including Hindus, Muslims and Christians.
Muslim leaders
Predominantly Tamil-speaking Muslims, who are nearly 8% of the population, have over the decades identified themselves as part of the Tamil community. Muslims are mainly involved in trading and other professions, and live in small pockets of areas scattered all over the country. This latest round of attacks, and the rising fear it has provoked, are fuelling the development of a strong anti-Rajapaksa mood among them. There is also a growing pressure on the justice minister, Rauf Hakeem, leader of the Muslim Congress, to leave the Rajapaksa government. But the Muslim community has had enough bad experience of Muslim political parties. They always support either of the two main capitalist parties. They have exploited the grievances of the Muslims for their own personal gain.
In this situation, there also exists the possibility of Muslim extremist, armed groups developing. Already, we can see some youth who are openly talking about arming the Muslims. But, as Marxists, while we are not pacifists, we strongly warn against this method of struggle without building a mass political force. 30 years of armed insurrection by the Tamil youth in the north on its own – a struggle led by the LTTE – did not manage to bring liberation and a better life to the Tamils. We argue that democratic and social rights can only be won by joining hands with the working class and the left forces in the country who are fighting to overthrow the capitalist system. Bringing back another section of the capitalists to power, such as the United National Party, is not the answer to the problems we face.
Fighting chauvinism
We must unite together to create an alternative force that can not only defeat hate-mongering chauvinists, but will also fight to establish better conditions that will prevent the emergence of such forces in the future. The United Socialist Party (USP), while standing for the right to practice any religion, has a proud tradition of opposition to chauvinism, hatred and attacks on minority populations in the name of religion. We urge all those seeking to fight back to unite with us in this fight.
The USP will be organising a motorcycle march from Colombo to Aluthgama on Saturday 26 July. This motorcycle march will stop at all junctions and villages on its way to raise awareness against the hate campaign of BBS. We will be distributing leaflets and will discuss with local people about the reactionary and dangerous nature of BBS. We will urge them to join us to build united action to win better conditions for all. We request everyone to come and take part in this important march.