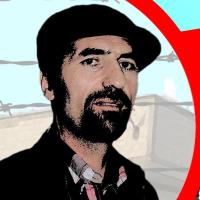 International action needed to overturn latest conviction and to immediately release Behnam
Behnam Ebrahimzadeh, a jailed labour and children's rights activist and a member of the Coordinating Committee to Help Form Workers' Organizations in Iran, who is coming towards the end of one prison sentence, is now facing a new term of imprisonment. Currently he is an Iranian prison having already served four and a half years of a five year sentence, while his 14-year old son is under treatment for leukemia. He was arrested by security forces on 12th June 2010 and was sentenced to 20 years imprisonment by the Revolutionary Court for threatening national security for organizing workers' protests. Later an appeal court reduced his sentence to 5 years imprisonment. Last year he went on hunger strike to demand a transfer back to a medical wing of Evin prison in north Tehran and to receive medical treatment for his longstanding health problems (see here).
Behnam Ebrahimzadeh was transferred to ward 209 in Evin prison in north Tehran after the incidents occurred in ward 350 of the same jail in April last year. At the same time, his home was searched and the Ministry of Intelligence opened a new case against this worker-activist and prisoner. Subsequently on 29 December, last year, Behnam Ebrahimzadeh was tried in branch 15 of the Revolutionary Court in Tehran, presided over by Judge Salavati, on new charges of communicating, from prison, with Ahmad Shahid (the United Nations Special Rapporteur on the human rights situation in the Islamic Republic of Iran) and with a political organization. Behnam Ebrahimzadeh was sentenced to nine and a half years imprisonment.
We call all worker activists, trade unions, workers' associations and political organizations inside and outside Iran to give practical backing and efforts to attract international support for Behnam Ebrahimzadeh. We want this latest conviction overturned and Behnam released. In this regard, the members and activists of the Campaign in Support Workers of Iran will organize more activities in addition to continuing to contact relevant organizations and other trade unions activists.
Please send protest letters to the Iranian government leaders and Iranian judicial services at the following addresses:
larijani@ipm.ir
rouhani@csr.ir
info@leader.ir
info@judiciary.ir
With copies to karzarpki@gmail.com
For more information visit www.karzarepki.com (Campaign in Support Workers of Iran)