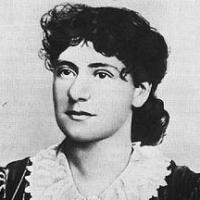 Clare Doyle reviews 'Eleanor Marx – A Life' by Rachel Holmes
Eleanor Marx was an extraordinary woman – youngest daughter of an extraordinary man, Karl Marx, and of Jenny, his lifelong partner through revolution and counter-revolution.
Many socialists know of Eleanor's tremendous role in the preparation and publication of Marx's great work, Das Kapital, completing the task with Marx's close friend and collaborator Friedrich Engels. We are also familiar with her involvement in building mass working class organisations in Britain at the end of the 19th century, in the great strikes of that period and in both the First and Second Internationals.
But this book brings out the tireless devotion and energy she dedicated to these tasks. She was not only preparing leaflets, posters, resolutions, reports, addressing meetings, conducting classes and fearlessly leading demonstrations but translating material and interpreting from and into a number of different languages. On top of that Eleanor Marx was meticulously organising telegraph and postal communications within Britain and around the world.
This book is not so much a political biography as a biography of an outstanding person who was – almost from her birth in 1855 – extremely political. It is sometimes tediously detailed on her personal life but gives a living picture of the Marx family's life. It shows the tragedies, illnesses and deaths as well as the delights in the works of Goethe and Shakespeare, walks on Hampstead Heath, opera visits etc.
The author has made a meticulous study of apparently all the available source material, especially Eleanor's own writings – letters and diaries – and those of close, mostly female, friends.
It is frustratingly short on politics, just a few sentences about the momentous Paris Commune of 1871. Even these concentrated on the fact that the near revolution saw women playing a significant, and at times equal, role in the fighting.
The book is clearly that of a feminist author with left-wing sympathies but has hardly a word about the political and historical issues she debated with her father and the numerous visitors to their home in London.
On Ireland, Eleanor, along with the second major influence in her political life, Friedrich Engels, stood against the stream in championing the rights of the Irish to break from British imperial rule. Also, like him, she believed that men and women should be able to live together without the bonds of marriage.
Family
Eleanor felt strongly about childbearing and domestic chores hampering the development of women including her own sisters. Nevertheless, she enjoyed little more than having her nieces and nephews to stay with her; she would drop everything to go to the aid of her sisters and their children when they were ill or hounded by the authorities (as in France).
Like many younger daughters of the time, Eleanor was expected to stay at home to help with various responsibilities and discouraged from pursuing early romances. This included, in Eleanor's case, with the French revolutionary, Lissagaray – her first lover and a man with whom she shared her life for some years and co-wrote the history of the Paris Commune.
Later, in spite of efforts by her friends, Eleanor could not be discouraged from setting up home with Edward Aveling. He was a socialist but had a poor reputation for his personal behaviour – profligate (with other people's money) and dishonest.
It was Eleanor's discovery that Aveling had secretly married someone else while living with her that tragically drove her to take her own life on 31 March, 1898.
Apart from her tremendous contribution to the socialist and workers' movement, Eleanor Marx participated energetically in numerous activities – acting, translating literary as well as political works and defending writers like Ibsen and Flaubert when they came under attack from conservative critics. She herself wrote important political works such as "The working class movement in America" after an exhausting four month speaking tour of 15 states in the US.
Eleanor's life was impressive and inspiring for all socialists; her premature death a tragedy.