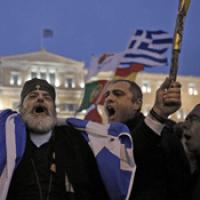 ¡Que el pueblo griego decida!
En la tarde del 11 de febrero de 100.000 personas se manifestaron en el centro de Atenas, en apoyo de la postura del gobierno de Syriza en las negociaciones con los líderes de la troika y de la Unión Europea. Decenas de miles de personas también salieron a las calles de Salónica y otras ciudades griegas. En las encuestas, tres de cada cuatro griegos apoyan la posición del gobierno que se considera que hace frente a la Troika. Esto demuestra el enorme potencial, si se vincula claramente con un programa a favor de los trabajadores, socialista, por la movilización de masas, desde abajo, de los trabajadores y los jóvenes para resistir a la Troika, organizada democráticamente en los lugares de trabajo, comunidades, escuelas y colegios, etc.
El gobierno alemán, junto con algunos gobiernos pro austeridad, como Portugal y España, hasta ahora, han adoptado una línea dura hacia las demandas de Grecia, lo que plantea el espectro de un 'Grexit' (salida de Grecia) de la zona euro.
En un artículo publicado en la página web de Xekinima el 10 de febrero, Andros Payiatsos mira las opciones que enfrentan ambas partes en el conflicto y el papel de la clase obrera en la búsqueda de una solución a la actual crisis de Grecia.
Socialistworld.net
Ahora está claro, incluso entre los que tienen las mayores ilusiones en la Unión Europea, que el choque de Grecia con la Unión Europea va a ser muy duro. Merkel y la camarilla que dirige la UE no están dispuestos a aceptar la cancelación de las políticas de orden que se han impuesto en los últimos años.
En el momento de escribir esto, todas las posibilidades están abiertas. Es posible que un compromiso se encuentre entre el gobierno griego y la Dirección de la UE, para que Grecia permanezca en la zona euro. Syriza ya ha retrocedido en una serie de cuestiones en relación con sus declaraciones iniciales, pero los líderes de la UE exigen más y amenazan que de otra manera Grecia se verá obligada a abandonar el euro y volver a la moneda nacional.
Esta actitud de Merkel y compañía. es algo que el liderazgo Syriza debería haber previsto y estar preparado. Por el contrario, se estimó erróneamente que podría tener "negociaciones" a través de las cuales se podría convencer a la Dirección Europea con argumentos "lógicos". Sobre la base de este enfoque, el liderazgo Syriza argumentó y repetidamente aseguró al pueblo griego que no había ninguna posibilidad de un "Grexit"! Este fue un grave error, ya que deja la clase obrera griega no preparada para este tipo de desarrollos. Pero hay, sin embargo, tiempo para solucionar este error.
Lo importante, ahora, es para sacar conclusiones, a partir de las experiencias recientes, para el futuro. Y estas son muy simples y muy claras.
Merkel y la camarilla que dirige la Unión Europea no dudará en lanzar a Grecia fuera del euro, si el gobierno de Syriza no se rinde a su presión y hace retrocesos graves en relación con sus compromisos pre-electorales.
El pueblo trabajador griego, en masa, está detrás de la posición audaz del gobierno contra la UE – precisamente porque sienten que el gobierno ha entrado en una gran batalla contra la Troika! Una encuesta realizada hace unos días por uno de los principales conglomerados de medios burgueses da al gobierno el apoyo del a 72%, sobre la base de la decidida resistencia contra la Troika!
Los trabajadores griegos han entrado en la batalla y nada puede detenerlos de reclamar de nuevo su medio de vida, del que los Memorandos los han privado … nada más que una cosa: un giro por Syriza! La masa de los trabajadores griegos están preocupados -y abiertamente dicen que el gobierno de Syriza puede dar marcha atrás. Y por esta razón se sintieron aliviados al escuchar el discurso de Alexis Tsipras en el Parlamento el pasado domingo, 8 de febrero, en las declaraciones programáticas del nuevo gobierno, en la que destacó que Syriza no dará marcha atrás en ninguna de sus promesas (a pesar de que en una serie de cuestiones Tsipras había aguado promesas pre-electorales de Siriza).
Respuesta chantaje: ir a un referéndum o nuevas elecciones!
Entonces, ¿qué debe hacer Syriza si la Troika pone un cuchillo en la garganta del nuevo gobierno y demanda "sumisión o Grexit". Syriza debe sin ninguna duda apelar al "veredicto popular". Ya sea por medio de un referéndum o con nuevas elecciones (si se produce una crisis política resultado de los chantajes de la UE) en la que Syriza debe poner la cuestión, de lleno, en frente a los trabajadores griegos: Mantener el euro y los memorandos o ir a un nacional moneda y políticas en pro de los trabajadores.
Si Syriza sigue adelante con un una contraofensiva tan audaz, a continuación, la Troika, dentro y fuera de Grecia, recibirá una respuesta que moverá la tierra bajo sus pies, sufriendo una derrota tan dura como nunca habían soñado en sus peores pesadillas!
Pero una vez dicho esto, hay que añadir lo siguiente: salir del euro, por sí solo, no resolverá los problemas de la crisis del capitalismo griego. La reintroducción de una moneda nacional debe por necesidad ser combinada con políticas socialistas audaces: como controles del capital, el monopolio estatal del comercio exterior y la propiedad pública democrática de las grandes empresas y los bancos – y un llamamiento internacionalista a los trabajadores del resto de Europa. Sólo de esta manera una moneda nacional servirá como una herramienta de recuperación de la economía y para el beneficio de los trabajadores de Grecia. Como Xekinima ha explicado en numerosas ocasiones en los artículos y declaraciones en su periódico y en su sitio web, no es la moneda la que causa la crisis, sino la lógica interna del sistema capitalista, aunque, por supuesto, la moneda define, en gran medida, las características precisas que conlleva la crisis económica.
La dirección de Syriza, por desgracia está muy lejos de este tipo de pensamiento. Sigue creyendo que puede llegar a un acuerdo y un compromiso con la Dirección Europea, con la perspectiva de una UE "diferente", que sea más "humanista", sensible a las necesidades de los más débiles, más "social", etcétera.
La dinámica social, sin embargo, de la lucha de clases que está entrando en una nueva fase, las luchas de la clase obrera y de los movimientos sociales, pueden cambiar radicalmente el orden del día! No será la primera vez!
Special financial appeal to all readers of socialistworld.net

Support building alternative socialist media

---

Socialistworld.net provides a unique analysis and perspective of world events. Socialistworld.net also plays a crucial role in building the struggle for socialism across all continents. Capitalism has failed! Assist us to build the fight-back and prepare for the stormy period of class struggles ahead. Please make a donation to help us reach more readers and to widen our socialist campaigning work across the world.

Donate via Paypal

CWI- Please inform us if you are reproducing any material from this site.