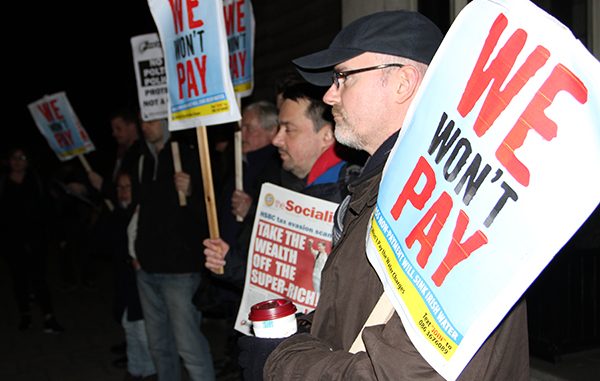 International solidarity protests needed!
A mass protest will take place in Dublin tomorrow against the jailing of five people protesting within 20 metres of water meter installations and also against political policing in the working class Tallaght area of Dublin against other water protesters. The protest will demand the five jailed protesters are released and for an end to the continuing dawn raid arrests of peaceful anti-water charge protesters, political policing and the demonisation of water charges protesters, and against the water charges. The protest will march to Mountjoy prison, where the jailed activists are being held.
Last night, candle-lit vigils took place at Garda (police) stations across the country.
Protests have taken place at Irish embassies across Europe and further afield, including in Hong Kong. A second protest in a week took place at the Irish embassy in London, last Tuesday, where Niall Mulholland from the Committee for a Workers' International addressed the lobby on the anti-austerity struggles in both Ireland and Greece
More protests are needed worldwide against the jailing and political detention of anti-water charges activists.
Please also send urgent protests to Garda Commissioner, Noirin O Sullivan, and emailed to pressoffice@garda.ie with copies to webmaster@taoiseach.gov.ie and info@socialistparty.ie.
Pickets of Irish embassies/ consulates against political policing of peaceful protestors will also be welcome.