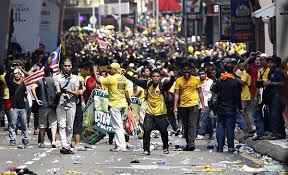 Respect the right to freedom of speech!
Since the jailing of the opposition leader, Anwar Ibrahim, more people have been threatened with being detained under the country's pernicious Sedition Act. This is simply for condemning the court verdict seen by most people as unjust to the opposition leader and the government is trying act to destabilise the opposition parties (See article here). In the latest development, Secretary of the Malaysia Socialist Party (PSM), Arutchelvan, was detained yesterday for his message criticising the court verdict. He was released today after the magistrate's court disallowed the police request to hold him on remand. The police are also threatening to act against other activists and opposition political parties' leaders.
Recently, an academic, a lawyer and a political cartoonist were also detained and charged with sedition for expressing their opinions against recent court rulings and other government policies. Although the Internal Security Actb (ISA), which was used to suppress freedom of expression, was abolished a few years ago, seeing the action of the government now, it is clear that the Sedition Act is just a substitute to play the same role as the ISA. These are the actions of a weakening government of the National Front (BN) under the leadership of Najib Razak. It is facing internal problems and a worsening economy.
Socialist Alternative condemns this undemocratic act of the government in using the police, the courts and laws like the Sedition Act to suppress the democratic and human rights of the people and intimidate opponents. Socialist Alternative urges socialists and trade unionists everywhere to condemn the actions of the Malaysian government, using the Sedition Act to subjugate democratic rights and to demand that it respects the right to free expression and freedom of speech by sending protest messages via Malaysian embassies in their respective countries
Please send copies to Socialist Alternative (Malaysia) at cwi.malaysia@gmail.com
Malaysian embassies' addresses can be found here : http://embassy.goabroad.com/embassies-of/malaysia