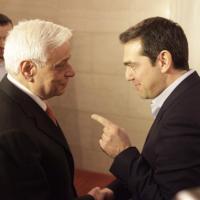 La crisis económica y social requiere políticas independientes, socialistas pro-trabajador!
El anuncio, hace dos días, por Alex Tsipras, el Primer Mininister griego, que estaba apoyando al político de Nueva Democracia, Prokopis Pavlopoulos, a la candidatura para el cargo de Presidente de Grecia no cayó del cielo. Fue un conocido "secreto" que el líder de Syriza propondría como presidente a un político de las filas del partido de derecha Nueva Democracia (el tradicional partido de derecha de la clase dominante en Grecia).
En su discurso ante una reunión del Grupo Parlamentario de Syriza, Tsipras argumentó que a pesar de que la propuesta para apoyar a un candidato de la izquierda a la Presidencia de Grecia es "razonable", su propuesta de apoyar Pavlopoulos era para  mostrar que la izquierda "nunca ha sido arrogante "y fue presentada para promover" la unidad de nuestro pueblo ", que hoy es" tan necesaria como siempre ".
Pero ¿desde cuándo esta así llamada "unidad del pueblo"  se ha identificado con un conocido político de derecha de la Nueva Democracia? Pavlopoulos es un representante de los intereses de la clase enemiga, del gran capital. Cuando estaba en el gobierno, Nueva Democracia (junto con el PASOK socialdemócrata) fue responsable de la catástrofe social de los memorandos (medidas de austeridad de los últimos gobiernos que estuvieron de acuerdo con la troika). Pavlopoulos era un conocido ministro del gobierno de Nueva Democracia a cargo de la actuación policial.
¿Desde cuando la unidad del pueblo se identifica con la colaboración con los enemigos del pueblo? ¿Cuánto "orgullo nacional" sienten realmente los millones de trabajadores en Grecia cuando ven juntos a Alexis Tsipras y el "carnicero" de sus derechos, Antonis Samaras (el primer ministro de Nueva Democracia recientemente depuesto), apoyar el mismo candidato a la Presidencia del país?
El consenso social y político
Tsipras, en el desarrollo de su propuesta, argumentó que una condición necesaria para superar las enormes dificultades de Grecia es forjar el "máximo consenso social y político". ¿Pero el consenso con quién? No hay duda de que ante el chantaje de los acreedores capitalistas de Grecia y la Unión Europea, la mayor unidad posible de trabajadores, los desempleados, las clases medias y los pequeños empresarios, los jóvenes y los pobres y así sucesivamente, es absolutamente necesario. Dicha unidad entre los trabajadores, sobre la base de sus intereses comunes, no sólo es necesaria sino que en realidad se está logrando, en gran medida, por el momento. Un vistazo a las últimas encuestas muestran que el gobierno liderado por Syriza ha logrado ganar (al menos, por el momento) el apoyo de la gran mayoría de los griegos, incluso de aquellos que votaron por otros partidos en las elecciones recientes.
Esto se ha logrado porque Syriza, hasta el momento, apareció ante las masas  manteniendo una línea fuerte contra los grandes acreedores y por estar chocando (es decir, no estar en armonía con ellos!) con los líderes de la oposición de derecha  en Grecia, como Samaras, Venizelos y sus partidos políticos. Pero ninguna propuesta a los partidos pro-memorandos (pro-austeridad) aumentará la unidad de las masas. De hecho, sólo traerá confusión y decepción para aquellos sectores de la sociedad que con entusiasmo se volvieron a Syriza inmediatamente después de las elecciones sobre la base de las reformas populares (aunque limitadas) anunciadas por Syriza para los trabajadores.
Esta suerte de "unidad" de los trabajadores y las capas más amplias de la sociedad no tiene relación con el esfuerzo de encontrar un terreno común con Nueva Democracia o con los intereses empresariales que expresa ND. La verdad es que no "todos los griegos" tienen los mismos intereses de clase y tampoco los recortes sociales brutales golpean a todos "los griegos". Los grandes armadores, la gente de las grandes empresas y, en general, el gran capital no sólo no fueron afectados por las políticas de austeridad, sino, por el contrario, como regla general, dieron la bienvenida a las nuevas leyes antiobreras con satisfacción y vieron aumentar sus beneficios.
La "comprensión" y el apoyo a los representantes políticos de los grandes banqueros y los magnates armadore de naves no construye la unidad militante de las bases de la sociedad contra los memorandos sino que debilita esta unidad. Pavlopoulos no representa nada más que esta clase – la clase del gran capital y la clase de los memorandos.
La democracia del partido
También hay otro aspecto importante a la decisión de Tsipras de apoyar a Pavlopoulos. ¿Que orgáno principal de Syriza decidió a través de un debate democrático que Pavlopoulos debe ser el candidato? Ninguno es la respuesta.
El presidente del partido, Tsipras trajo, en el último minuto, al Grupo Parlamentario Syriza, una propuesta que este último no tenía ninguna posibilidad real de cambiar, o incluso a discutir, ya que no había posibilidad de una contrapropuesta! Los cuerpos electos de Syriza, como el Comité Central y la Secretaría de Políticas, simplemente "no existen" en el procedimiento para decidir cuál candidatos se propone a la Presidencia de Grecia.
Estas son tendencias muy peligrosas que, en nuestra opinión, continuarán y crecerán. Tsipras usará el poder que en general le da su popularidad, dentro y fuera de Grecia, para funcionar como el único poder real dentro del partido. Syriza se está convirtiendo en un partido donde el poder del "líder" no va a ser cuestionada. Esta es una situación bastante normal dentro de los partidos políticos pro-capitalistas, pero que la izquierda siempre ha denunciado como antidemocrático e inaceptable. Como Xekinima (CIT en Grecia) hemos escrito antes que la raíz de este problema en Syriza se encuentra en la conferencia de fundación de Syriza. La dirección del partido, basándose en los "ejércitos" del aparato burocrático y la entrada masiva de cuadros ex-Pasok en Syriza, llegó a través del congreso de fundación a la decisión de elegir directamente al presidente en el Congreso, cuando en toda la historia de la Izquierda el líder del partido fue elegido por el Comité Central, precisamente para que él / ella puede estar bajo control y escrutinio.
El respaldo de Syriza a Pavlopoulos es una decisión que envía un mensaje totalmente equivocado a la clase obrera y las masas griegas y pone Syriza en un camino muy resbaladizo. Es una decisión que tiene que ver con el intento del liderazgo de Syriza de "montar dos caballos" a la vez – el de las expectativas de la clase obrera griega y las masas, tratando también de satisfacer a los patronos y la Troika. Pero este esfuerzo del liderazgo de Syriza está condenado al fracaso. En estos tiempos de profunda crisis económica y necesidades sociales desesperadas en Grecia, no es posible estar en el lado de los armadores y los trabajadores, con los empresarios y con el paro.
The gravity of the economic and social crisis and needs of the working masses demands independent class policies – bold socialist policies – that would reject the debt and the memoranda and vastly improve the lives of workers, the unemployed and poor and small businesses, including by taking the major parts of industry and the big banks into democratic public ownership and control to ensure the needs of the masses are met.
La gravedad de la crisis social y económica y las necesidades de las masas trabajadoras exige políticas de clase independientes – políticas socialistas audaces – que rechacen la deuda y los memorandos y mejoren enormemente la vida de los trabajadores, los desempleados, los pobres y los pequeños empresarios,  incluyendo poner las principales industrias y los grandes bancos bajo control democrático y propiedad pública para garantizar que se cumplan las necesidades de las masas.