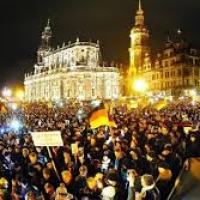 German racist mobilizations split but danger continues
Since October, last year, right-wing demonstrations against "Islamification" were organised in Dresden city, with offshoots around Germany. Following a split in the Pegida organisational team, the number of participants in both sides which emerged from the split, has collapsed. However, they have not disappeared from the scene and Nazis continue to display their readiness to resort to violence. It is not yet time to let our guard down.
According to police figures, two thousand Pegida demonstrators gathered in Neumarkt near the German city of Dresden on Monday evening 9 February. Some believe that this figure is too low and talk of 3,000. Compared to the zenith of Pegida, however, this is a considerable fall – but we need to continue to make sure that racist demonstrations with many thousands of participants do not become normality.
The demonstration was addressed by Lutz Bachmann, whose resignation as leader of Pegida seemed long-forgotten. The main speaker was Götz Kubitschek, writer and protagonist of the Neue Rechte (New Right) movement, who enjoys support deep into the Nazi scene and had already spoken at a demonstration in Leipzig. The Pegida organising committee had argued about Bachmann and Legida (off-shoot of Pegida) and ultimately split. However, the division was not about whether the movement should bait refugees or Islam: rather, the question was how openly the organisation should present itself with Nazi hooligans or the organisers of the even more right-wing Pegida offshoots in Leipzig and Suhl and whether, like Lutz Bachmann, one can take selfies made up as Hitler and still lead the movement.
The new right-populist conservative party Alternative für Deutschland (AfD), which consolidated itself over the last year and established itself in elections, has wavered in its support for Pegida. Despite the racist tirades of its leading figure Alexander Gauland (AfD), it had trouble with the Nazis in Pegida's midst, who do not fit with the party's image and orientation. For this reason, the AfD supported former Pegida spokesperson Kathrin Oertel's more moderate breakaway group and fawned over her. Under the title "Direct Democracy for Europe" they mobilised around 500 supporters on 8 February.
The split laid bare the contradictions between the different factions brought together in Pegida and its organisational team. Oertel and her cohorts were more representative of the right wing of the conservative Christian Democrats (CDU) and the right-wing populist AfD, while Bachmann, Siegfried Däbritz & co. lean more towards parts of the New Right and want to involve HoGeSa (Hooligans against Salafists), the neo-Nazi NPD and other groups. They are still attempting to mobilise people through promoting aggression against Russia and, like Oertel, capitalising on the general anti-TTIP mood.
"The womb he crawled from is still going strong …"
Is what Brecht wrote in The Resistible Rise of Arturo Ui, his play about Hitler and the fascists. The same would be very fitting in an epilogue to the story of Pegida. The conflict among the organisational team has scared many people away from the demonstrations – however, even if the protests wither away to a hard core, this core is still frighteningly large. The conservative layer of the petty bourgeoisie, which is receptive to racist ideas as long as there is no tangible alternative from the left, is still in existence. For a section of this layer, racist prejudices and ideas have been consolidated. New racist protests against refugee accommodation, Islam etc, could rise up again under the banner of Pegida or another organisation. Nazis and racists have gained new self-confidence and a further radicalisation of sections of the Pegida supporters is possible. On Friday 6 February, 40 Nazis gathered in front of a refugee home in Dortmund with torches. At some point, they will put these threats into action. Already attacks on refugee homes doubled or, according to other statistics even tripled, in the days of Pegida protests.
Resistance decisive
Anyone reading the bourgeois media would pick up the impression that Pegida's main problem is internal conflict among its leaders. However, its problems are primarily owed to resistance against racism on the streets. Counter-protests have upped the pressure on Pegida and led to a differentiation of its forces. The mobilisations led to people talking about Pegida, the AfD & co., about what they stand for and, above all, about alternatives.
The expansion of Pegida across Germany and Europe has been enormously hindered through counter-protests. The foundation of each offshoot has been greeted with massive resistance, with 100,000 people taking to the streets in protest on a single day. In Freiburg, the 20,000 who took part in the counter-protest represented the biggest demonstration in the city's history. These protests were joined by many young people, who found the crude racism of Pegida abhorrent.
The group has not managed to spread across Europe; indeed, resistance to it has simply been exported. In the Swedish city of Malmö on 9 February, 3000 to 5000 antifascists demonstrated against a couple of dozen Pegida imitators. Five thousand blocked their route in Vienna.
The counter-protests in Dresden and across Germany show what would be possible if organisations such as DIE LINKE and the trade unions really acted, explained and mobilised together. They also need to present a left alternative response to anxiety about the future, housing shortages and war and expose the superficial answers from Pegida, the AfD & co. This approach would push back and defeat the racists.
It is vital to continue taking to the streets on Mondays until all Pegida offshoots disappear. One opportunity for a nationwide protest will be in Dresden on 28 February, when a number of Dresden initiatives have called a national protest under the title "For a better life together – solidarity with refugees". Antifascist blockades such as that planned in Dortmund on 28 March are also important in light of the current threat.