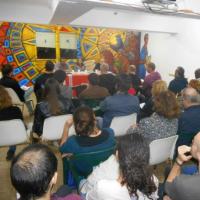 Anti-austerity struggles across southern Europe and the socialist alternative
The first CWI Iberian School, held last weekend, was a great success. Six sessions were held, which discussed the Spanish and Portuguese Revolutions, the role of a revolutionary socialist party, Marxist theory and how to build the CIT/CWI. Many aspects of the anti-austerity struggles across southern Europe and Europe, as a whole, and the socialist alternative, were discussed under European perspectives. As well as CWI comrades attending from Spain, Portugal and Italy, there were new people from Barcelona itself present.
Our public meeting on Saturday night saw just under 50 attend. New people came to the meeting after hearing about it during our street stalls and from our other activities and publicity. As well as Spanish and Portuguese CWI comrades, our meeting platform included guest speakers, Paul Murphy TD (Irish MP for the Socialist Party/Anti-Austerity Alliance) and comrade Giuliano from Italy.
The comrades from both Spain and Portugal got a great boost from the event. It was very useful to take stock of the situation in both countries and the tasks facing the CWI sections in order to use our full potential to grow over the next year.
All of the participants left enthused and already looking forward to the next Iberian CWI school.