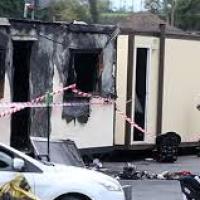 The fight against anti-Traveller racism
Many people throughout Ireland, Britain and further afield were deeply moved by the tragic deaths of ten members of the Irish Travelling community in Carrickmines.
Early in the morning of Saturday 10 October, a fire broke out in a Traveller halting site. The victims and survivors were living in steel sheds for years on end, and the steel melted in heat so extreme that firefighters who went in had to be hosed down afterwards. Five adults and five children, members of two families who died, lived in terrible conditions and endured a horrific death. As well as expressing our profound sympathy with the victims, the survivors and their loved ones, we need to express anger at the systematic racism by the Irish state towards the Travelling community that led to this disaster.
Bigotry unmasked
Since the fire there has been an outpouring of sympathy and support, with vigils of hundreds organised. However there has also been an unmasking of bigotry towards the Travelling community that has been fostered by the capitalist establishment in Ireland over many decades. Irish Travellers have been a documented indigenous minority ethnic group in Ireland and Britain for centuries and today, along with Romany Gypsies in Britain, they are the most disadvantaged ethnic group.
An example of this racism was shown the day after the tragedy when two Travellers, who were survivors of the fire, were refused entry into Ollie's Bar in Carrickmines, on the basis that they were "not regulars." Despite the harrowing ordeal they were subject to, they faced the same humiliating discrimination that many, if not most, Travellers face daily.
Later, a handful of locals physically blocked a site that was chosen to accommodate the survivors. There was a clear contrast in the manner in which these residents were indulged by Gardai (Irish police) compared to the treatment faced by anti-water charges protesters when blocking the installing of water meters. In the latter cases, water protesters have often been subject to harassment and arrests at the hands of the Gardai. But instead of being arrested, a meeting was arranged between the anti-Traveller residents and council officials.
Rather than condemning this disgusting blockade, Labour councillor Lettie McCarthy called for "common sense and calm" to be shown "on both sides". The Taoiseach (Irish prime minister) Enda Kenny refused to oppose these actions. He stated: "there's deep sensitivity there… consultation and conversation with local communities is very important." Kenny and McCarthy basically vindicated the residents and their shameful actions.
"Systematic disinvestment" of Traveller services
A catastrophe such as the fire in Carrickmines is never fully an accident. If ten people had not been crammed into a steel portable cabin for years at a time, it would not have happened. They were living in such horrible conditions directly because of what Lorraine McMahon of a Ballyfermot Travellers' organisation warned was a "systematic disinvestment" in services and supports for Travellers since the Irish governments' austerity policies started. There was a 40% cut to local Traveller organisations from 2008 to 2013. Education support was cut by 85%. Traveller inter-agency groups were cut entirely. The accommodation budget was €70 million in 2007 and by 2013 it was €3 million.
Meanwhile the Council was paying contractors up to €500 a month for these metal death-traps. This is reminiscent of the slum-landlords who presided over tenement collapse disasters in Dublin at the beginning of the last century.
Hypocrisy of Establishment parties
Many Fine Gael and Fianna Fáil councillors have campaigned in elections with promises of keeping Traveller accommodation out of their areas. Josepha Madigan, Councillor for the Stillorgan ward on Dun Laoghaire-Rathdown County Council, a neighbouring ward to the one where Carrickmines is located, produced a leaflet during last year's local elections that claimed the building of a Traveller halting site was "a waste of valuable resources".
The very same Josepha Madigan tweeted her sympathy with the victims of the fire. She would like us to ignore the obvious connection between the woeful accommodation these families were in and the consistent blocking of Traveller accommodation and whipping-up of anti-Traveller prejudice by herself and many other politicians. The Establishment parties, as a whole, would like us to ignore the obvious connection between accommodation budget cuts and the Carrickmines catastrophe.
Decent homes for all
The appalling treatment of Travellers was just the same during Ireland's economic boom times. The support and rights that existed had to be hard fought for by the community. Travellers face not just individual prejudice, but systemic racism, as can be seen in the continued refusal to grant them recognition as an ethnic group. And whenever the capitalist system stumbles into an economic crisis, like in 2007/8, the first to be hit, and the worst-hit, are poor minority groups like Travellers.
The scandal of homelessness, of families living in emergency accommodation, of Travellers forced to live in substandard accommodation, or of refugees and migrants forced to live in 'Direct Provision' must be brought to an end. The resources exist in our society to provide decent homes for all, be they members of the settled or the Travelling community, indigenous Irish or migrants seeking sanctuary. Instead of giving massive tax breaks to the super rich and big business and paying €7 billion to bondholders each year, billions could be invested to build social and affordable houses as well proper accommodation in well-resourced Traveller halting sites.
End inequality and racism
When an Establishment politician is put on the spot about Travellers' rights, they hide behind procedure and pass the buck. While they always protest that they themselves are not prejudiced, in reality their anti-Traveller statements and cutbacks have fueled anti-Traveller sentiments and increased the hardship against this marginalised community.
We live under a capitalist system that has inequality written into its DNA, where the massive wealth that exists is at the disposal of the rich, as shown by the fact that the richest 300 increased their wealth by €34 billion over the last few years, while the rest of us endured €31 billion cuts. Travellers are the primary victims of a system where the priorities of an economy lie in maximising profits for a few instead of prioritising the needs of the majority, including the right to a decent home and proper health and education.
There is a real need for a political alternative that fights for a democratic socialist society based on human solidarity, not racist division as displayed against Travellers over many years, and where each individual can develop to their full potential.